"What does 'plop' mean?"
This was my first-ever comment on this blog. I immediately thought, oh my gosh, I have to do a post about that! It's a strange term, and something that I am sure literally every person with wavy or curly hair has asked before, if they have come across it.
It's a made-up word, so of course we all have to learn what it means. I just am so used to the curly girl method communities that I take part in, that I had to be reminded to go back to the basics!
So, this post is for those of you who are new and wondering what the heck plopping is!
What is plopping hair?
Plopping your hair means to wrap your wet hair in a cotton t-shirt in a way that preserves your natural curl pattern. The goal is to allow your hair to dry (partially or all the way) while holding onto its natural pattern, and keep it from being stretched out. 
Typically plopping is done after showering when hair is wet. For many with naturally wavy hair, our hair will be really wavy while in the shower. However, if we just step out of the shower and do nothing else, our waves may flatten quite a bit, especially towards the roots of our hair.
In some cases, it may flatten so much that it looks straight – especially if we brush or comb our hair, too. This happens because the weight of the water in our hair can weigh down our hair before it has a chance to dry. The weight of our hair pulls from the roots down, which is why the roots can be flattest.
So, plopping is something that we do to try to reduce this effect, and keep our curl pattern from being stretched out while it begins to dry.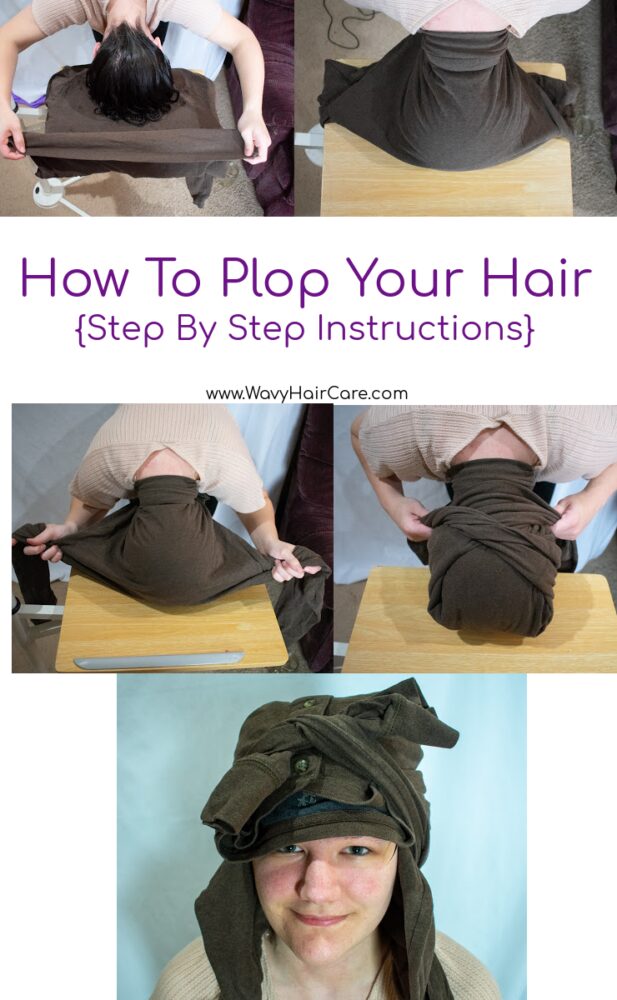 How To Plop Your Hair
Lay a t-shirt upside down and backwards on a flat surface, so that the shoulders are closest to you. Not gonna lie, most of the time I lay mine over my toilet lid! For this tutorial I laid it over a laptop table I had.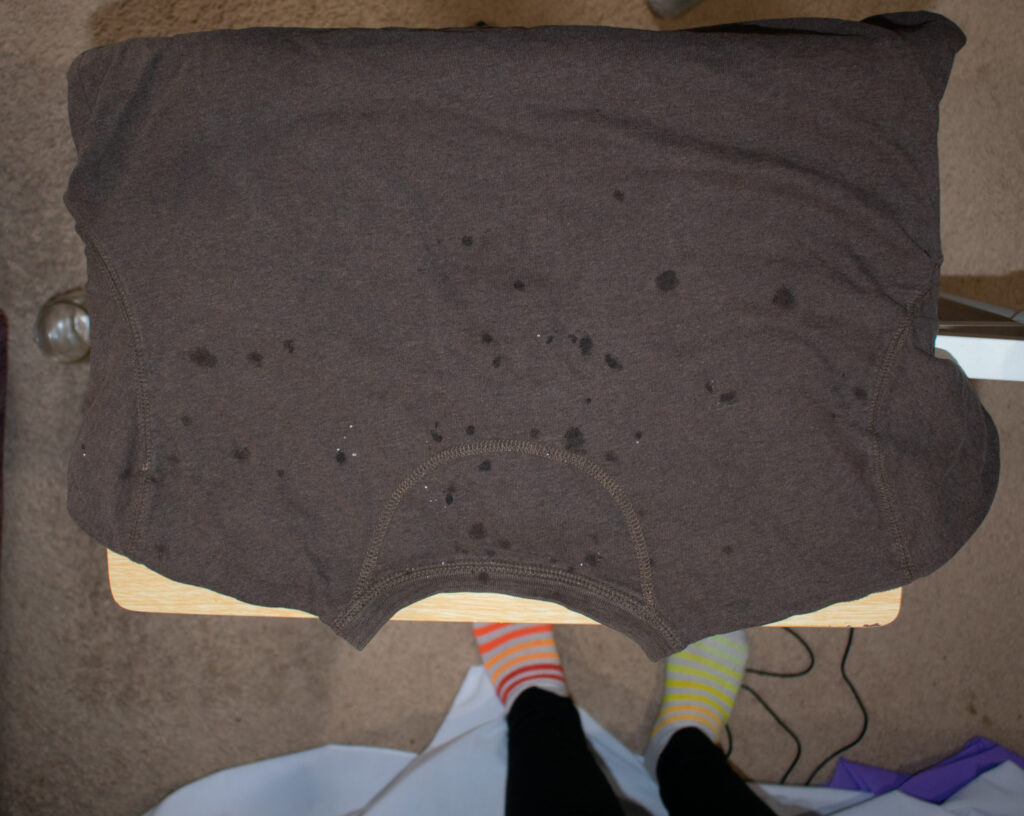 2. Lean your hair over the towel and slowly lower your head so that your hair begins to pile onto the shirt. I aim to have my hair gather about 4 inches from the neckline of the t-shirt.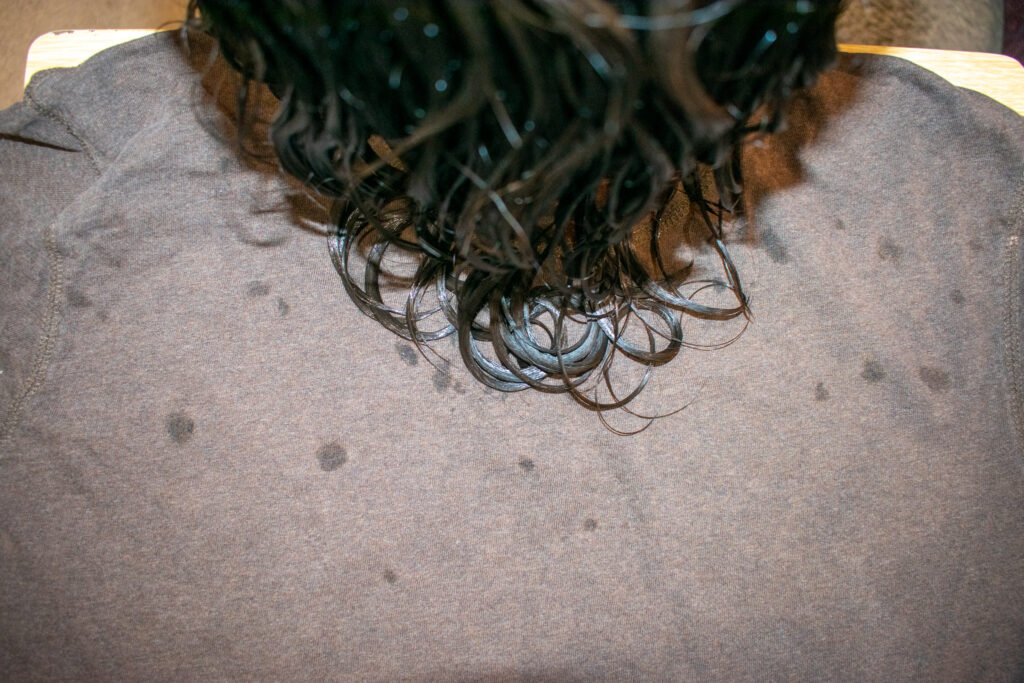 3. As your hair begins to touch the t-shirt, continue slowly lowering your head, allowing your waves/curls to form on the shirt until your head is laying against the shirt. Try to let them pile up in their natural pattern. For tighter waves or curls this will form circles. Keep slowly lowering your head until it's completely up against the t-shirt.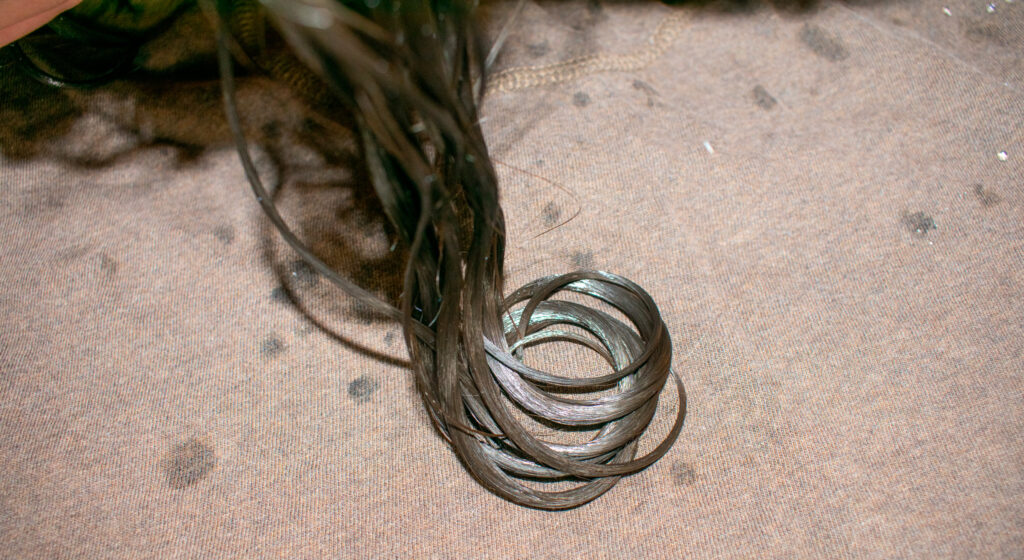 An up close example of how one of my tighter waves piles in its natural formation as I lower my head.
4. Once your head is laying on the shirt take the bottom hem of the t-shirt and pull it down over the back of your head and hair, to the nape of your neck. Pull it around the sides of your neck so that the edges of the hem of the t-shirt are now under your chin. I sometimes push my chin down to pin the fabric to my chest, or sometimes I take the corners into my mouth and bite them. Both are a bit odd, but the goal is just to keep the shirt held in place while freeing your hands.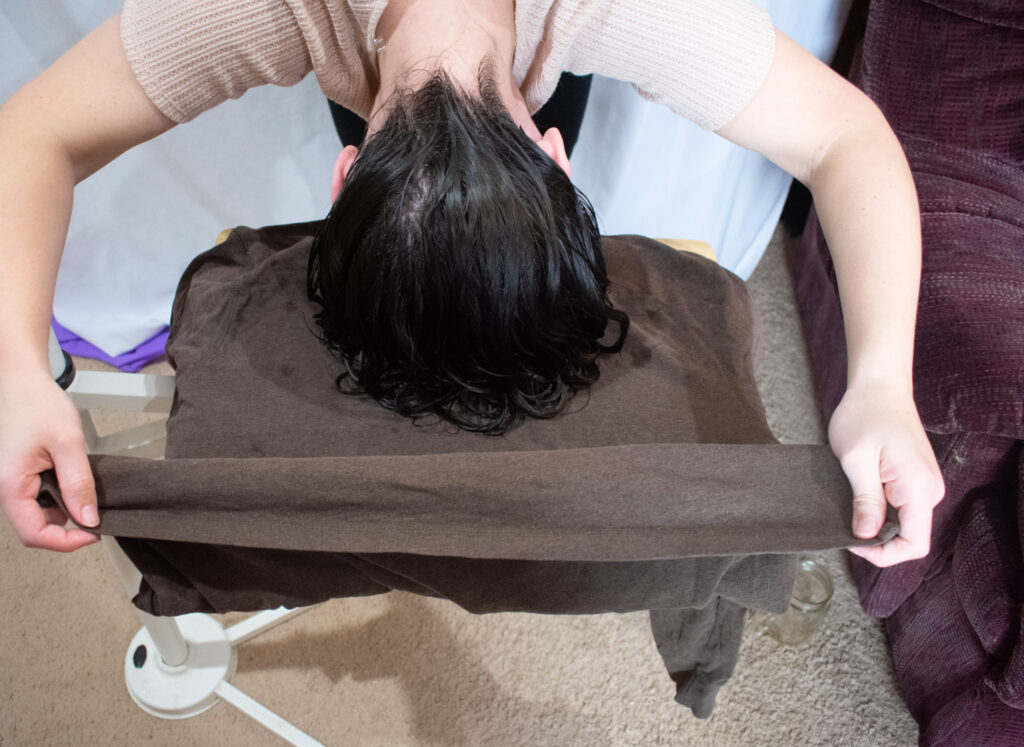 Photo above – taking the bottom hem of the t-shirt, so that I can pull it over my head and tuck it around my neck and under my chin. (step four)
Photo below – After I have pulled the shirt over my head and tucked the edges under my chin, leaving it snug over my head and around my neck. (also step four)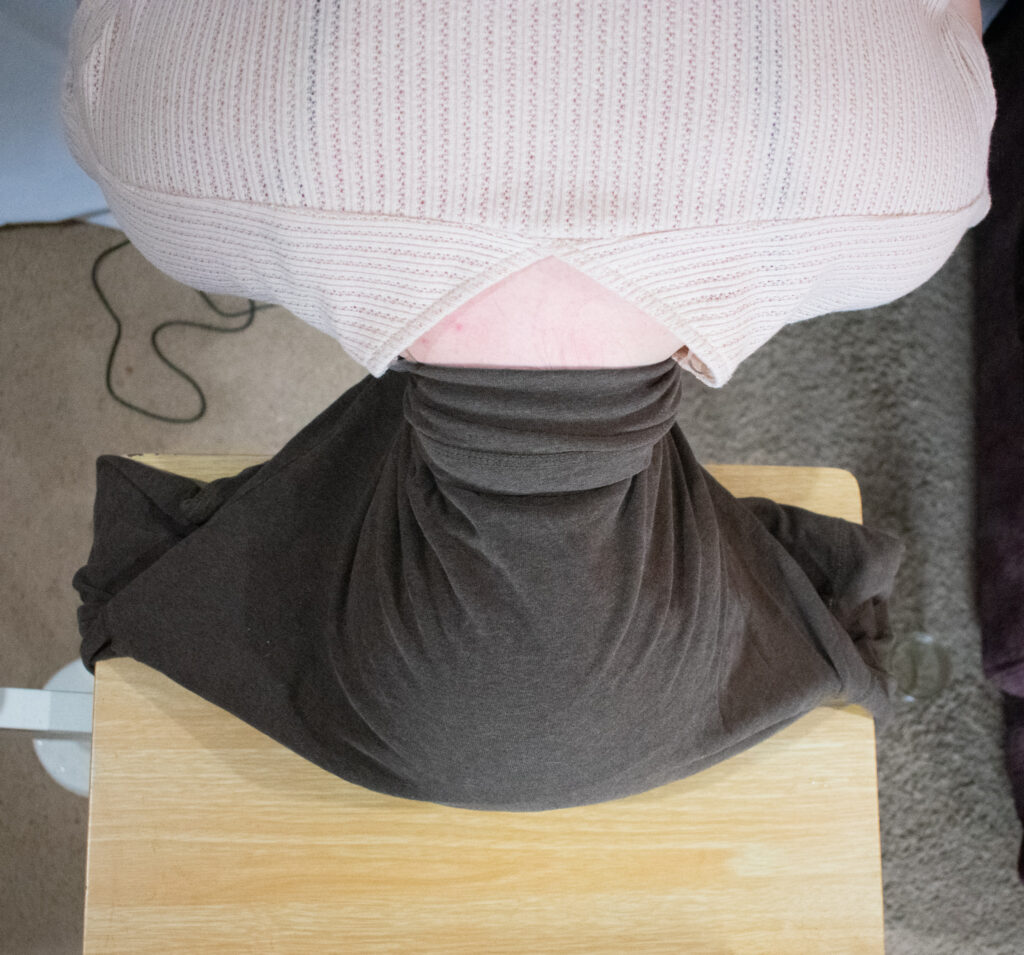 5. Grab both sleeves of the shirt and cross them, tie them, or wrap them one more time around your head and then tie them. If you're using a short-sleeve t-shirt, knot them at the base of your head to tie the "plop" in place. You should tie it tight enough to stay put when you stand up. I prefer to use a long sleeved shirt, so I cross the sleeves behind my head, then pull them around the front and cross again in front of my forehead, and tie it there.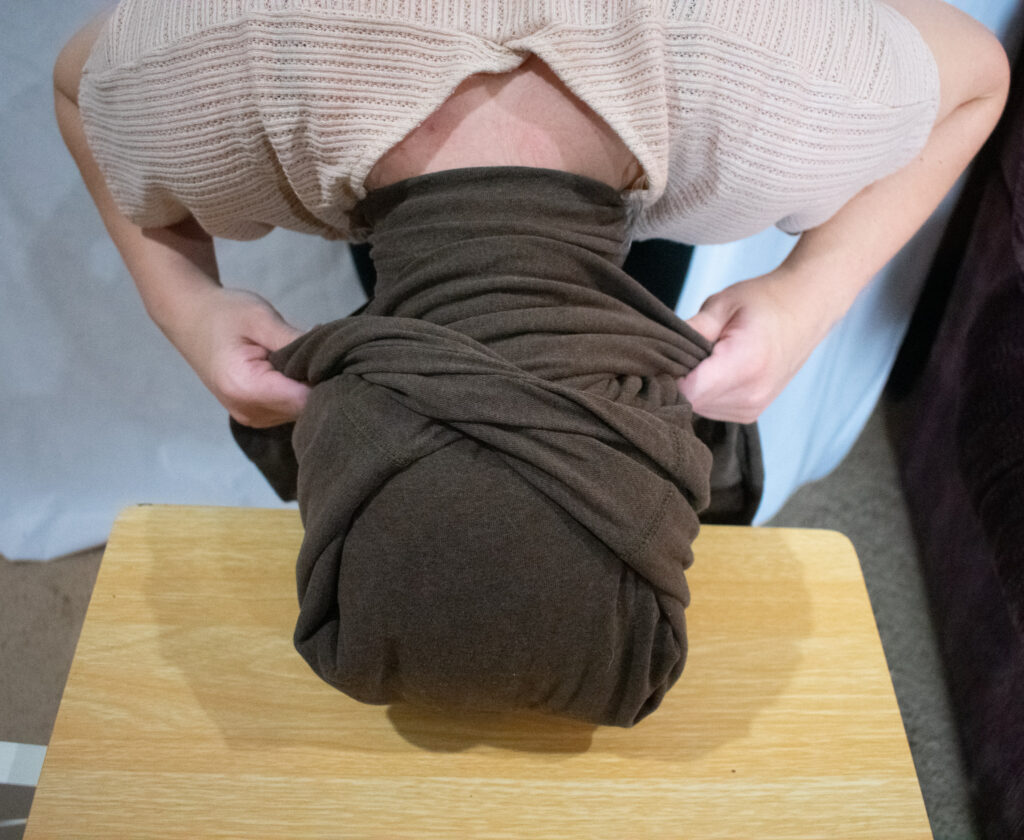 (step five) You could knot it here if using a short-sleeved shirt. I pull it around front and tie when using a long-sleeved shirt.
6. You can now stand up and the t-shirt should contain your hair while staying in place!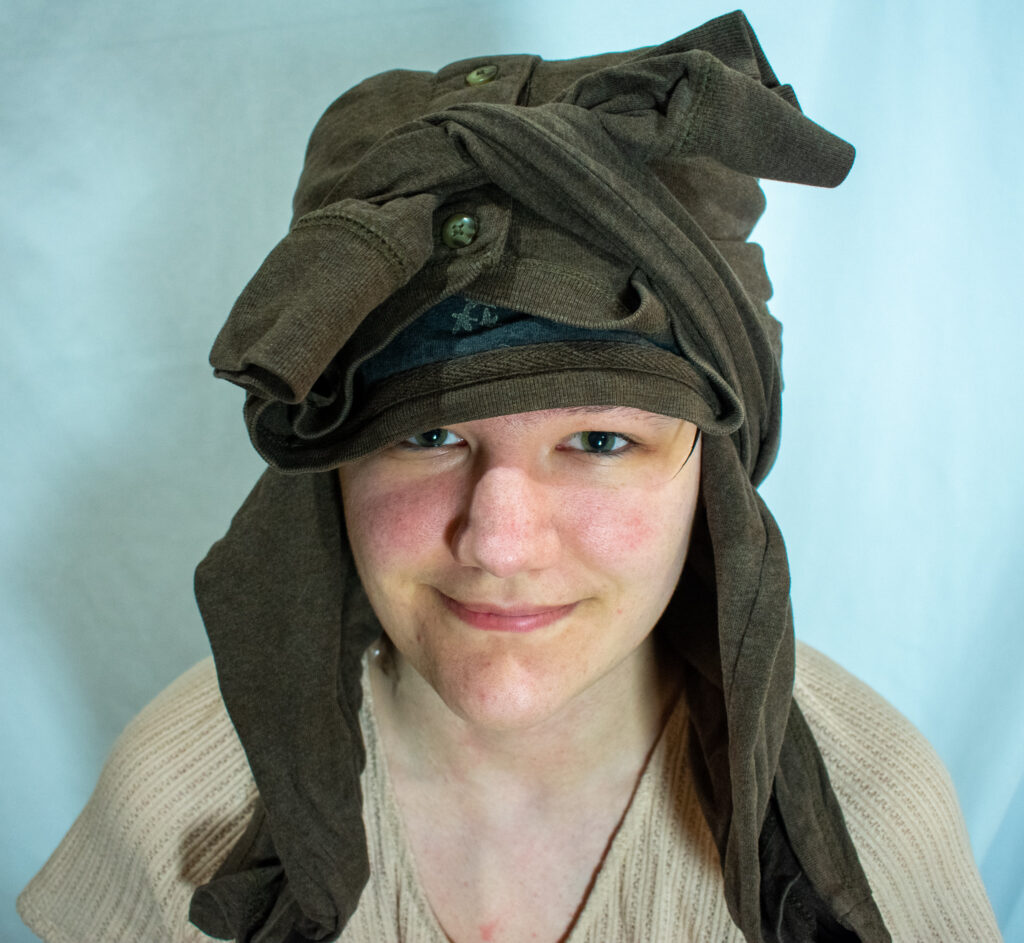 Video tutorial of how to plop wavy hair with a t-shirt
What is the purpose of plopping?
Plopping holds your waves in their natural wavy pattern, up against your head as your hair begins to dry. This keeps gravity from pulling your curls down and stretching them out. 
In other words, plopping helps keep your curl pattern tighter than they would be if you stepped out of the shower and let your hair air-dry from an upright position. Plus, the t-shirt fabric will absorb some of the water in our hair, so it can begin to dry while remaining in the natural wave shape.
How Long Should I Plop For?
Your first time plopping, I would recommend that you plop for 5 minutes if your goal is to avoid flat roots. For most people, this will be enough time to absorb a bit of water and keep their hair from dripping, reduce elongation of your curl pattern at the roots, but not so long that the hair becomes too dry while in the plop.
My hair is thick (dense) and takes a long time to dry (6+ hours to air dry) so I plop for 10 to 15 minutes, but this will be too long for some people, which is why I recommend starting with less.
If your hair dries very quickly, you may be better off not plopping at all.
Ultimately, it will require some trial and error to learn what works best for your hair. It can also depend on what your goals of plopping are. For me, it's a way of keeping my pattern from getting stretched out while my hair begins to dry, before I start diffusing. For others, they use plopping as a way to dry their hair, in which case you'd want to plop longer.
Most other places I've seen say to plop for 20-30 minutes. I believe this is better for people with curly hair and would be too long for most people with wavy hair.
Can You Plop Overnight?
Some people do plop overnight, or plop until their hair is totally dry. I tried to plop overnight once and my results looked like I wore a beanie to bed! How funny is this picture below?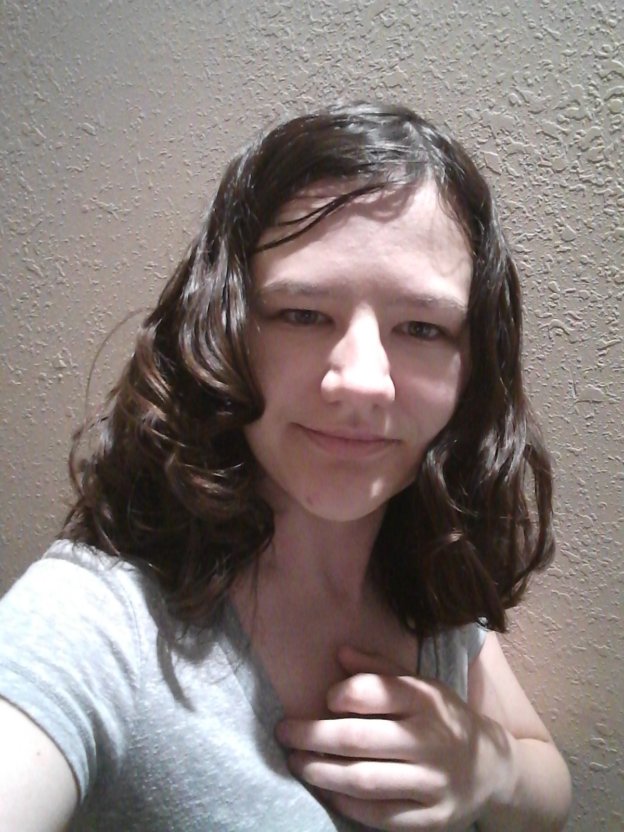 I have also seen people say that leaving your hair wet or even damp overnight can be unhealthy for your hair. Others say that they regularly plop overnight and wake up with dry, nice looking hair. So, your milage may vary!
Why plop with a t-shirt instead of a towel?
100% cotton t-shirts are a very smooth material. Bath towels are more textured, so rubbing a t-shirt across your hair has a greater chance of creating friction and causing frizz in your hair. Using a smooth cotton t-shirt reduces the friction and the odds of frizz, while still being absorbent.
Some people plop with microfiber hair towels, as they are designed to be very absorbent but smooth and gentle on the hair.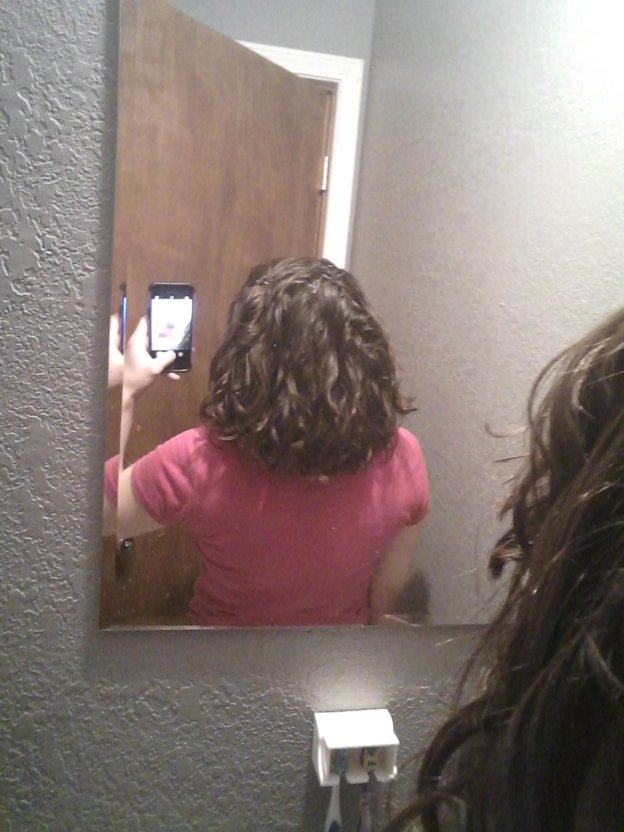 What Type Of T-Shirt to Plop With?
Any 100% cotton t-shirt should work in terms of the material. What size will depend on the size of your head.  I can use a men's medium short-sleeve t-shirt, but it's a bit tight, I find that size large or bigger is easier to work with.
My favorite way to plop is with a long-sleeved t-shirt. While a short-sleeved men's medium can be a bit tight to tie on my head, a long-sleeved men's medium t-shirt is easy to tie because the sleeves have so much extra fabric.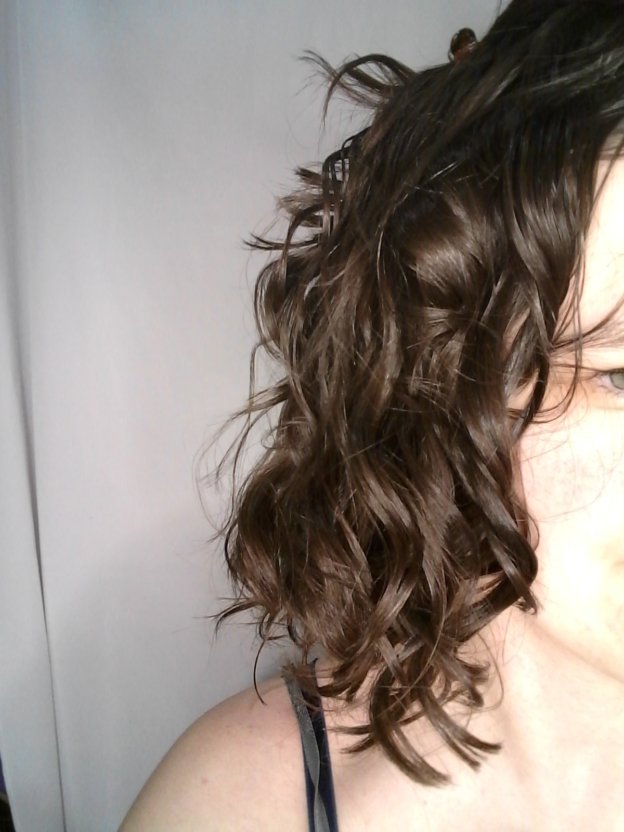 Should You Add Products Before Or After Plopping?
If you prioritize volume, adding products after you plop can assist with volume. If you prefer definition or avoiding frizz as much as possible, adding your products before you plop will be more likely to give you results that you prefer. 
Applying products on wet hair is called wet styling, while applying products after your hair has dried a bit is called damp styling. If you add products before plopping that would be wet styling, while adding products after plopping is damp styling. I have a whole post on damp styling vs wet styling if you want to learn more about the pros and cons of each.
Some hair products are best used on very wet hair. I don't usually use any leave-ins, creams or defining products. However, when I do, I need to use a very small amount (otherwise my hair gets weighed down).
If I am going to try to use about a pea-sized amount of a leave-in product in my hair, I have to mix it with water and spread it over my hands so that I can evenly distribute that tiny pea-sized amount across all my hair. Some gels, custards, etc need to be emulsified with water, so those I would probably use before plopping as well.
So for me, a leave-in or any product that needs mixed with water I would use before plopping. However, most days, I style with just mousse, and I like to add my mousse after plopping, not before.
My hair holds onto water like crazy. If I were to use mousse the second I step out of the shower, a lot of the product would drip right back out of my hair. I use plopping to absorb some of that excess water first, so that when I do add in my mousse, it doesn't come right back out.
However, other people say that if they plop before adding stylers, their hair will be really fizzy and their curl clumps will break apart a lot. My guess is that this is more common with fine and/or thin hair. Mine is thick in terms of density, and normal to coarse in terms of strand thickness.
If you decide to use gel or mousse before you plop, you may need to use a little bit more product because the t-shirt may pull some of the product back off your head. Just something to be mindful of.
As is often true with natural hair care, you'll likely have to experiment with your own hair and adding products before or after plopping to see what works best for your waves.
Are There Downsides To Plopping?
There can be downsides to plopping. Plopping for too long can introduce frizz. While t-shirts will cause less frizz than towels, they do still create some friction when touching your hair.
For some, perhaps especially those with long or thick hair, plopping can cause their roots to flatten if the weight of their strands is piled on top of their head for too long.
For some, plopping for too long can cause their hair to dry in an unnatural position. For example, if the hair from the back of your head is pulled forward on top of your head in your plop and dries that way, it will not want to lay flat once you let your hair out of the plop.
Sometimes plopping can allow products from the ends of your hair to touch your scalp. If your hair is sensitive to the ingredients in your styles, this can cause an irritated scalp.
I really like the way that plopping helps me to be able to damp style, and to give me more root volume. However, it took trial and error to figure out how long to plop for. If I plop for the wrong amount of time, whether it's not long enough or too long, it doesn't give me as good of results.
If you decide to try plopping, I would be mindful of how long you plop for. If you don't like your results, try again and change how long you plop for to see if it gives you better results.
New to embracing your wavy hair or the curly girl method? My blog post directory is a page that lists all my blog posts by title.