There are affiliate links in this post. 
Does mousse or gel work better on wavy hair?
Mousse and gel are both good styling product options for wavy hair. Which you want will primarily come down to your style preferences. If you want frizz-free, well-defined waves, try gel on wet hair. If you want big volume, go for mousse on damp hair. 
When I first found the curly girl method a few years ago, I thought gel was the go-to styling product that had hold. I didn't really hear much about mousse at the time. I was following a lot more curly-haired channels than wavy, at the time. It seems like gel is the most common choice for people with curly hair.
In the last year or so as I've found a few wavy-specific communities, I've noticed mousse is mentioned a  lot more than it is in curly circles.
When I started embracing my waves in 2018, I bought LA looks gel. It took a little while to figure out exactly how to best use it. I wasn't able to get a cast for a while, and once I did get a cast, I realized it improved my results quite a bit.
If you're new to the idea of a cast, check out my post what is a gel cast and how to get one. I did try mousse once early on, a random old bottle we had laying around in the bathroom that wasn't CG approved. It didn't seem to give me any hold at all, my hair turned out terribly and I didn't bother to try mousse again for a long time.
About a year ago I gave mousse another try…I don't really even remember why. I'm so glad I did though, because I was able to get a cast with the mousse, and I really liked my results! I have primarily been using mousse ever since then.
In the fall I tested out 10 types of mousse, tracking my results for 3 days each, and did a comparison blog post. Check out my Best Mousse For Wavy Hair post to see it. I did another comparison blog posts, for gels. Check out my best gels for wavy hair blog post to see that. I also have a wavy hair product recommendations post sharing my top favorites of gel and mousse.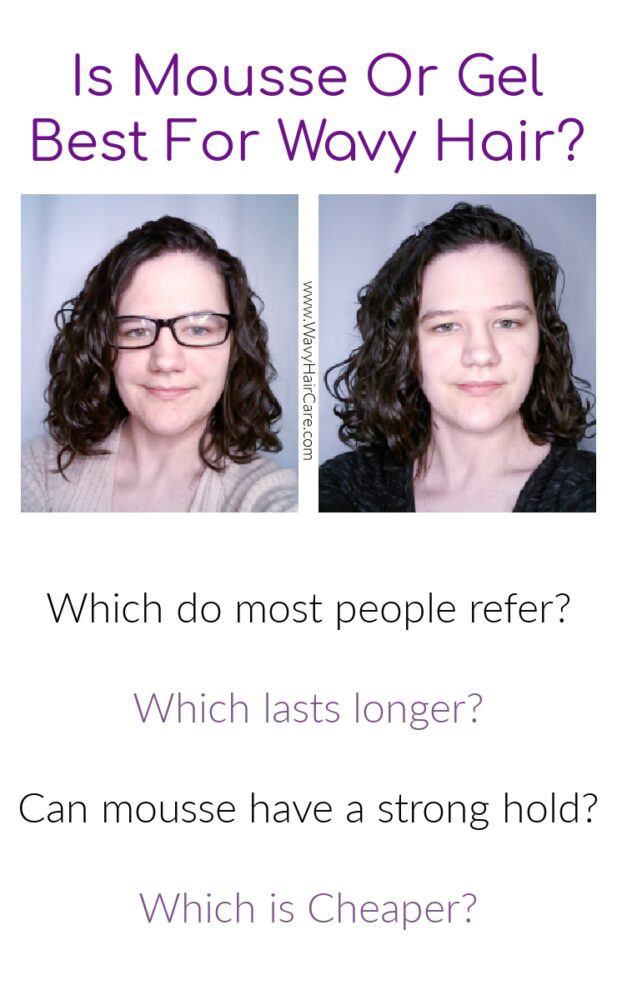 Mousse Vs Gel For Wavy Hair
I recently did one wash day using gel, and the next I used mousse. I tried to keep my routine identical outside of using gel one day and mousse the other. Both days I used about a quarter of Not Your Mother's shampoo, 3 pumps of Not Your Mother's conditioner.
Both days I followed the same routine in the shower in terms of scrunching, how long I left conditioner in my hair, how long I plopped for, and how I diffused. I also did a partial-pineapple on my hair in the same way each night for both of these "experiments". Check out my how to sleep on wavy hair post to learn more about sleeping on wavy hair.
On the "gel day" I used 2.5 palmfuls of LA looks gel (the picture below describes what I mean by a palmful)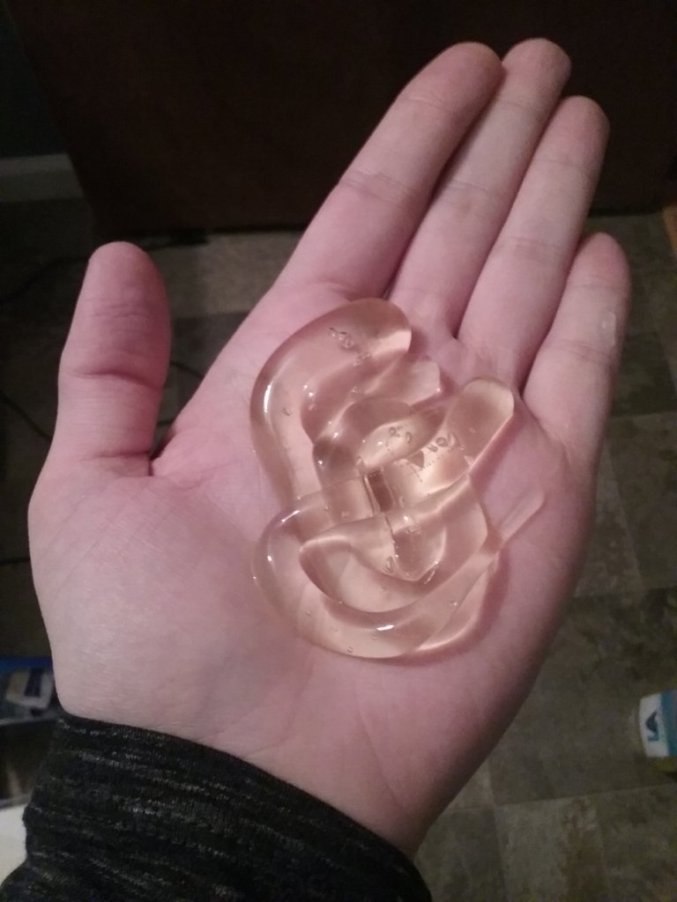 On the mousse day I used 3 handfuls of Not Your Mother's Curl Talk Mousse. Picture below shows what I mean by a handful of mousse.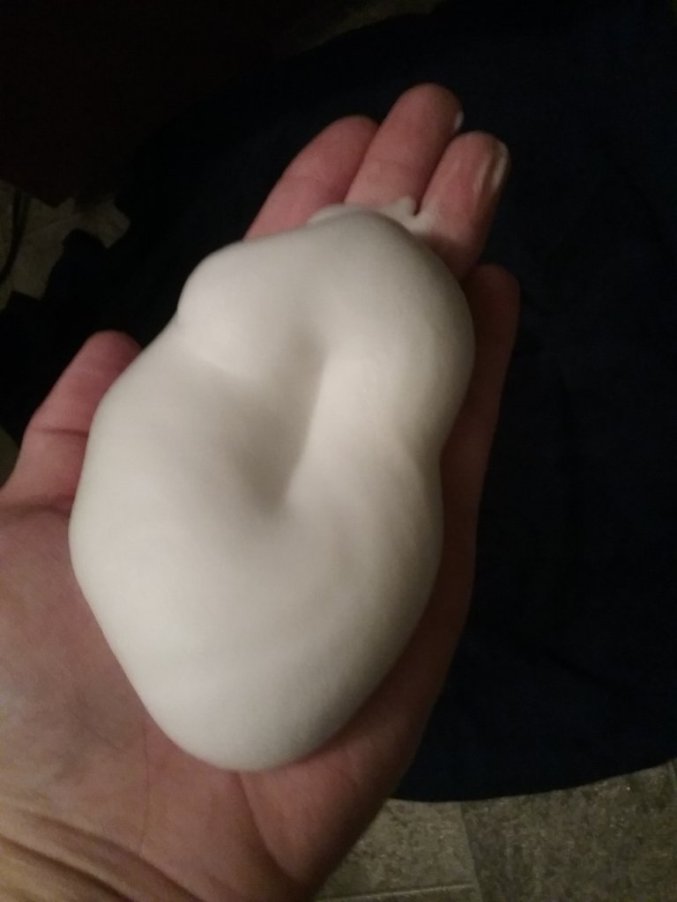 Yes, I use a ton of styling product. My hair is really dense and requires a lot to get a cast and good hold.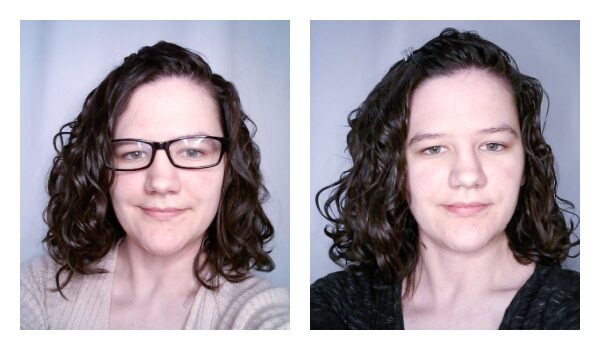 Mousse on the left, gel on the right. Both shortly after scrunching out the crunch.
I personally like big volume, so I am happier with the mousse results here as mousse gives me slightly better volume, particularly in the roots. I think that slight increase in root volume helps my hair to have a smoother overall shape.
Where with gel, I get slightly less root volume, so the top is a bit flat and then the waves start more out of the blue and feel a bit…lumpy? I was content with my results from the gel, too though.
Gel makes my hair stiffer and it remains a bit shinier than it does with mousse. I think mousse looks less rigid (it is less rigid) and looks slightly more natural than gel did. I get thicker clumps with gel, but I am not bothered by the skinnier clumps that mousse gives.
However, I do sometimes see where people with wavy hair say that mousse makes their hair look stringy. My hair is dense and my strands are primarily average/normal thickness. I think this makes my hair less likely to get stringy than people with fine hair or low-density hair.
Can You Use Mousse and Gel on Wavy Hair?
Some people use both mousse and gel on wavy hair. Some people use mousse at their roots for root volume, and gel on their strands. Some people use gel on wash day but use mousse to refresh. Some people layer mousse and gel.
Is Gel Or Mousse Most Popular For Wavy Hair?
Gel and mousse are about equally popular among those with wavy hair. In a poll I did on /r/wavyhair on reddit, 29 people said they prefer gel, 27 said they prefer mousse, and 20 said they like using both. 
Can Mousse Give Strong Enough Hold For Wavy Hair?
Mousse can provide a strong hold. Some types of mousse offer as much hold as strong-hold gels. Both mousse and gel can vary in how strong of a hold they have. 
If you check out my mousse comparison blog post, you'll see examples of how different mousses offer dramatically different hold. Some barely hold my hair on day one, others lost all definition by day 2, and some gave me 3 days of hair that I felt comfortable wearing. You can't always go on what the product advertises, either.
I find that Not Your Mother's Curl Talk Mousse has the strongest hold of any mousse that I've tried. If you read the can though, it describes itself as having a touchable hold, and rates its hold 2/4 strength.
Can Mousse Last As Long As Gel?
Some types of mousse can give hair results that last as long as gel. It can depend on your hair type and the type of mousse. How much hold a mousse has varies from one type to another. 
How long your style lasts will depend on the natural strength of your pattern as well as the products you use. Some people with wavy hair don't need products with hold to withhold their pattern. Most people with wavy hair do seem to need support from products, though.
I am someone who needs a product with hold to maintain my shape. I find that a hard hold gel such as LA Looks gives me 2-3 days worth of hair that I feel is "wearable" without refreshing, and some types of mousse (like NYM curl talk) can give me 3 days as well.
I believe I get better-lasting results from the gel if I use it on wet hair, but that gives me less volume than damp styling does. So, it's a bit of a trade-off. I damp styled both days, but here are my "day 3" pictures from the mousse and the gel. I showed both sides here because my left side (Which is my straighter side) falls straight a lot faster, usually.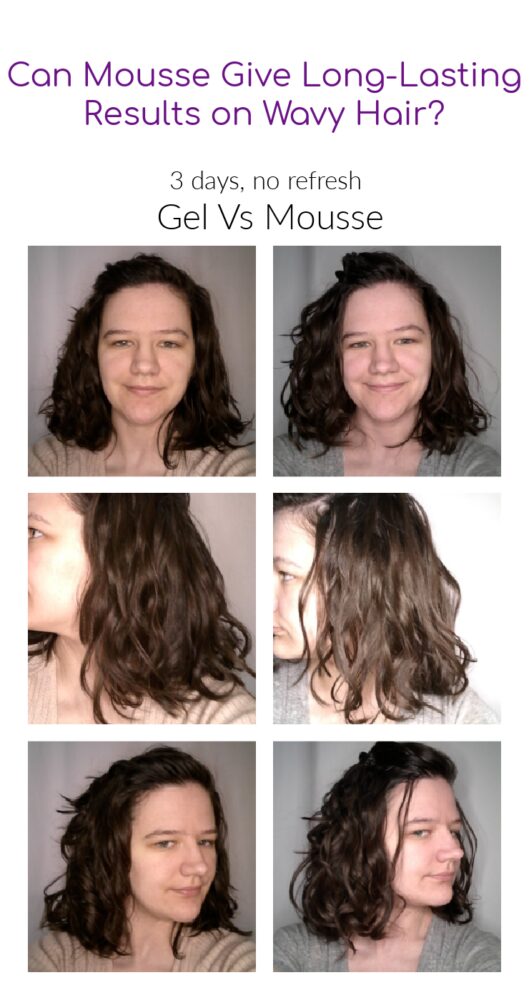 Does mousse dry faster than gel?
It may vary some depending on the mousse and the gel in question, but in general, mousse and gel seem to dry in roughly the same amount of time. 
I used to think that mousse dried faster than gel. When recently doing gel I timed how long it took to diffuse. It was 43 minutes. This is right in line with how long my hair typically takes to diffuse when using mousse.
For the first two years or so of doing the curly girl method, I had to diffuse for about an hour and 20 minutes. I thought the cause of that was gel, because when I switched to mousse, I was able to diffuse for a much shorter time.
What I didn't realize was, I switched from wet-styling to damp styling when I switched to mousse. Check out my post on wet vs damp hair styling if the details of these techniques interests you.
Anyway, I started to damp style when switching to mousse because I read that mousse typically performs better when damp styling, while gel performs better when wet styling. I've found that I can damp style with gel, and when I do that, it takes about as long to dry as mousse does when damp styling.
Damp styling definitely helps hair to dry faster than wet styling, and because I made that switch at the same time that I switched from gel to mousse, I thought the drying time difference was caused by the product. It wasn't.
Is Mousse More Expensive Than Gel?
The price of gel and mousse can definitely vary a lot. The cheapest curly girl approved gel that I know of is LA Looks gel, at around $2. For some reason this gel is always extremely overpriced online, just so you are aware. The cheapest curly girl approved mousse that I know of is the Herbal Essences Totally Twisted or Herbal Essences Body Envy mousse at about $3.
Neither of those give me 3 days of good results, though. The cheapest mousse I found to give me 3 days of wearable hair was the Aussie Instant Freeze Mousse which is about $3.50, still quite affordable. However, a bottle of LA looks gel will last me many more uses than a can of mousse.
I have to use a larger amount of mousse than I do gel. As I showed higher up on this post, I only used 2.5 palmfuls of gel vs 3 handfuls of mousse. A small part of my scalp was sticky the day I used the gel so I think I used slightly too much, actually. Anyway, I think I get about 5 uses per can of mousse with my NYM Curl Talk bottle, and most mousses are around that size.
So for me, yes, it is more expensive to use mousse than gel. However, I still prefer mousse. I like how it works better when damp styling than gel does. I really prefer damp styling due to the time it saves me when drying my hair. I also just prefer the consistency.
I have experimented with using both gel and mousse (using the mousse-gel-mousse technique) in the past but haven't got it down pat yet, I either used too much product or not enough overall. I'll plan to keep experimenting with it to find an ideal balance and once I do I'll probably do a blog post about my thoughts on using both at once.