What Are Wavy Hair Stats?
Your hair stats are made up of your curl pattern, your hair strand thickness, your hair density, and your hair porosity.
When I first started embracing my wavy hair about four years ago, I tried following someone else's routine who had wavy hair with a similar curl pattern to mine. I was so confused when it didn't work for me at all.
I eventually realized this was because we had different hair stats – hers was low density while mine is dense, and hers was thicker textured than mine.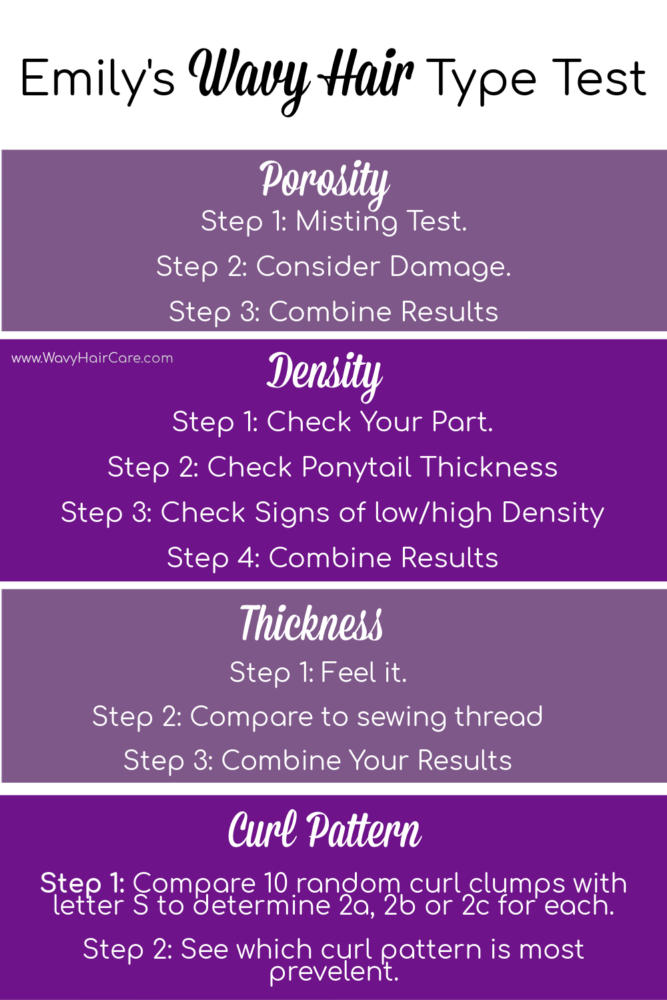 Does Your Wavy Hair Type Matter?
When looking to start the curly girl method or wavy girl method, some people tell newbies the first thing that they should do is determine their wavy hair stats. When I first attempted to determine my wavy hair type (and even on the second and third attempts to determine my hair stats!) it just didn't help! Due to this, for a long time I've recommended to people that they just experiment with their hair, instead.
I have finally – FINALLY, found my true hair stats and now I have found that knowing my hair stats really has helped me with finding my routine. However, I do still advocate for experimenting!
Now I now see the value in determining your hair stats, as it can help you determine which products will work well for you and what routine will work best for you. It's essential that you determine your hair type correctly, though.
I incorrectly typed my hair multiple times, so I tried following routines based on the wrong hair type is why those routines didn't work well for me. They weren't really for my hair type!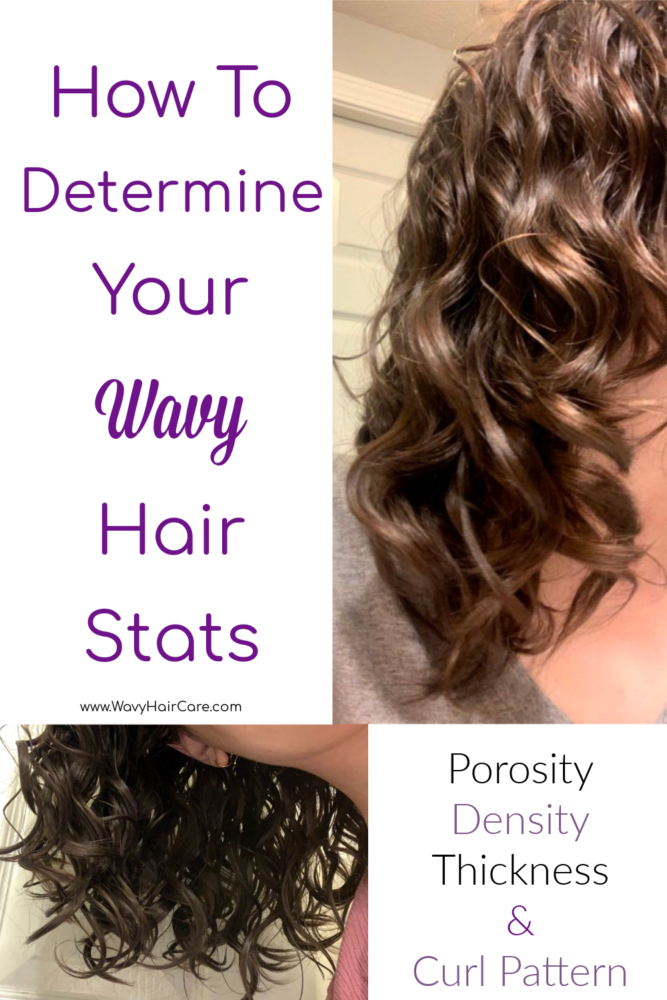 How To Test Your Wavy Hair Porosity
What is hair porosity?
Hair porosity is about how open or closed your hair's cuticles stay. Low porosity hair has tightly closed cuticles. High porosity hair has open cuticles, and may even have part of the cuticle missing.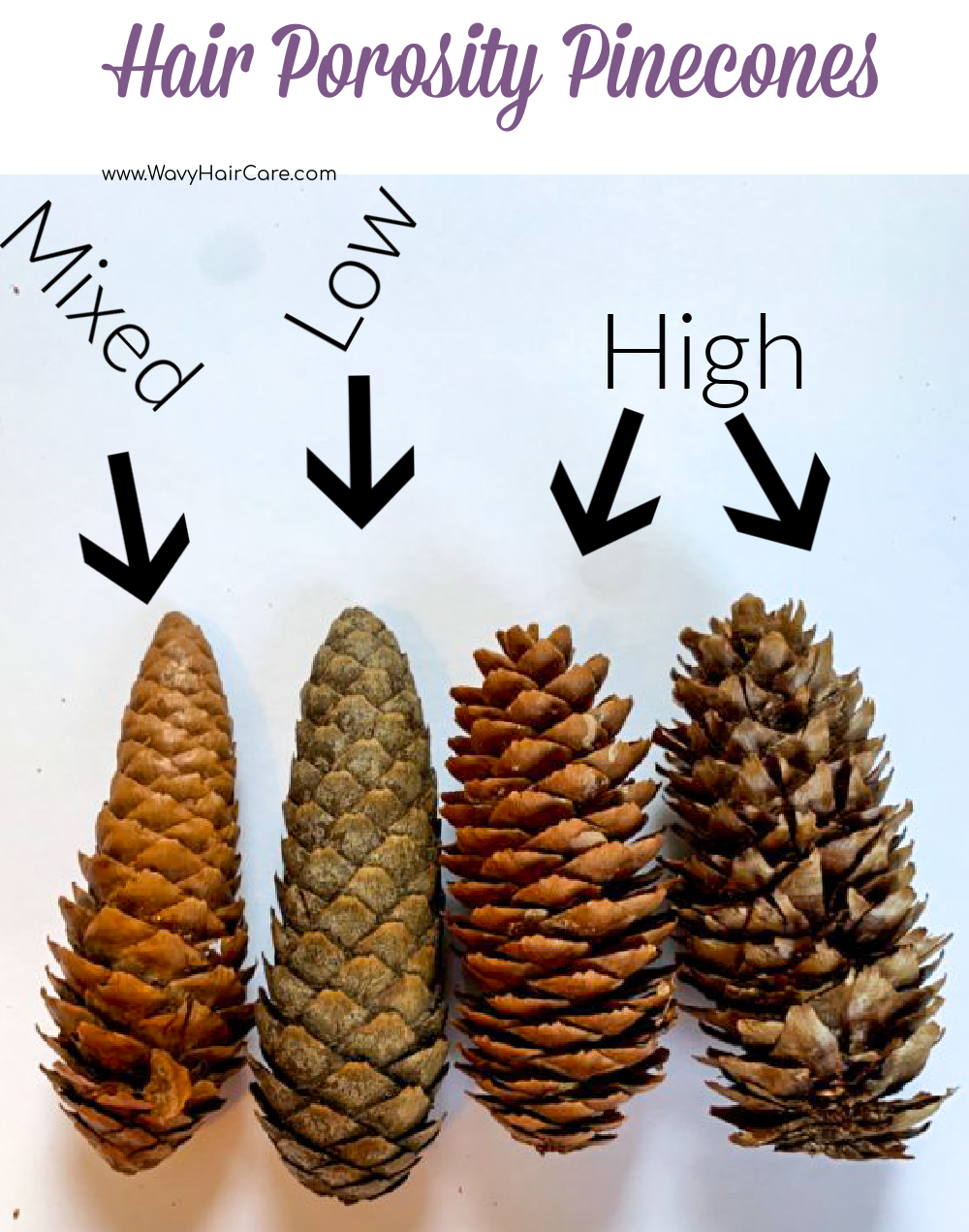 The common analogy used for explaining hair porosity is pinecones. Low porosity hair is like a closed pinecone, it's quite smooth and flat, high porosity hair is like an open pinecone, making it feel a bit bumpy.
In this analogy, imagine how that difference in the open or closed cuticle can impact how easy (or hard) it would be for water to penetrate the inside of the hair strand, and how easily (or not) the water would be able to leave once inside. Low porosity hair has a harder time absorbing moisture but holds onto it well. High porosity hair easily takes in moisture, but has a hard time holding onto it.
Hair porosity is often touted as the most important trait to determine about your hair. Many believe that your hair porosity is the key factor in determining your moisture-protein balance.
In other words, people say you need to know your hair's porosity so that you can know how much protein to use in your routine. I personally believe that moisture-protein balance requires knowledge of porosity AND hair strand thickness…however, porosity is certainly important!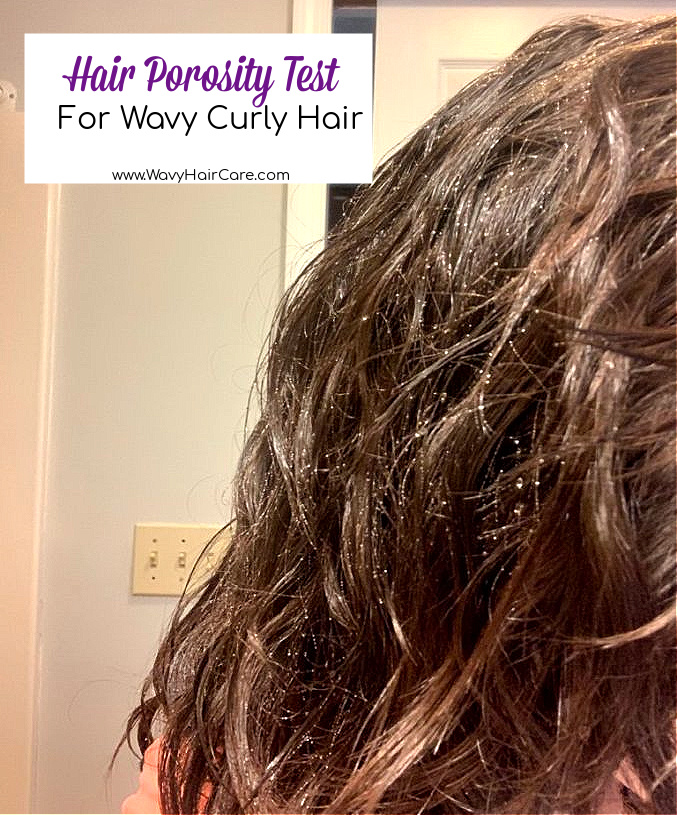 The Best Way To Test Your Hair Porosity 
Step 1: The Misting Test
When your hair is dry and free of styling products, use a mister to mist your hair. If you see beads of moisture on your hair for a while before they soak in, this suggests that your hair is lower porosity. If your hair simply gets wet, it's likely medium to high porosity. Remember this as your step 1 porosity result.
Step 2: Consider Your Damage
Damage from bleaching, dyeing, flat irons or curling iron use makes hair more porous.
If you've bleached your hair, it's likely medium to high porosity. Hair dye is often damaging too, but usually less damaging than bleaching. The farther your natural hair color is from the color you dye or bleach it, the more damage it's likely doing. For example, if someone bleaches their hair that is naturally light brown, it probably gets less damaged than someone who is a natural dark brunette who bleaches their hair.
Heat is another common sign of damage, so think about how frequently you use heat on your hair.
If you've regularly straightened your hair, it's likely received some heat damage. If you've regularly used a hot curling iron, that has likely caused some damage, too. If you've heat damaged your hair, that has likely made it more porous. Remember this as your step 2 porosity result.
Step 3: Combine The Results!
Look at the two results that you got from these two tests. If they are both the same, that is your porosity! If they are different, average the two to get your porosity. For example, If your hair beaded up briefly before absorbing (suggests low porosity) but your hair is bleached (this suggests high porosity) you would have medium porosity hair.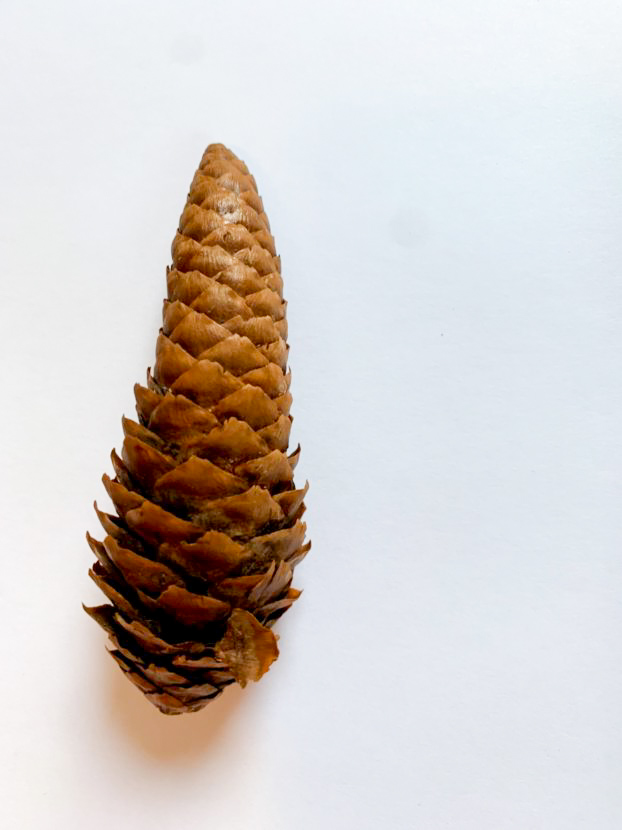 Also keep in mind that mixed porosity is common. This is often left out of the porosity conversation, but it's common for hair to be lower porosity at the roots, and higher porosity at the ends. If you used to dye your hair or regularly used heat tools on your hair, but then stopped…your new growth is likely lower porosity than the lower pieces of your hair that were bleached and heat damaged.
The Float Test Is Unreliable.
Just a quick note I wanted to make here. Many people recommend doing a strand float test, by pulling out a hair and seeing if it floats in water or how long it takes to sink.
The theory is that low porosity hair will float longer because it's less porous and takes longer to absorb water, where high porosity hair will quickly absorb water and sink. I don't believe it to be a good test.
In elementary school, we did a science experiment where we had to get a paperclip to "float" in a cup of water. It's the surface tension of the water that allows a paperclip to float if laid right. A strand of hair can be held by surface tension as well, if laid just right. It's also possible for hair strand thickness, the length of the hair, and the size/shape of the cup of water to factor into how long a piece of hair will float.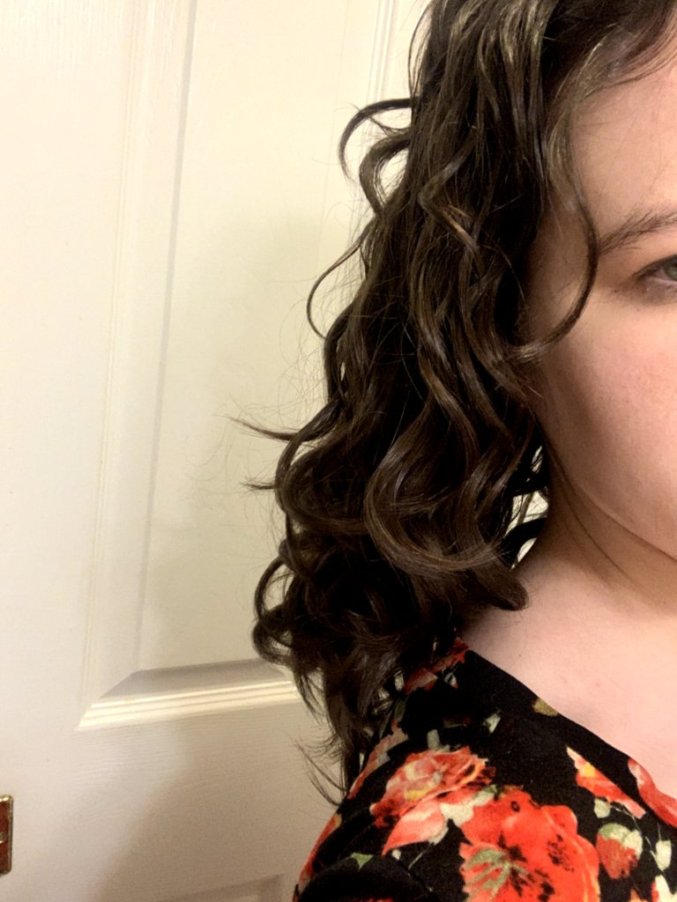 What Is Hair Density?
Hair density is how many individual hairs you have on your head. People who have dense hair may think of their hair as 'thick', but it can get confusing to refer to density as thickness because individual hair strands can be fine or thick, as well. So within hair communities, we typically use density rather than thickness when discussing this property of hair.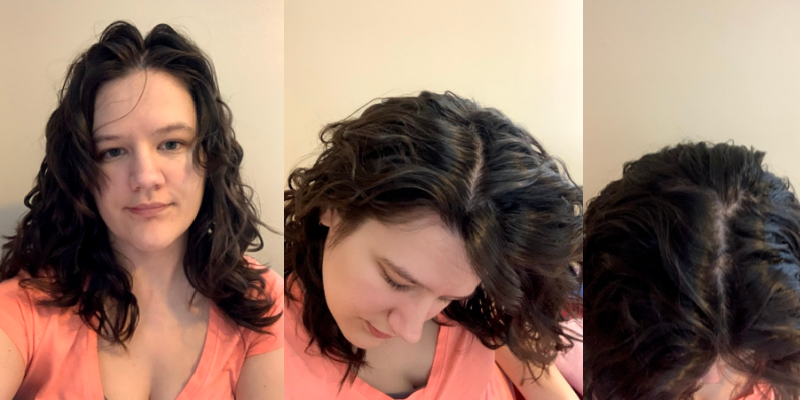 My hair is dense – here's how much scalp you can see at my part at different angles. 
How To Determine Your Wavy Hair Density
Step 1: Check Your Part
The most common way to check your hair density is to look at your part. If you don't usually have a part, make one for this 'test'. Do you see barely any scalp, some scalp, or a lot of scalp? The more scalp you can see, the lower density your hair is.
Step 2: Check Your Ponytail Thickness
Another way to estimate your density is by measuring the size of your ponytail. Individual strand thickness plays some role in how thick your ponytail is, but you can get a good estimate of density by measuring your ponytail. When measuring, be sure to only measure your hair (don't include the hair tie in the measurement).
To get an accurate measurement I made a ponytail the normal way, then pulled the hairtie an inch or so away from my scalp, so I could lay a measuring tape around the base of my ponytail without including the hairtie. My ponytail measured 3.75 inches. Here is a chart showing ponytail measurements and density. This info was sourced from HealthLine.com.
| Ponytail Circumference | Hair Density |
| --- | --- |
| Less than 2″ | Low Density |
| 2-3 Inches | Medium Density |
| 4+ Inches | High Density |
Step 3: Check for these common signs of low or high density:
Signs that your hair is dense:
Your hairstylist has said things like "you have SO much hair!" or "you have enough hair for two people!" when washing or cutting your hair.
You have a hard time finding barrettes or clips that hold as much hair back as you intended. A barrette that may hold back 1/2 of someone else's hair may only be enough to clip back your bangs.
You have natural volume/body to your hair.
If you don't get layered haircuts, you get a "triangle head" look easily.
Signs that your hair is low density:
You are mindful of how/where you part your hair because if it doesn't lay a certain way, you show more scalp than you want to.
When styling your hair wavy/curly, it's easy for your hair to look 'stringy'.
When you get big curl clumps, a lot of your scalp shows.
You can see a lot of scalp when your hair is wet.
You struggle to get volume or body in your hair styles.
Step 4: Average Your Results!
For example, if you see some scalp but not a lot (suggests average density), have a 4 inch ponytail (suggests average to high density), and you have 3 signs of dense hair, no signs of low dense hair – then your overall result would be high density.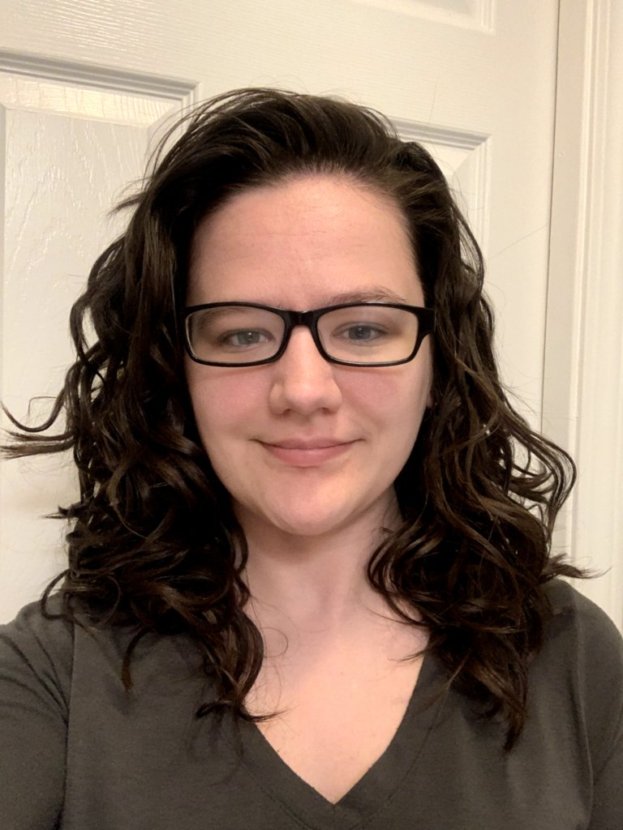 How To Determine Your Wavy Hair Thickness
Hair strand thickness describes how thick each individual strand of hair is. In conversation, we may refer to "how thick" someone's hair is when we are actually referring to their hair density.
Step 1: Can You Feel It?
To determine your strand thickness, you'll want to look at a single hair. You may be able to find one that has naturally been shed. If not, you could pull one out.
Once you have a single hair strand, place it between two of your fingers and close your eyes. Rub your fingers together, and ask yourself if you can feel that strand without seeing it.
If you can very easily feel the hair, you have thick or coarse hair strands.
If you can slightly tell that it's there, you have average or normal thickness.
If you can't feel the hair, you have fine or very fine hair strands.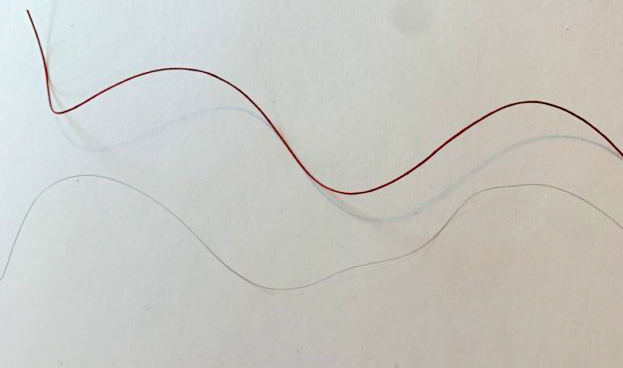 A piece of read thread (on top) compared to a strand of my hair (on bottom). My hair is fine. 
Step 2: Compare It To Thread
Another way of determining hair strand thickness is to compare a single strand to sewing thread. If a piece of your hair feels similar to a single strand of sewing thread, it's thick or coarse. If it's thinner, it's fine or average thickness.
Step 3: Combine your results!
What Is A Curl Pattern?
A curl pattern is the shape that your hair makes.
Curl pattern charts break hair down into four main types (straight, wavy, curly and coily). Each of these categories is assigned a number. Straight hair is type 1, wavy hair is type 2, curly hair is type 3, and coily hair is type 4.
Within those four categories, there are subtypes, these are labeled a,b, and c.
Extremely straight hair (1a hair) is a straight line. Wavy hair (type 2 hair) is said to be "S-shaped" though the tightness of the S shape varies across the wavy hair spectrum (2a, 2b and 2c). Type 3 curly hair is full spirals, from root to tip.
It's common for people with wavy hair to have hair that is wavy for most of their length, but that begins to spiral closer to the ends. When spirals start lower on the hair strand, this is still said to be wavy hair (type 2), rather than curly (type 3).
How To Determine Your Wavy Hair Curl Pattern
Wavy hair is pretty easy to determine, as it's based on the S shape. 2A waves are like a stretched-out capital letter S. 2B waves are just like a letter S. 2C waves are tighter than a letter S. The graphic below is one that I made to try to show these different patterns using real hair.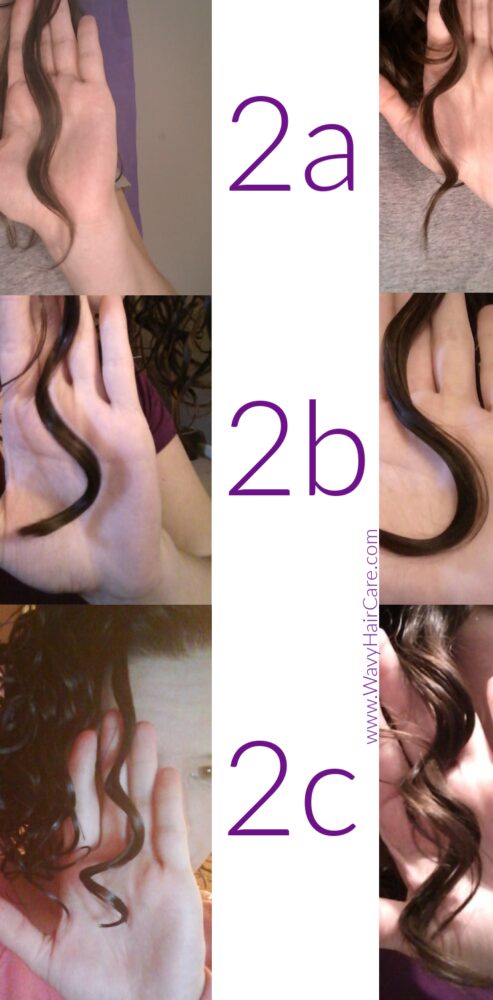 Step 1: Check 10 curl clumps at random and compare them to the letter S.
Step 2: See which curl pattern you saw the most frequently in those 10 curl clumps. This is your primary curl pattern!
Most people have multiple curl patterns on their heads. Most wash days, I end up with curl clumps that range from 1C to 2C, so four different curl patterns.
It's common for newbies to be really interested in their curl pattern, which is why I made the whole blog post: Wavy Hair Curl Pattern Chart & Curl Patterns Explained.
Truthfully though, your curl pattern doesn't matter very much when figuring out how to care for your hair. Your porosity, thickness and density are what matters.
What next?
Now that you know your wavy hair type, check out my post how your hair type impacts your hair care needs.