There are affiliate links in this post.
Cheapest Way To Start The Curly Girl Method
When I first was looking to start the curly girl method 3 years ago, I wanted to buy the cheapest curly girl approved products that I could. I've always been pretty frugal and I wasn't sure if this method would even work on my hair. I didn't want to risk wasting money.
In other blog posts I've shared curly girl method starter kits for Target and Walmart. My Walmart curly girl method routine post was specifically focused on being affordable, coming in at under $20. In that post, I went quite cheap while also only including products that I personally really like a lot and have repurchased myself.
This post is aimed at people who really just want the cheapest way to start, period. I want to be transparent in admitting that I don't love some of the products that are included in this routine.
You won't see me recommending some of these products in other posts, because some of these products are just really not my favorite. I do think they are all okay, though. Also some of what is included here I really do like a lot and think they're just a great bargain. I'll discuss my thoughts on each product below if you're curious which ones I really love and which I don't.
This is for people who are looking for the cheapest way to start the curly girl method. I know there are lots of others who like me, don't want to invest money early on until they grasp the basics. I see people in my wavy/curly groups saying they are in high school or are a broke college student and have really limited funds. I hope this post is helpful to people like that!
Dollar Tree Curly Girl Method Routine
To get the lowest prices possible, I went to my local Dollar Tree. What Dollar Tree stories carry can vary from one store to the next sometimes. However, I believe these products, especially the shampoo and conditioner, to be regularly carried at Dollar Tree.
Tip: If you go to CurlScan.com from the browser on your phone, you can scan barcodes of products and if the product is in the CurlScan database, they'll let you know if that product is approved, or not. This can be a good way of figuring out of products are CGM approved while standing in the store.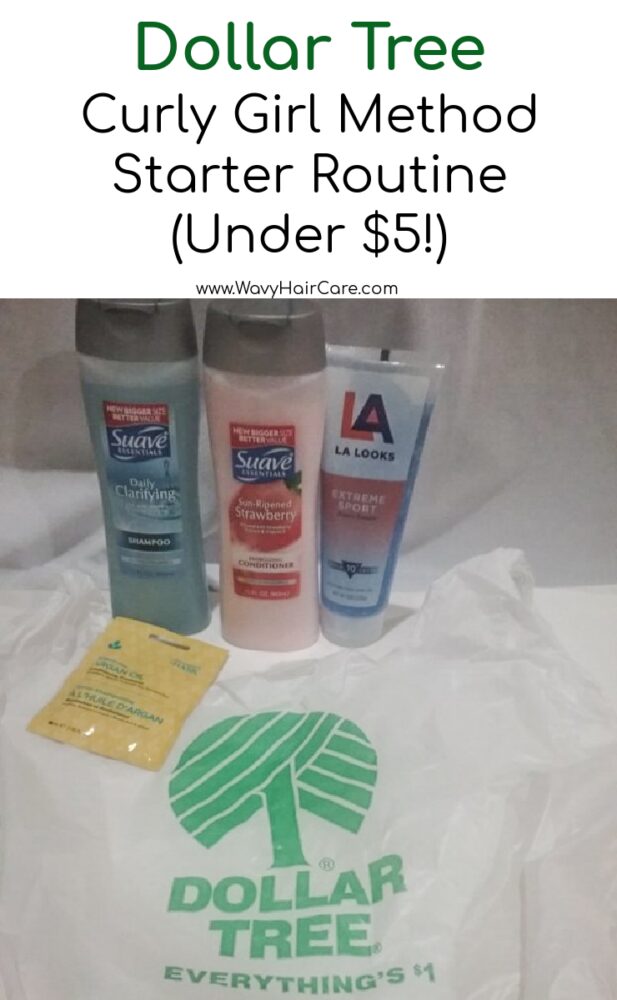 I picked up Suave Daily Clarifying Shampoo, Suave Essentials Sun-Ripened Strawberry conditioner, LA looks extreme sport gel, and two Beginnings by HASK brand deep conditioning packets. Though you can just buy one of the deep conditioner packets, I just thought I'd try both. Meaning you can start the curly girl method for under $5!
Why no shampoo?
I used CurlScan to scan every shampoo at my dollar tree, and none of them were CGM approved! None. There was one brand at my Dollar Tree that said "sulfate free" on the label which is often a sign that the shampoo will be CGM approved, because sulfates are the common ingredient in shampoos that make them not CGM approved.
However, in the ones I scanned, they were sulfate-free,but had silicones (more commonly found in conditioners or styling products). So, sadly, none were CGM approved.
However, the curly girl method does strongly advocate for using conditioners as cleansers, instead. The conditioner in this post (the Suave sun-ripened) is CGM approved and can be used as a co-wash.
I, personally, really do not like cowashing and generally do not recommend it to people with wavy hair, as we tend to be easily weighed down and cowashing is heavier than shampoos are. Also, there are not cleansing ingredients in conditioners, so you have to really scrub your scalp extremely thoroughly to manually remove any dirt, product, oils, etc from your scalp.
Where with shampoos, they have natural reactions that occur within the ingredients that help lift these things off our hair so we don't have to scrub much to get our hair clean. This is not true for conditioning washes, so it's often said that if you are using a cowash you should scrub your scalp at least 5 solid minutes.
My thoughts on these products:
I regularly use Suave Daily Clarifying Shampoo as a clarifying shampoo myself, and recommend it to people all the time. This is a really great product or $1. It is good for removing build-up, but not as a daily shampoo. I recommend using a clarifying shampoo when you start the curly girl method, and then about 1-2 times a month once you're doing the curly girl method regularly.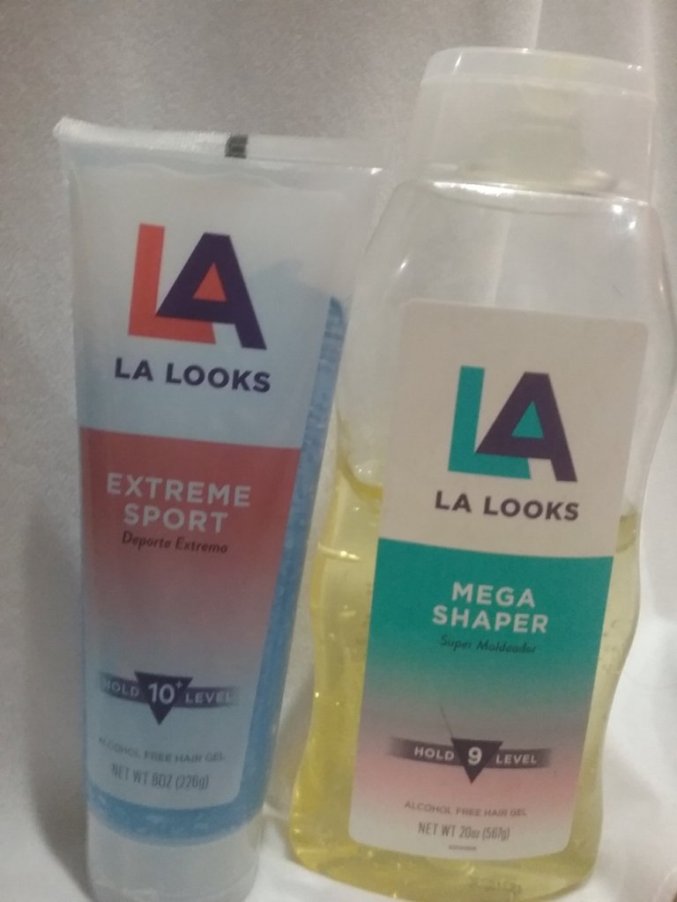 I regularly used LA looks gels (the sports version as included in this post, as well as the 'mega shaper' gel) for a really long time. A little over a year ago I realized that I prefer mousse, but for almost two years straight I basically exclusively used LA looks gel. Even the regular size of this gel (20oz, available at most drugstores and grocery stores) is only $2.
The dollar tree sells the 8oz tube shown in this photo for $1, so it's pretty similar price-wise with the bigger size, but the $1 tube will let you try it super cheap. Two thumbs up, and a solid recommendation from me, on the gel, too.
The Suave Essentials Sun-riped strawberry conditioner is really the one that I wouldn't typically recommend…especially as a cowash. I  just don't love the idea of cowashing in general, honestly.
However, I also find that as a rinse-out conditioner, it's pretty basic, it doesn't make my hair feel particularly good. My hair almost never tangles, but this works okay for me as a rinse-out conditioner. If your hair is really tangle-prone, this may not be ideal for your hair.
The Beginnings By Hask deep conditioners are both decent, in my opinion. They both have some protein but not high on the ingredients list, meaning these have protein but aren't really protein treatments, they're more of a regular deep conditioner. I can get a couple of uses out of each foil pack.
I recommend deep conditioning after you clarify, usually 1-2 times a month. I find these feel good on my hair, I like them, I just don't find them to be real stand-out products vs others that I've tried. I'd say try them…they are only $1 after all. Hard to go wrong at that price, but you won't see them on a favorites list of mine. They're pretty average, in my view.
The Cheapest Curly Girl Method Routine
A $1 clarifying shampoo, a $1 conditioner (to cowash with and condition with), a $1 gel and a $1 deep conditioner is the cheapest way to start the curly girl method that I can come up with. The routine you'd use with these is as follows
Day 1 of the curly girl method:
1. While leaning over into the flow of water, wash your hair using the clarifying shampoo to remove any build-up that you may have. New to the idea of clarifying? Check out my blog post all about clarifying wavy hair to learn more.
2. Use the deep conditioner, finger-comb your hair to detangle and align your hair, "squish to condish", and let it sit in your hair for 10-15 minutes, then rinse out fully.
3. Run your fingers across the back of your head, and tilt your head side to side, to ensure that your hair isn't stuck to your scalp.
4. Apply gel over all of your hair strands, without getting your scalp. I recommend applying with "prayer hands" to glaze the gel over the lengths of your hair, and then scrunching your hair to help your waves/curls pop back up.
5.Plop your hair for about 10 minutes. I have a how to plop your hair tutorial if you need one. You can now stand upright, finally!
6. Remove the plop and let your hair air dry, or diffuse if you have a diffuser.*
7. Once your hair is 100% dry (it's important that you are sure it's totally dry!) squeeze/scrunch your hair to break the gel cast and get rid of the crunchy feeling.
*Depending on your hair type, thickness and length, air drying may or may not be practical. Some people can air dry in under an hour, making air drying very practical. Others (like myself) would have wet hair for literally more than half a day if we used gel and didn't diffuse. If you are new to the idea of diffusing, I have a how to diffuse your hair 4 different ways blog post.
If you have a hard time scrunching out the crunch, this is usually the result of having used too much gel. If your hair didn't get a crunchy cast, or only was crunchy in some spots but not others, this usually means you didn't use enough gel, or didn't get it well distributed across your hair.
For more about gel casts check out my posts what is a gel cast, and/or my post why you aren't getting a gel cast.
You'll repeat this routine 1-2 times a month, for the sake of removing buildup. All non-clarifying wash days will follow the routine below.
Regular wash day routine:
1. Cowash using the Suave Essentials Sun-rippened strawberry conditioner. Be sure to scrub your scalp all over using the Suave conditioner, and very thoroughly.
Conditioners do not have cleansers like shampoos do, which help naturally lift product residue, sweat, dirt, etc off of our scalps. So when using a cowashing, you have to use "elbow grease" to clean your hair. I've seen it recommended that you scrub for 5 full minutes when cowashing.
2. Also use the conditioner on the lengths of your hair. When you have conditioner on your strands, use your hands to finger-detangle and align your hair. "Squish to condish" and rinse the conditioner out fully once done.
Follow steps 3-7 from the previous routine, the remaining steps are the same.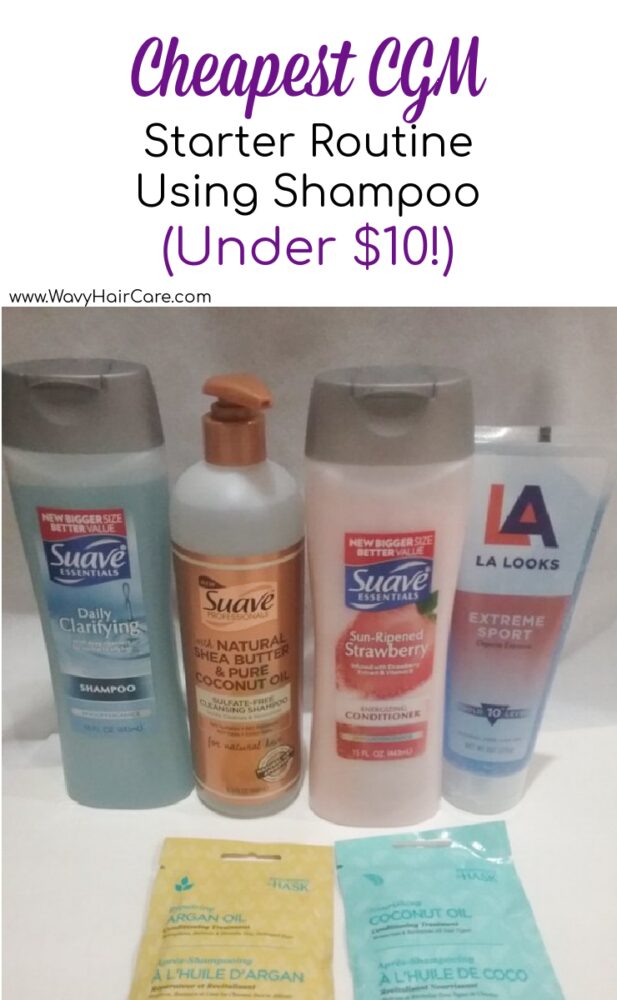 Cheapest curly girl method routine using shampoo
As I mentioned above, I don't really like cowashing. I recognize that it does work for some people, but I think many of us with wavy hair are better off using a gentle shampoo rather than cowashing. Sadly, there aren't any CGM shampoos sold at my Dollar Tree, and there aren't any super duper cheap ones that I know of at drugstore or big box stores, either.
The cheapest curly girl approved shampoo that I know of is the Suave professionals with natural shea butter & pure coconut oil sulfate-free cleaning shampoo. It's sold for about $5 at stores like Walmart and Target, usually. I got it buy one, get one free at Meijer thanks to an Mperks coupon offer, so I got two for $4.99, making them about $2.50 each.
I don't know how common sales like that run on this shampoo. Even without the coupon though, the $5 price is the cheapest low-poo (meaning regular-use shampoo, or a non-clarifying shampoo) that I've heard of that is curly girl method approved.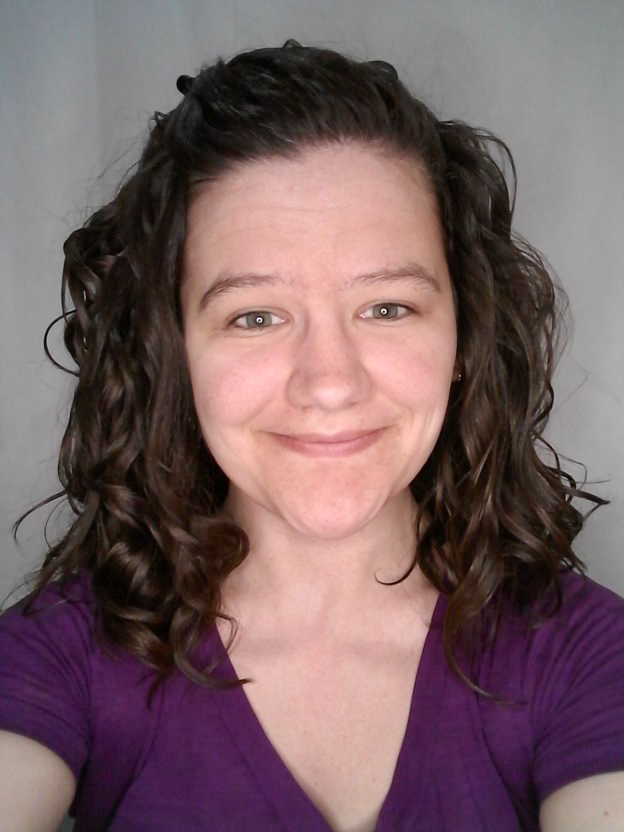 This was my wash day results when using this routine including the shampoo.
I found that this shampoo was cleansing without feeling super stripping. It doesn't leave my hair feeling quite as soft as my typical shampoos. It's not a favorite of mine, but it certainly isn't bad.
If you're on this post, I assume price is extremely important to you, and in that case I'd recommend it. If you're open to spending a few more dollars, I have other shampoos and products on my wavy hair product recommendations page, and none of them are high-end, most are under $10 each.
Routine using shampoo:
If you want to use shampoo rather than cowash, your day 1 and clarifying day routine would match the one shared above. You'd just need to make one change to the "regular wash day" routine listed above. Rather than do step 1 as listed above, you'd use the shampoo to cleanse your scalp, then move on to steps 2+ as listed.
New to embracing your naturally wavy hair or the curly girl method? Check out my wavy hair blog post directory which lists the titles to all of my blog posts.