I remember spending so much time over-thinking what products I would buy when I was first starting the curly girl method. There was so much information to take in, and I wasn't positive about my hair properties.
I wasn't sure about my porosity, I worried I may be protein-sensitive, I didn't know whether to believe the people who said "you get what you pay for" with hair care products – the list of uncertainties goes on. At first, I thought finding the perfect products for my hair type was the answer to getting the look I wanted.
Over time, I grew to realize that my hair routine or my hair techniques matter a lot more than what products I use. So sometimes, I find it a bit surprising how much conversation in wavy/curly hair groups or forums seem to be product-focused.
It's very common to see people sharing a problem they're having or an improvement they'd like to see in their hair, and then ask what product they should buy to fix it. It often seems like the assumption is that products are always the problem and products are always the solution.
Sometimes products can be the problem or the solution, no doubt. In my blog post best mousse for wavy hair, you'll see that I did get dramatically different results (especially on day 2 and beyond) depending on what mousse I used. I also have a post answering if products with hold are needed for wavy hair, with the answer being 'yes'. For me it make a huge difference.
If you use products that have too much protein, or not enough protein, or too much moisture – you can make your moisture – protein balance out of whack and that can really impact your hair a lot. If you don't clarify often enough that can cause build up and result in problems.
If you haven't heard of clarifying, definitely check out my blog post about clarifying wavy hair – it's important! There are a lot of cases where products 100% absolutely do matter. Check out my wavy hair product recommendations page to see products I recommend for various purposes.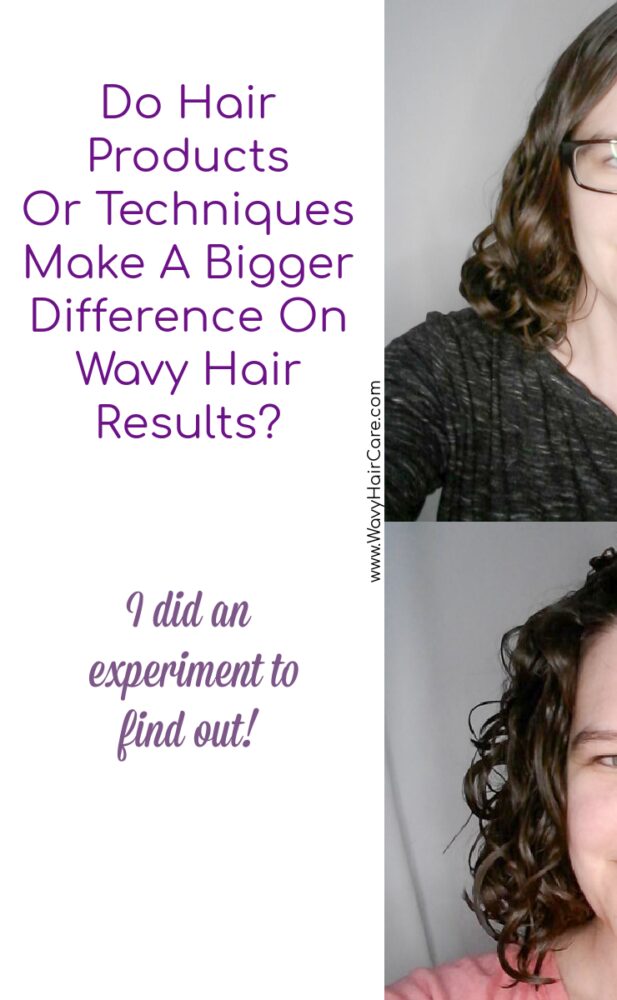 However, I still feel like routines matter the most. In many cases, if you aren't getting the results you want with your hair, I think it makes sense to really look at your techniques closely and to consider switching your techniques up before you go buy new products.
I have multiple blog posts showing differences in technique that make a big impact on my hair. Some of those posts:
Does air drying or diffusing work better for wavy hair?
Wet Styling Vs Damp Styling For Wavy Hair
Upside Down vs Upright Styling For Wavy Hair
Still, to try to show how techniques make a bigger difference than products, I decided to run an experiment for you guys. I'm going to refer to them as using the 'right techniques' vs 'wrong techniques'. However, I want to give a disclaimer that I simply mean the right techniques to get the results that I prefer.
The look that I prefer is waves with big volume, and with my curl pattern starting high on my head. I want some definition and I don't like tons of frizz, those are secondary to prioritizing volume, root volume, and my curl pattern starting higher up. When referring to using the 'right' techniques, I mean using techniques that will aid in getting these results.
To try out using the "wrong products" but the "right techniques" I used a Curls So So Clean Vitamin C Curl Wash which is a low-lather cleanser that is closer to a cowash than what I usually use.
I also used Curls So So Moist Curls Mask which is a conditioner that I found to be too heavy for me on previous uses. The second ingredient in it is an oil. For mousse, I used Herbal Essences Body Envy mousse which is one that I rated fairly unfavorably in my 10-mousse comparison post.
For my routine or techniques, I did things exactly the way I always do. I squished my hair in shower, plopped after I got out of the shower for about 15 minutes, then applyied mousse with a glaze & scrunch technique while still upside down, then briefly microplopped, then diffused upside down for a couple of minutes, then flipped upright to finish diffusing upright.
It was one that gave me stringy hair and didn't give me as much hold as I prefer. Here are my results: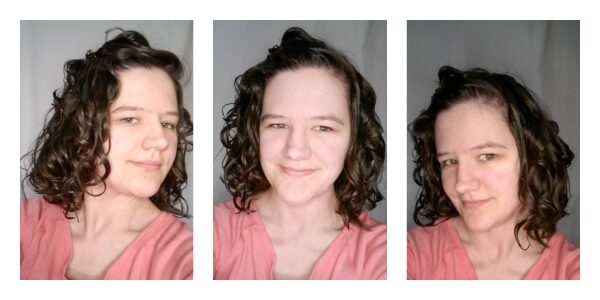 I was happier with the results than I expected to be! I really thought I was signing up for two wash days that I'd dislike the results of. There are some parts I do dislike – mostly the stringy/frizzy pieces that you can see in the far left photo. I was surprised at how much volume and root volume I got, and I was surprised that my curl pattern started as high on my head as it did.
I was anticipating flatter roots and more weigh down due to using heavy products. The style did "fall" rather quickly, I didn't have as good of hair for day 2 as I do when using a mousse with better hold. For day 1 results though, I was more happy than unhappy, for sure.
For my next wash day, my goal was to use the "wrong" techniques (ones that don't encourage volume, root volume, or my curl pattern to start high on my head), but the 'right' products.
I used my go-to shampoo, conditioner and mousse right now, which is Johnson's Kids curl shampoo, not your mother's curl talk conditioner, and Not your mother's curl talk mousse. I used the same amount of each of these products as usual.
If I really wanted to "ruin" my technique, I could have gone more extreme with really reversing all of my techniques. I knew that would give really bad results though. So, I opted for techniques that I thought were not ideal, but not terrible. I wanted to keep some of my techniques but change others. I landed on this set of techniques:
I squished my hair in the shower, and plopped my hair for 10 minutes after getting out of the shower. Meaning I reduced my typical plopping time by 5 minutes, leaving my hair wetter than usual when I added products. I then brushed my hair with a denman brush (a change for me).
I then applied one handful of mousse by raking it in, and applied the remaining two handfuls of mousse by scrunching them in. I usually do some crunching, but I glaze instead of rake. I then microplopped briefly (as normal), and diffused upside down for a few minutes, before moving to diffusing rightside up (also as normal).
Here are my results: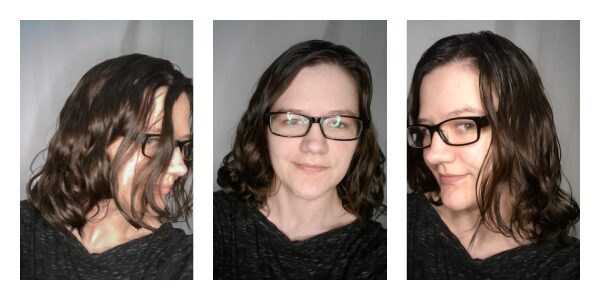 I was surprised by these results, too! The results I expected to get would be hair that would start a bit lower on my head than usual (Due to not plopping the right length of time for me), stringy clumps (due to brushing)  and possibly a bad cast (Due to applying products in a way that doesn't cover well). That really wasn't what happened.
When my hair was in a cast, it didn't really have clumps, it had super stringy hair, as I expected. I was pleasantly surprised that my hair didn't look "stringy" after scrunching out the crunch, it just formed an undefined-wavy shape instead of staying in separated stringy clumps. I was surprised at how much less definition I had than usual as a result of this.
I was surprised that my curl pattern started as low on my head as it did. I think this is probably from not 'glazing' the top of my hair, so it didn't get a cast higher up. Due to that, the only texture that stayed in place was the mids and end of my strands that were captured by the cast.
While I did poorly predict the results in some ways, the overall conclusion was what I was expecting. Techniques matter a ton!
Does Wavy Hair Techniques Or Products Matter Most?
Wavy hair techniques make a bigger difference in your results than products. Using products that don't suit your hair well can impact your results some, but using the wrong techniques can dramatically alter the appearance of your curl pattern. 
If I bought "the best" products in the world but used poor techniques, I'd still get bad results. Where using the right techniques but less-than-ideal products will likely still get you in the right ballpark for the results that you want.
So, instead of buying a bunch of products, I'd encourage you to research wavy hair techniques that can support your style goals. If you like really defined hair, look at techniques for defining waves before you go buy 5 different defining creams.
If you like your hair to start higher on your head, go read my How I get My Wavy Hair Pattern To Start Higher On My Head post before you go buy a volumizing product. Then if the techniques aren't getting you where you want to go, try changing products.
Want to learn more about techniques? I have a whole techniques category on my blog post directory page so you can see all my posts related to hair care techniques.