There are affiliate links in this post. I don't have any relationship with either of these brands, I bought these products on my own.
If you've read multiple of my blog posts, you likely already know that I tend to come down heavily on the 'mousse' side when deciding between mousse or gel for my wavy hair. You probably have also seen me mention Not Your Mother's Curl Talk Mousse several times.
It's bee my favorite mousse for a long time. I even did an experiment trying out 9 other mousses and doing a 10 mousse comparison blog post– and still didn't find any that I liked more than the NYM curl talk.
Early this year I tried Cake brand mousse for the first time. I've since updated that mousse comparison post to include a blurb about Cake mousse, too.
Since trying the CAke mousse, I've found myself reaching for the Cake mousse about as often as I reach for the NYM Curl Talk. I'd be really hard-pressed to say either is my #1 favorite, anymore. It feels a little unfair to compare them, even, because of how they have different pros and cons.
So, I thought I'd sort of review both and then do a compare and contrast to explain why I like these two mousses even though they are quite different!
Not Your Mother's Curl Talk Mousse Review
NYM curl talk mousse is typically sold for anywhere from $7.50-$9 or so. It can be found at Walmart, Meijer, Ulta, Target, many other places. IT seems to be one of the more popular products from the Not Your Mother's Curl Talk line, so the stores near me that don't stock the full curl talk line will often carry the mousse.
It is curly girl approved. It is protein-free. The container rates itself 2/5 hold and says "Soft, touchable curls". Yet, I've found it to give the hardest hold out of any mousse that I've tried to date! I get 3 days of hair that I feel comfortable wearing with this mousse, without refreshing.
I get really good volume with this mousse, yet also enough definition that I feel good about the results. I am not really focused on frizz, but it does a pretty good job of containing my frizz.
It doesn't weigh me down at all. If I use the right amount, I can get a cast without my hair feeling sticky, or too producty. However, it definitely will feel products and sticky if I use too much, or don't get it well distributed.
I really like getting big volume, but I do want to maintain some level of definition. Refreshing my hair tends to cause me to lose volume, so I don't like refreshing a lot of the time.
One of the main reasons why this is a top favorite for me is the fact that I can get 3 days of "wearable" hair from this mousse without refreshing. This collage below was day 1, 2 and 3 after using Not Your Mother's Curl Talk mousse, no refreshing at all. This is from my mousse comparison blog post which is why my hair is longer, the pictures are older.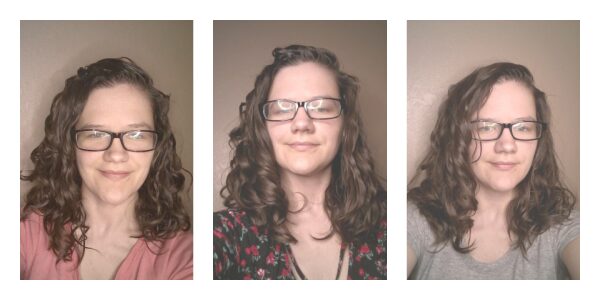 And the collage below is wash day results from random days more recently where I used the curl talk mousse. I keep a hair journal so I can keep track of which products were used on which days when comparing dates on photos. 🙂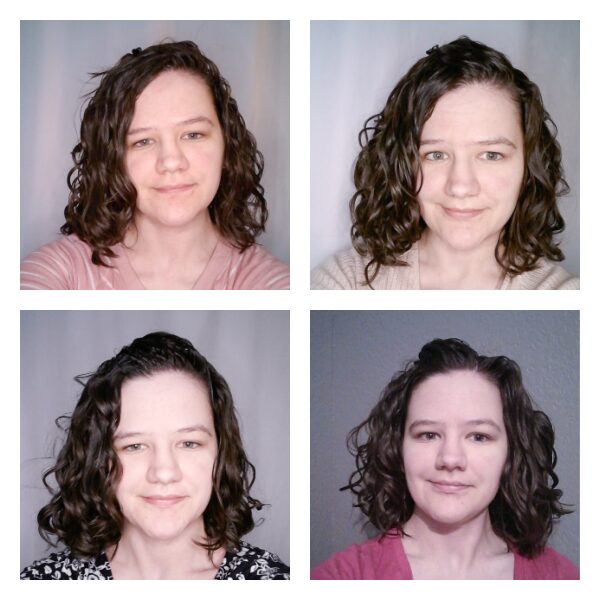 Cake Mousse Review
Cake mousse is curly girl approved and protein-free mousse. It's available at Walgreens, Ulta and on Amazon. I've always seen it listed for $8.99. I kept seeing people in wavy/curly hair forums and groups say they loved this mousse so I decided to give it a try.
A common complaint I saw about this mousse was that it expands a lot more than other mousses. I have noticed that even after I wipe the nozzle clean, a bit more (maybe a marble sized amount) comes out. I don't really find that it grows that much more than other mousses other than that though?
I also saw a lot of people say that a little goes a long way with this mousse, so to use less than other mousses. My first couple of attempts, I did use less than I would use of other mousses. I found that I didn't get a cast in all places that way.
So, I tried using my typical amount (3 large handfuls) and that worked well for me.
Cake Mousse has a strong lemon-like scent that I personally find unpleasant. However, it is only noticeable when I apply it until my hair dries. Once my hair is dry, the scent is gone.
I've noticed that my hair feels different with this mousse even while my hair is still wet. My hair feels lighter and more buncy than it usually des after I apply mousse. I get a soft to medium cast with this, rather than a hard cast. For some reason, the cast doesn't often go all the way up even though I apply product up higher.
I find that this mousse gives me good definition, decent frizz control, and doesn't weigh me down. I don't think I usually get quite as much volume as I do with the NYM, but it's close.
The biggest thing that makes me love this mousse? My hair is SO soft after I scrunch out the cast. It really feels like there is nothing in my hair at all. I had never experienced that with any other mousse. I find that when I Wake up on day 2, my hair still looks okay.
However, if I don't refresh the morning of day 2, by that evening my hair will have fallen pretty flat. So, it definitely doesn't last as long as the NYM curl talk mousse does, which is by far it's biggest downside for me.
One of the big reasons why I dislike refreshing my hair is because I don't want my hair to feel full of products. The idea of adding more products on day 2, 3, etc has always seemed unfortunate to me in the past. However, with Cake Mousse being so light and leaving my hair feeling so product-free, I decided to try refreshing with it.
It definitely takes away some of my volume, but I am happy enough with the results. Check out my post how to refresh wavy hair with mousse to hear more about those results. However, the collage below shows my hair on day 1, after refreshing on day 2, and after refreshing on day 3.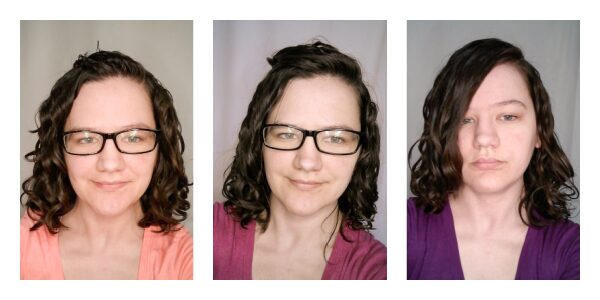 The square collage below is a few examples of my hair on day 1/wash day after using Cake mousse.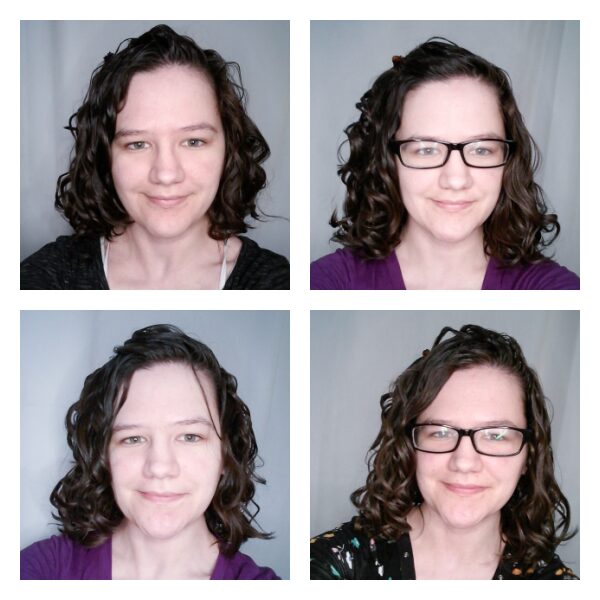 Save money when buying mousse online!
If you're going to order online and like to be frugal, I recommend that you sign up for Rakuten. They work with all sorts of online retailers (including Walmart, target, Ulta and others) and will give you cashback when you spend.
It varies by retailer and offers change, but just as one example Walmart frequently offers 6% cashback through Ratuken.
If you're new to Rakuten, sign up with my link and place a $20 order, and you'll get $20 cash back! This offer is only for new Rakuten members and for people in the US, and Canada only. If you do this, I'll earn $20 as well, just to be transparent. I have used Rakuten for years. I love getting a little bit of my money back. The initial $20 sign-up bonus is nice, too!
Is Not Your Mother's Curl Talk Mousse or Cake Mousse Better For Wavy Hair?
If you want a really hard hold and long-lasting hair without refreshing, I'd recommend NYM curl talk mousse. If you want really soft, product-free feeling waves, I'd recommend Cake mousse. If you're sensitive to scents, Cake mousse may really bother you – it's got a strong scent.
I also want to note that, I have seen a ton of people say they love Cake mousse because of how weightless it is, which is the same experience as me. However, the #1 reason I've seen people say they don't like cake mousse, is they found it really heavy or "producty". It's quite baffling that experiences seem opposite on that specific issue.
I can't really recall any other product where I've seen so many people list having exact opposite experiences. I don't know if hair type may be a factor in whether or not it absorbs, maybe? I have normal to coarse hair strands, dense hair, and my hair is mixed porosity, if that helps.
How are NYM Curl Talk and Cake Mousse similar?
Both of these types of mousse offer good definition, are lightweight enough to not weigh me down, and offer good volume.
If you want to see my other product recommendations, I have a wavy hair product recommendations page!
If you've used both, I'd love to hear which you prefer and why!