There are affiliate links in this post.
I recently updated my 10 mousses compared on my wavy hair blog post to include another mousse. In the past, my go-to solution for day 2 hair has been to get wavy hair to last longer by just getting really hard hold on wash day, to avoid refreshing. With a new mousse that I've been using lately (Cake mousse) I've found refreshing to give me decent results.
For me, the key to refreshing with mousse without your hair feeling really producty, is using a mousse that is really light so that you can use it on wash day, and add more in to refresh the next day without your hair feeling heavy, "producty", sticky, weighed down, etc. For me, Cake Mousse has been that mousse!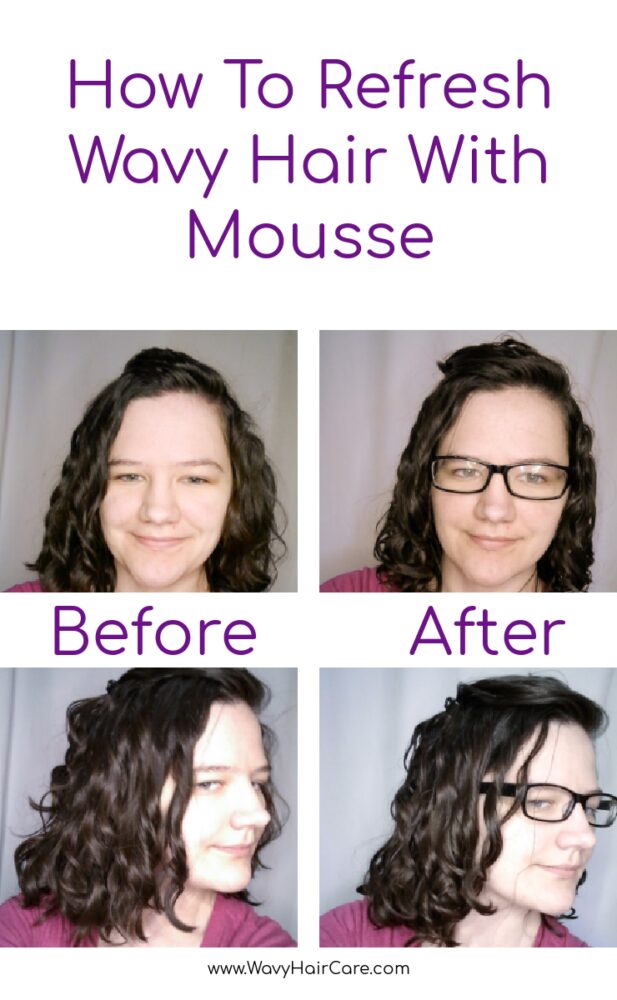 How To Refresh Wavy Hair With Mousse
Dispense some mousse and spread it across both hands. 
Glaze the mousse over the exterior and underside of your hair, then scrunch. 
Diffuse hair until nearly dry. 
Once your hair is 100% dry, squeeze your hair to break the cast. 
It's really that simple! If you wish, you could also air dry instead of diffusing. Diffusing will likely result in more volume, while air drying will result in less frizz.
Can you refresh hair without water?
You can refresh hair without water. Adding more mousse to your hair can be done without adding additional water. If your hair gets frizzy when you add water, refreshing with just mousse is a better option. 
Part of why I dislike refreshing with water is because it can make my hair frizz more if I only get it slightly wet. Yet if I get it really wet, it will take forever to dry.
Mousse has some water in it, of course, but it doesn't seem to add additional frizz to my hair the way that spritzing my hair with water does. Plus, it doesn't soak my hair as much as adding a lot of water would, so it dries faster.
How often should I refresh wavy hair?
You can refresh every single non-wash day if you wish, but you don't have to. I like to see how long a style will last me without refreshing, and then I use that to estimate how often to refresh for future uses.
Cake Mousse looks pretty good when I wake up on day 2, but if I don't refresh, it will fall apart a lot by the end of day 2. I find that it's way more successful to refresh your hair before it falls apart too much, rather than trying to refresh it after it's fallen a lot.
For this reason, if I use Cake Mousse on wash day, I refresh the morning of day 2 even though it still looks decent. This will help it to last another day.
I find that this mousse works well as a refresh for definition, but not as much for frizz. However, I do diffuse when I refresh. If frizz is a big concern for you, air drying instead of diffusing may produce less frizz.
How much mousse should you use when refreshing?
Just like how the amount of product you need on wash day will vary from person to person, how much you need to refresh will, too. I use about half a handful of mousse on the left, right and back of my hair. So about 1.5 handfuls total to refresh, vs 3 handfuls on wash day. So, I guess I refresh by using about half the amount I use on wash day.
My goal is to cover all of my hair, but lightly. Where on wash day, I want to really saturate all of my hair. Remember, your mousse from wash day is still in your hair, and the dampness from the added mousse will help re-activate that mousse that is in there. This is part of why you don't need to use as much when refreshing.
How many times can you refresh before washing?
You can refresh daily for as many days as you want. If your hair starts t feel heavy, "producty", weighed down, I'd take that as a sign that it's time to wash again. Or, if your scalp itches or burns, that's another sign that it's' ready to be washed. I personally have only refreshed twice between washes, but everyone will have a different tolerance level.
Before and After Refreshing Wavy Hair
I thought I'd show you my before refreshing and after refreshing for days 2 and 3. Of course, this is just two days, and each day may vary some. Still, you can see how my hair regained definition. My refresh on day 2 was definitely more successful than day 3, because even with refreshing on day 2, my day 3 hair had lost a more noticeable amount of definition.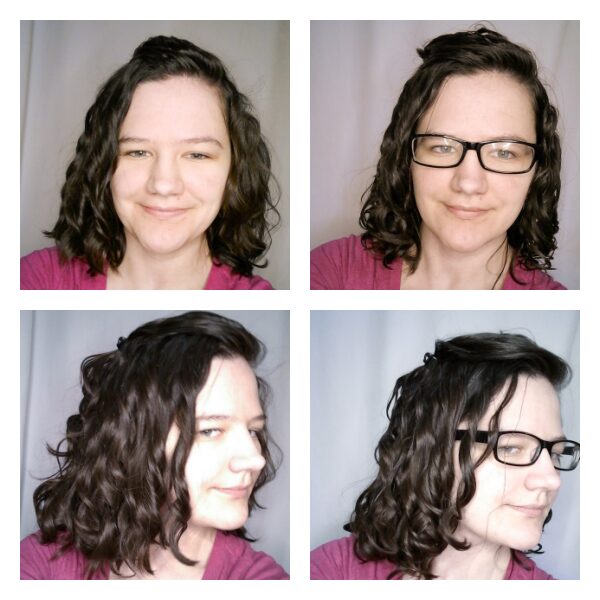 This collage is my day 2 refresh. The photos on the left are before refreshing, the photos on the right are after refreshing. I lost volume but gained definition. 
I find that refreshing causes me to lose volume. I believe this is in part due to gaining definition. Definition and volume seem to exist on somewhat of a spectrum. If you want maximum definition, you sacrifice volume a bit, and vise versa.
However, I also think part of why my hair loses volume is just from the weight of the water/liquid from the mousse weighing my hair down. Anytime my hair gets damp, it flattens. This is why refreshing wavy hair with just water is not my favorite, as a volume-lover. Even refreshing with mousse has this effect to some degree.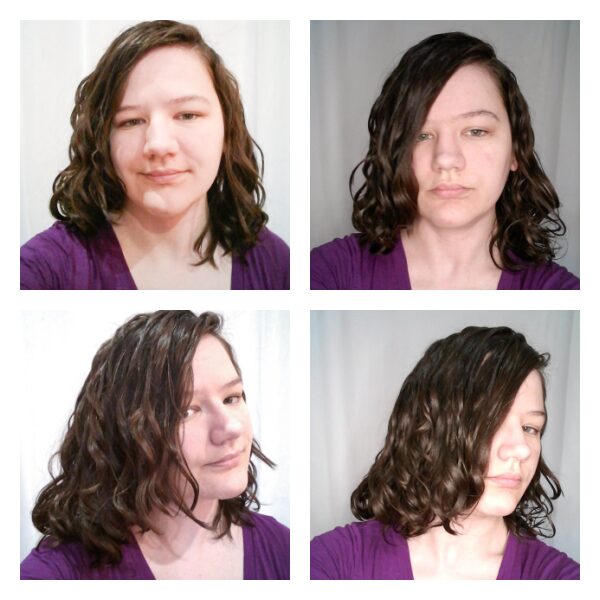 This was my day 3 refresh. Both photos on the left are before refreshing, the photos on the right are after. Again, lost volume but gained definition. 
My day 3 refresh still helped, but left me with hair that was a bit sub-par. The worse my hair is before refreshing, the less likely the refresh is to really give good results. This is why I recommend refreshing before you think you really need to, to preserve definition rather than trying to regain it after it's gone.
More blog posts that may interest you:
The best way to refresh wavy hair – 8 refresh methods compared.
How to make wavy hair less poofy or fluffy