"I can't plop, it messes up the back of my head!"
"How on earth do you guys style your hair upside down and not have a rats nest in the back?"
"I have to style upright or the backside of my head is so messy!"
I see things like this in Wavy/curly Facebook groups and forums all the time. I completely understand why, too. I had a really tough time with the back of my head when I had first started the curly girl method. I mean, look at this picture!
In the past I did a blog post comparing the importance of hair products vs the importance of hair techniques. In that post I explain how techniques are extremely important. Something important to understand about techniques is that the little details can make a big difference.
I am happier with the results that I get while styling upside down rather than right side up, but it requires doing upside down styling in a rather detailed way. (I also have a upside down vs rightside up hair styling blog post if you want to check that out).
In this post, I'm going to go into more detail about how I style upside down, specifically sharing the little tips and tricks that I use to avoid getting a big mess in the back of my hair.
Leaning Over Vs Being Upside Down
When I was getting a huge mess in the back of my hair, my biggest mistake was leaning over instead of staying truly upside down. I sometimes see people share pictures of the messy back of their head in groups and can tell they were leaning over rather than staying upside down, too.
If the back of your hair is drying pulled forward, or with a big divide in the center of the back of your head? That almost certainly means you did your hair while leaning over, rather than being upside down.
If the hair in the back of your head has formed clumps with hair from the sides or front of your hair? That is almost always caused by leaning over rather than being truly upside down, as well.
If your head is upside down, your hair will fall straight down from your head towards the ground. If you are leaning over, your hair will be pulled over the top of your head, and/or along the sides of your head. Here are photos to help illustrate the concept.
It's easy to feel like you are upside down while leaning over. The main thing I pay attention to is what I am looking at. If I am looking at my feet or the floor, I am leaning over more so than being upside down. When I a truly upside down, my hair is at my knees.
I think it's really helpful to understand the difference between leaning over and being upside down and how that will impact your results. However, I am not saying that I stay truly upside down the entire hair routine.
I have hypermobile knees that like to fall asleep and become painful if I were to try to stay in the right position for too long. Instead, I make sure I am fully upside down at the parts of my routine that really matter the most.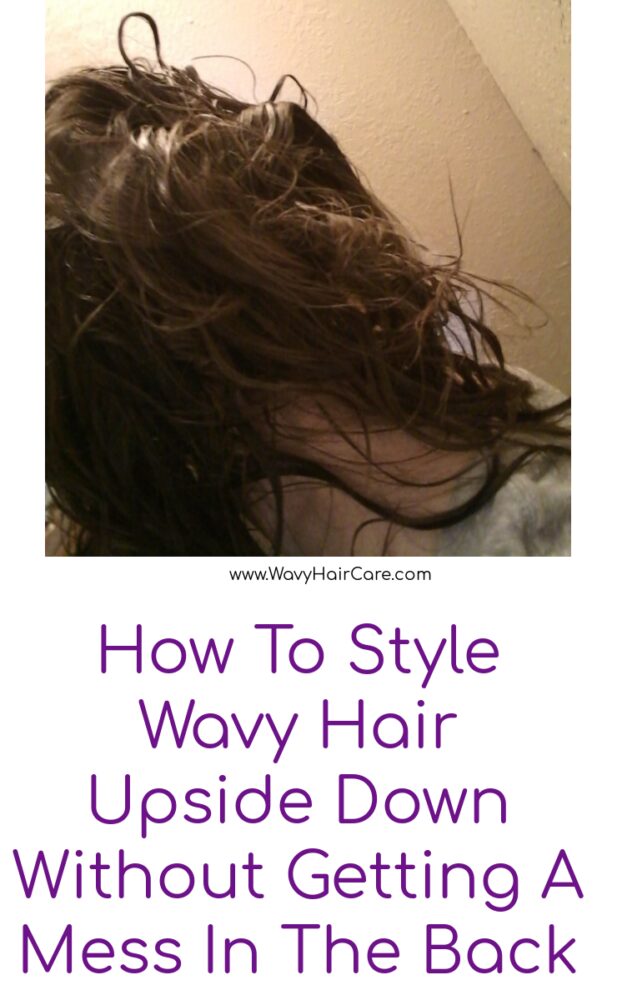 How I keep my hair from being messed up in the back while styling upside down
At the end of my shower, after rinsing my hair, I run my fingers across the back of my head to make sure the hair is not being stuck tight against my scalp.
I create a part in the back of my head, from ear to ear. This helps create a separation between the back of my hair and the front of my hair, to help keep hair in the back from clumping with hair in the front.
More importantly, it creates a pathway in the center of the back of my head (the thickest part of my hair). so that I can easily get product into this section later on. This is the hardest part of my routine to explain, and it's far easier to show on video. If you're confused about this part, please check out my video instead. This is shown starting at about the 0:50 time stamp.
I make sure I am truly upside down (not leaning) when I begin to scrunch my hair. This is the time when my curl clumps really take shape. Being upside down at this phase ensures that my hair will clump with the hairs naturally near it on my scalp. If I were leaning over at this phase, I would risk the hair from the back of my head clumping with hair from the sides or the front.
I tilt my head to each side while scrunching. In addition to assisting with clumping, scrunching each side helps ensure that hair in the back of your head isn't stuck to your scalp.
Plop for the right amount of time. I once went looking for plopping tutorials and the most common lengths of time that I saw were 20 to 30 minutes. This really blew my mind! I have dense hair that really clings to water. If I were to air dry without any products in my hair it would take about 8 hours to dry.
Meaning, most people have hair that dries faster than mine. Yet, when I have experimented with plopping my hair for different amounts of time, I have found that 10 minutes is my sweet-spot. So, my assumption would be that most other people's sweet spot would be less than 10 minutes.
If I plop too long, it can mess up the back of my hair. When plopping, the hair in the back of my head is pushed upwards. If my hair is allowed to start to dry too much in this position, it will dry upside down, creating really wonky results. I don't want my hair to dry enough to start to really take the shape that it's currently in while in the plop.
Instead, I just want to plop long enough to pull some water out of my hair and get it to stop dripping so that I can apply my products to damp hair rather than wet hair. For me, 10 minutes works. I'd recommend that you experiment with your own hair by timing how long you plop for. If you plop and find that your hair was wonky in the back, I'd plop for less time the next time.
If you plop and your hair is still soaking wet and flat at the roots, I'd try to plop a little longer next time. PS – if you do plop too long and the back is messy, use a spray bottle to re-wet your hair so you can start over. If you're asking what the heck plopping is, check out my how to plop your hair blog post.
Get enough product in the back. This is another mistake I made early on that resulted in the back of my head being messed up. I sometimes found myself getting a good cast and good definition on the front and sides of my hair, while the back would be puffy and messy. This was the result of not getting enough product into the back of my hair.
I think it's easy to forget that we have more hair in the back of our heads than we do in the front. I used to think of my hair as sort of having three sections, the left, the right, and the back. I think that contributed to me underestimating how much product I needed to apply to the back.
Part of how I make sure I get enough product in the back, is by applying my products not just to the front and back of my hair while upside down, but also in the center. This is another aspect that is hard to describe simply through text, so i'd recommend watching the video to better understand this piece. This is shown around the 4:00 timestamp.
Apply product evenly. Another way I sometimes would mess up my hair was by scrunching my products in. I still use scrunching when applying products, but I glaze first. If you only use a scrunching motion to apply products, it tends to get a lot more product on the ends of the hair than the strands.
If you get gel or other styling products at the ends but not across the whole strands, it can keep you from getting definition on your strands. It also can cause the ends of your hair to clump, while the top looses definition.
Don't lean while diffusing. You can diffuse upside down or rightside up (or a combination of both, like I do). However, if you are going to diffuse upside down at all, it's important to be truly upside down and not leaning. If you lean, your hair will be pulled into an unnatural position while you diffuse which will allow it to dry in an unnatural position.
My hair takes about 45-50 minutes to diffuse, and I can't stay truly upside down that long. It's just too uncomfortable. So, I diffuse upside down for the first 5 minutes or so until my legs get too uncomfortable.
After about 5 minutes of diffusing, I gently flip my head upright and look for any pieces that are really out of place, really misshapen, etc. I correct them now because my hair is still damp enough to allow for some correction. If I waited for my hair to get too dry before correcting any messy pieces, they would dry in a bad shape.
Diffuse at a good angle. I diffuse my hair in 4 main sections, left and right, front and back. At each portion, I try to tilt my head and angle myself so that my hair in the section I am currently diffusing is pulled away from my head a bit.
For example, when diffusing the front left portion of my hair, I will tilt my head slightly to the left, so that the hair in that section is naturally going to drop away from my scalp a bit.
This can help some with volume, but more importantly, it keeps my hair from drying super close to my head. I think this is especially helpful in the back of the head to ensure that it doesn't dry stuck to the back.
Do you style your hair upside down, too? If you have other tips or tricks that you use to ensure the back of your hair doesn't get messed up, leave a comment!
Want to learn more about wavy hair? I have tons of blog posts, you browse all my blog post titles to see which ones you want to read by checking out my wavy hair care blog post directory.