I believe that the best way to learn about your hair and what works for you, is to try differet techniques. I often do "experiments" with my hair and compare/contrast the results I get, to determine what works best for me. I have many posts sharing these types of experiments. Some examples:
I've learned a ton through just trying things on my own hair. I often find that what works for others doesn't work for me. One of the things this whole wavy hair or curly girl method ourney has tuaght me is that hair varies a LOT.
It's wild how different my hair "behaves" vs someone else's. Sometimes even if somene's hair looks fairly similar to mine, it may behave a lot differently.
Factors such as proosity, thickness, and density all can impact what works for your hair. I wouldn't be surprised if there are other factors that make a difference somehow, too. I know that I sometimes see things work for others who have the same hair properties as me, but my hair doesn't react the same way when I try to do what they do.
When I was new to the curly girl method, I followed a YouTuber with low density hair and over time, I learned that was part of why her techniques and products weren't ideal for my hair type.
In part, I think it's great to try to find people with your hair type. Yet, I think we can also learn from people with different hair properties. In my case, I like to experiment on my own hair.
If I follow someone with a similar hair type and they show a new technique that works for them, I'll test it myself, rather than assume it will definitely work for me. I can do the same thing when discovering new techniques or ideas from people with different hair types.
Overall, I think what I am really after is just things to try out on my own hair.
I sometimes hear from people who tell me my blog posts have helped them find solutions for their own hair. I love getting emails like that! I know that what works for me won't work for everyone, though. I also know that it's helpful to hear a wide range of opinions and experiences. So, here are other resources for learning from others about wavy hair.
Why follow content creators with wavy hair rather than curly?
It's common for people who are new to embracing their waves say something like "What is the best routine for someone with 2b wavy hair?". In response to questions like that, I often point out that your curl pattern doesn't realy make a whole lot of differece in how you should care for your hair.
So if curl pattern doesn't determine how we care for our hair..why follow wavy accounts rather than curly accounts, right?
My reasoning is twofold. While I don't think that whether your hair is 2a or 2b makes much difference in how you care for your hair, I do think that wavy vs curly has some common differences.
For example, hair products that work well for "type 3" wavy hair are often too heavy for people with wavy (type 2) hair. I have a blog post about how to modify the curly girl method for wavy hair that goes into more of the common differences between how to care for wavy vs curly hair.
The other reason is about mental health or self-image. It's common for people with wavy hair to feel like they need to make their hair curlier. I don't think there's anything wrong with trying to enhance your curl pattern if that's what makes you feel best.
At the same time, I think it's important to remember that waves are not failed curls (nor are they failed straight hair!). I think it's probably best for our mental health to keep expectations for our hair based on the hair that we naturally have.
If we have naturally wavy hair but follow a lot of curly accounts, it's easy to accidentally find yourself feeling insecure about your waves.
Perhaps it's not entirely unlike how if we only see very thin people in advertising, it can lead to us seeing ourselves as too big…if we only consume content for people with a differet hair type than we have, it can make us feel like ours is somehow 'wrong' or not good enough.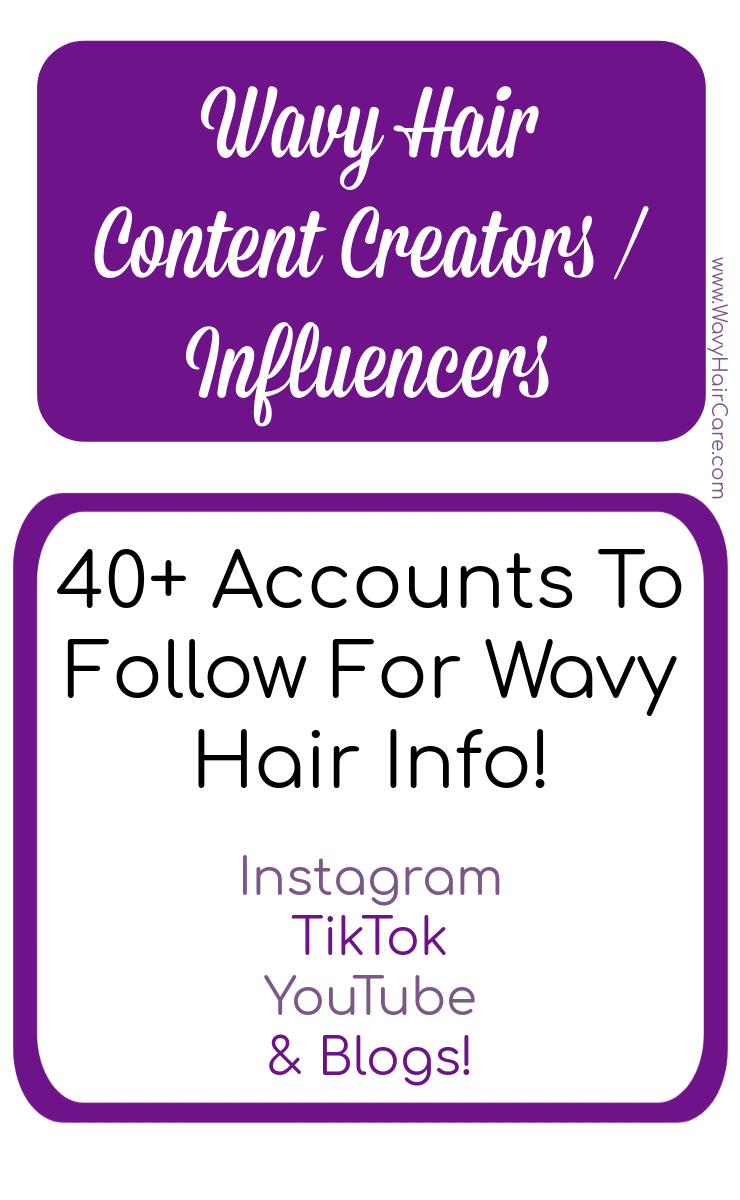 Instagram Influencers for Wavy Hair Content
Instagram is a really popular place for people with wavy hair. Many people share photos documenting their wash days, refreshes and more on a regular basis. If you follow them closely you ca pick up on tips or tricks of what is working for them. There are hundreds of accounts like this! You can find them by checking out common wavy hair hashtags.
Some accounts go farther than that though, and share posts, stories or reels that show routines and techniques, or that otherwise are intentionally educational. The accounts I'm listing below are ones that I see as more educational.
atoyabass (low density)
TikTok Wavy Hair Influencers
TikTok is resposible for many people with wavy or "swavy" hair learning that their hair is wavy! I find it a bit challenging to find tiktok accounts that specically focus on wavy hair.
It seems far more common on TikTok for people to do a hair video here or there while posting about tons of other things, too. Here are a few accounts that I found that are either exclusively about wavy hair, or at least have hair as one of just a few topics that they share about.
YouTube Wavy Hair Channels
YouTube is a great place for gaining more in-depth knowledge about wavy hair. There are several YouTubers who focus on sharing their curly girl method or other naturally wavy hair care journey, and educating others.
Special YouTube Mentions:
While they aren't wavy-specific channels, Manes By Mell and Afope Atoyebi are channels I'd recommend to wavies as they are both hair professionals. Mell is a hair stylist and textured hair specialist. Afope Atoyebi is a trichologist.
Wavy Hair Blogs
Similar to YouTube, blogs are a great way to learn about wavy hair in more depth than social media sites like TikTok or instagram. Of course, I'm biased but I love the blogging platform! Anyway, here are some wavy hair blogs:
NaturallyCurly.com (covers wavy through kinky)
Special blog mention: While it's not a wavy-specific blog, the science-yhairblog is a great resource for learning about the science of hair and haircare.
Wavy Curly Communities
Another way to get more content about wavy hair is through communities. I have a blog post sharing wavy hair communities if you're interested in that.