I have a few blog posts about gel already, but I noticed that there were several questions I get related ot gel that I hadn't answered yet, So, I thought I'd compile a blog post that is sort of Q and A style with gel being the core topic. So, here we go. If you want to see my other blog posts on gel, here are those:
What is a gel cast, why you want one, and how to create one
How to know if you're getting a gel cast and reasons why you may not get one
15 hair gels tested on my wavy hair (over 3 days each, with pics!)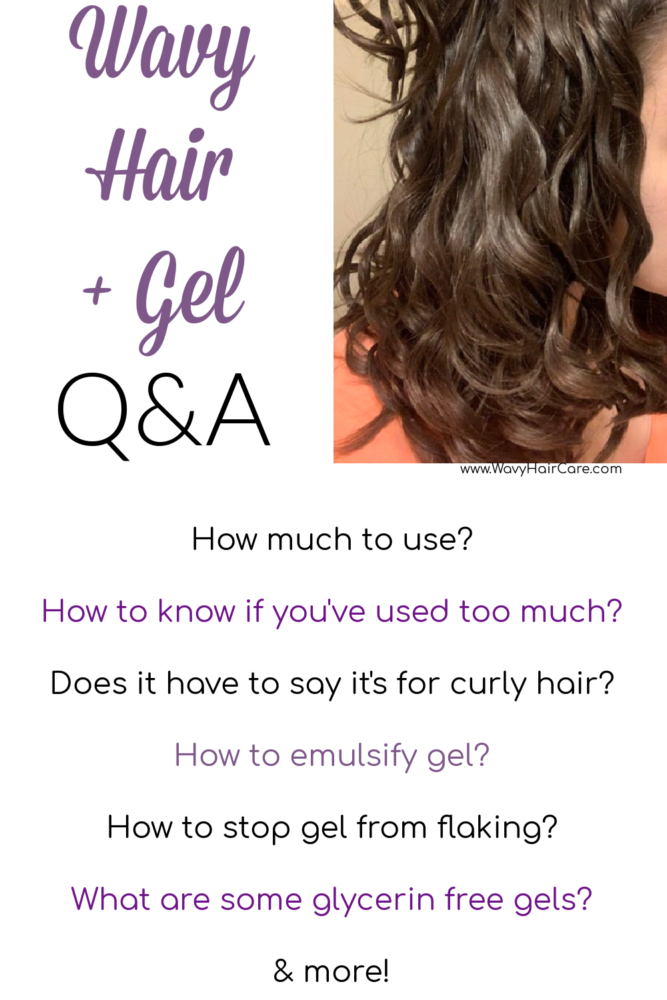 How much gel to use on wavy hair?
This is going to vary a lot from person to person. Hair density can vary really dramatically, with some people having 1 hair per hair follicle, and others having up to 6 hairs per hair follicle. Meaning, some people can literally have 6x as much hair on their head as other people!
When you keep that information in mind, it can really help to explain why some people need to use way more gel than other people. Hair length can also make a big difference, of course.
Unfortunately, this variation in amount and length of hair means it's not really possible to give a general rule of thumb such as a quarter sized amount or a golfbal sized amount and have that work for everyone.
I have very dense hair and I cover my palms with gel 3 to 4 times depending on the specific gel I'm using.
If you're new and looking with how much to try to begin, here's a rule of thumb I've heard. Gather your hair as if you're going to put it into a ponytail, but then use your thumb and pointer finger to circle the ponytail instead of actually putting it in a hairtie. Hold your fingers in that same as you remove your hand from your hair. Use that size/shape as an estimate for how much gel to use in each 1/4 section of your hair.
To give an example, if you measure your ponytail and it's about as big as a quarter, you'd use a quarter-sized amount of gel in four sections of your hair (Front left, right left, left back, right back). This would just be a starting point, and you'd analyze your results and then use more or less next time depending on how it went.
Ultimately, finding out how much gel you should use will require some experimentation. We all use too much, and we all use not enough, at some point! It's part of the journey.
Hair follicle count information source: MindBodyGreen.com.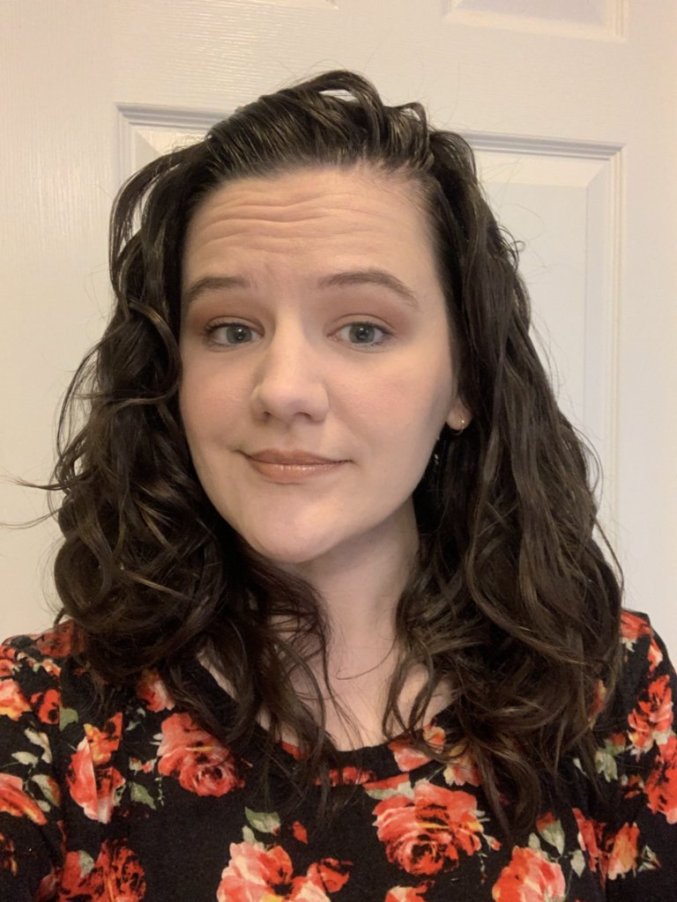 How to emulsify gel?
Emulsifying a hair product means to heat it up by rubbing it between your hands. It's common to emulsify gel with water which means to wet your hands and then apply gel to your palm and rub the gel between your hands.
Emulsifying gel with water basically mixes the gel with a bit of water which thins the gel a little and can make it less sticky and easier to apply. Some gels will be extremely sticky when they first come out of the container so emulsifying them with gel can feel almost necessary. In other cases, people may just like to emulsify gel with water to thin it out a bit so they can spread a little bit of gel across a lot of hair.
Some hair products will soften when emulsified, some will seem to "melt" or disappear, and some will get soapy/sudsy.
How to know if you're using too much gel
If you've used too much gel your hair may remain sticky even after you've scrunched out the crunch. You may really struggle to scrunch out the gel cast. Sometimes using too much gel can make your hair have a more "stringy" result. If you're seeing a lot of flaking from your gel, that can also be a sign that you've used too much.
How to know if you should use more gel
If you haven't used enough gel, you won't have wavy or curly definition across all of your hair. Your hair may be too soft, fall flat or look straighter/less curly than it usually does.
If you only get a cast on part of your hair, that is a sign that you either didn't use enough gel or didn't get it evenly distributed.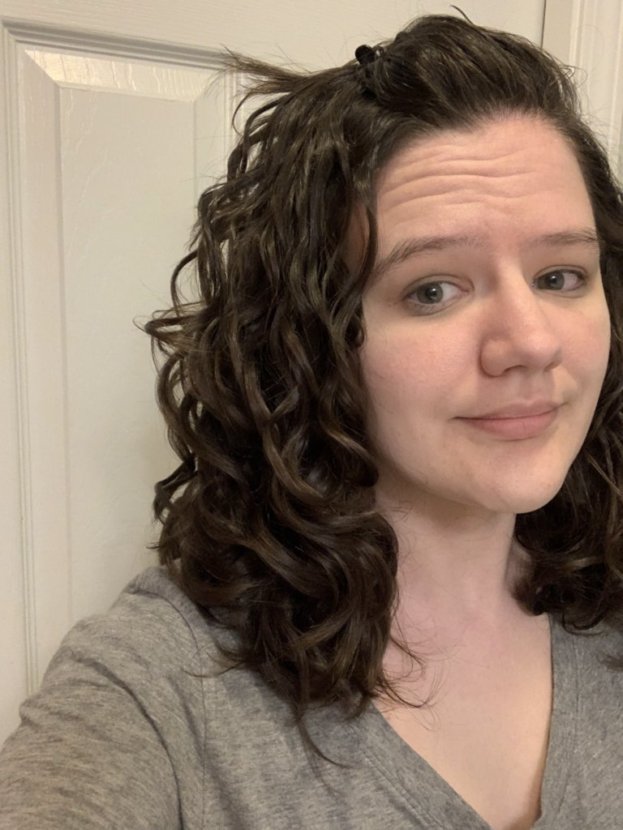 Why am I not getting a gel cast in the back of my head?
It's really common for people to struggle with getting a cast in the back of their head in particular. Whether you are failing to get a cast in the back of your head or in any other section, the answer is the same. You aren't getting enough gel to that section of your hair.
It's challenging to get gel to the back of our head because we can't see it, and when styling your hair upside down it's particularly easy to fail to grasp how much hair really is in the back. It sounds silly and is hard to explain, it's a bit easier to show in a visual. Here is a tiktok I did on this which may convey my point better.


Why is my hair gel flaking?
Your gel should not flake, flaking is a sign that something is wrong. Sometimes flaking happens if you use WAY too much gel. More often, hair gel flakes if it is combined with other hair products that it has a bad reaction to. The most common culprit would be a leave-in conditioner or curl cream. If you find that your hair gel flakes, try using it without a leave-in conditioner or curl cream (or with a different one than you usually use) to see if that stops the flaking.
How do I make my hair gel stop flaking?
Try using it without any other leave-in products (no leave in conditioner or curl cream). If it doesn't flake when used by itself, the flaking is likely caused by a bad reaction to your other products. If it flakes even on its own, you may be using too much gel or the gel may have spoiled/gone bad.
Do you have to buy hair gel that says it is for curls?
You don't have to buy gel that specifically says it is for curly hair. Most women's hair gels are made for curly air anyway, as women with straight hair don't often use gels. Whether a hair gel says it is for curly hair or not is really just about marketing.
Can women buy gels that say they are for men?
You can use any gel you want, regardless of which gender(s) it's marketed toward. Men's and women's hair aren't inherently different. I really like Harry's sculpting gel which is marketed towards men.
Is gel too heavy for wavy hair?
Most hair gels are not too heavy for wavy hair. I had a hair stylist tell me that wavy hair usually couldn't tolerate gel, but she clearly wasn't very familiar with wavy hair as it's very common for people with wavy hair to use gel.
This is speaking generally, though. If there is a type of wavy hair that I'd say is less likely to do well with gel, it's probably really low density wavy hair. Some people with wavy and low density hair feel that the definition that hair gel provides is not a desireable result for their hair type.
I have tried a few gels that were too heavy for my hair, but most gels work fine for me. I would generally recommend hat if you have wavy hair that you avoid gels that say they are for elongating curls or that say they are for type 4 hair, coily hair or kinky hair as those are signs that they may be heavy gels.
Is soft hold or hard hold gel better for wavy hair?
For most people with wavy hair, harder hold gels will give them results they like better. Some may prefer softer holds, though. If you have fine dense hair, you're likely to do well with a hard hold. If you have low density and coarse hair, you may prefer soft hold. I'm generalizing, of course. Anyone can use whatever they'd like, and everyone has different hair goals.
What are some glycerin-free gels?
Here is a list of glycerin free gels. I haven't tried most of these, and some that I have tried, I didn't like, so these aren't personal recommendations. I will share that my favorite gel from this list is the Dippity Do Gelee.
Aussie Instant Freeze
Camille Rose Naturals Aloe Whipped Butter Gel
Jessicurl Spiralicious Styling Gel
Curls Blueberry Bliss Curl Control Jelly
Dippity-Do Girls with Curls Curl Shaping Gelee
Trelux Hi! Definition curl enhancing styling gel
Ecoslay orange marmalade
Ecoslay jello shot
Inahsi define & shine liquid styling gel
Curl Junkie pattern pusha gel
Twist by ouidad weather up gel
Curlsmith hydro style flexi jelly
Giovanni la hard hold gel
Kinky curly curling custard
Uncle funky's curly magic gel