Do you need a hair cast?
If your waves don't last very long, get frizzy, or fall flat without a cast, then you may need to get a cast to change those results. However, if your hair gives you results you like without a gel cast, there is no reason you need one!
Some people with wavy hair have a rather delicate pattern that doesn't support itself very well. These people are likely to benefit greatly from getting a gel cast (or mousse cast).
Others with wavy hair have a really durable pattern, so they can just wash their hair, have lovely waves that last for days without gel at all. It can really vary. If you are happy with your hair and haven't got a cast before, no need to worry about it.
If you are looking to change your hair in almost any way, whether it's getting your hair to last longer, getting it to stay tighter, reducing frizz, or improving definition – these are all likely to be improved if you get a gel cast.
For me, getting my waves to last long-term is dramatically improved by getting a gel cast. Most of my post how to get wavy hair to last longer is focused on getting a cast for that reason. In general, I'd say that getting a cast is one of the biggest changes I made to my hair when trying to embrace my waves. So, it's a big deal – or can be, at least.
For these reasons, if you aren't happy with your hair and haven't got a cast, I'd encourage you to try getting one and see how it changes things. It certainly is not required though.
There are definitely plenty of people with wavy hair wh don't get a gel cast and get good results. For example, Swavy Curly Courtney (a popular wavy-haired youtuber) says she rarely gets a cast. Clearly, her hair is gorgeous. Without a cast, my hair will fall flat before wash day is over. With a cast, I can get 3-4 days of waves. So, everyone is different.
How can I tell if I got a hair cast?
If you got a gel cast, your hair will feel stiff and crunchy. You can get a soft gel cast that is only a little stiff, or a hard gel cast that is really rigid. It's also possible to get parts of your hair to cast, while others did not cast. 
Typically when people say they aren't sure if they've ever got a cast, they haven't even come close, and need to use WAY more gel or WAY more mousse than what they're currently using, if their goal is to get a cast.
If you were at least close to getting a cast, you'd likely get a bit of a stiff/crunchy feeling at least in one section of your hair. If you've never felt that, you're probably using way less product than your hair needs.
Your hair will also look a bit unnatural when you have a cast. It often looks like it's still wet, even after the last has dried. In the collage below, my hair is in a cast on the left. My hair was dry in that picture even though it sort of looks wet. On the right was after I broke the cast.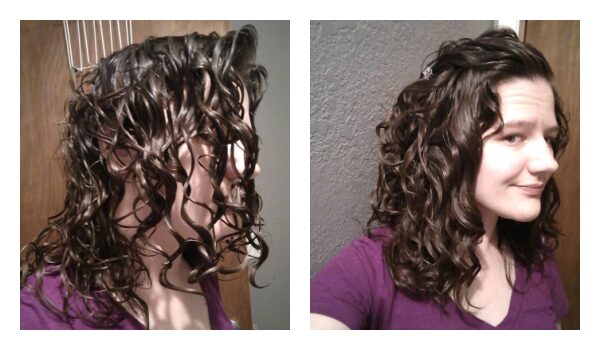 This one below is a picture I took after scrunching out one side, but before scrunching out the other side.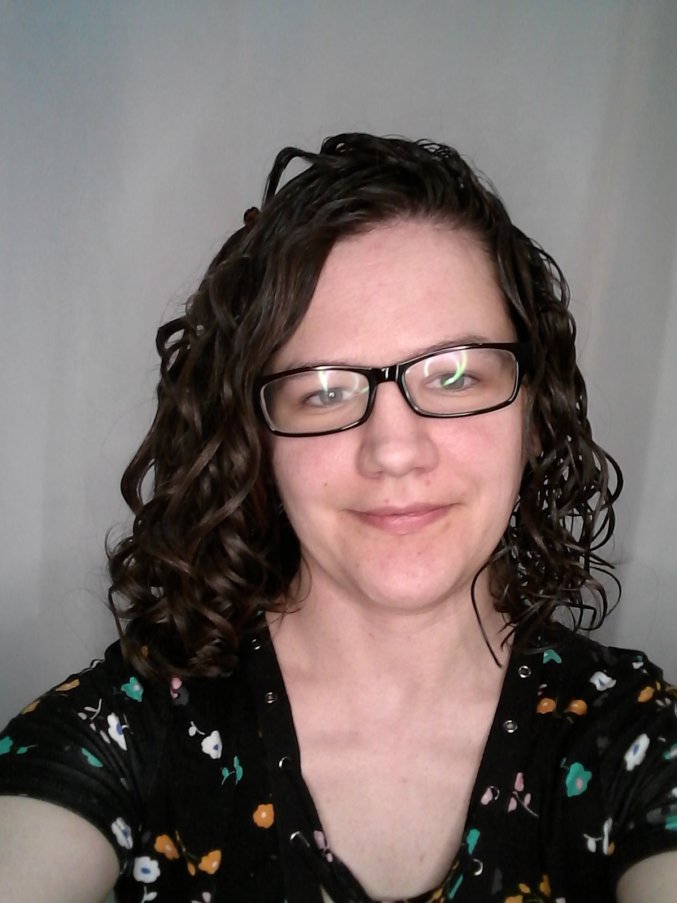 Here are more photos of my hair in casts, below.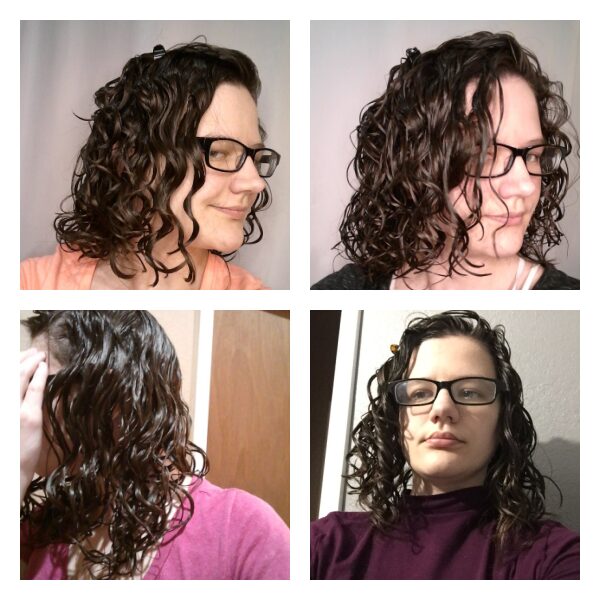 If your hair has a hard cast, it will even be stiff enough to be able to support itself against gravity, as you can see below.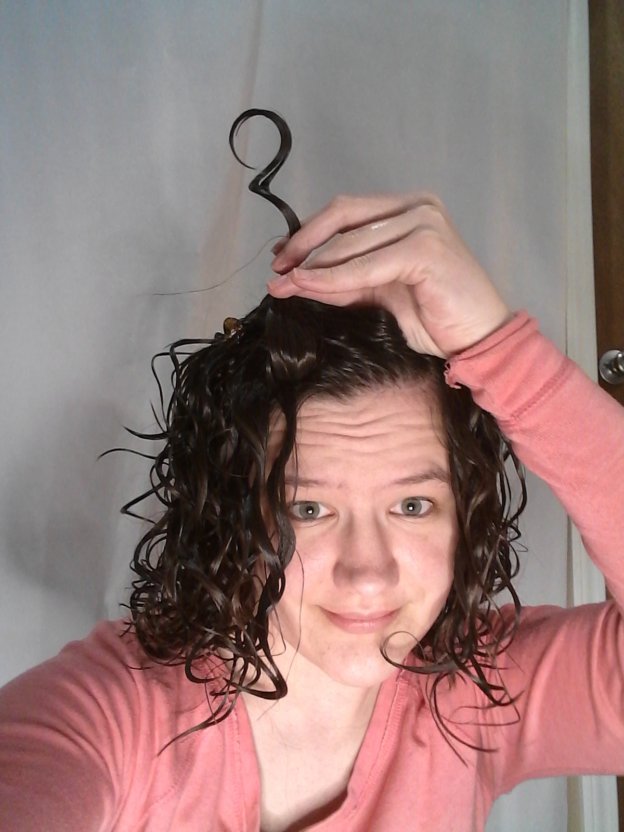 Can I get a Cast Using Mousse?
You can get a hair cast using some types of mousse. You can also get a cast with some hair custards, foams, hairsprays or gelee's.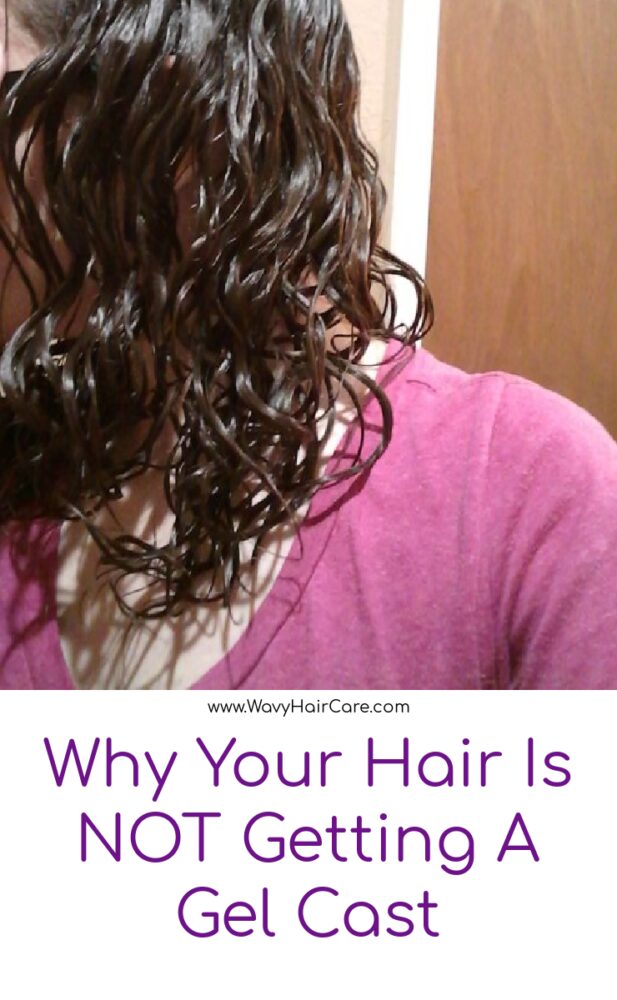 Why won't my hair get a gel cast?
1. You aren't using enough gel.
When I reply to people in groups or forums who say they can't get a cast, the solution usually ends up being that they weren't using enough product. How much product you need can vary dramatically from one person to the next. It took me a long time before I finally got a cast because I thought everyone used a quarter size amount of gel or less. My hair needed way more than that.
2. You're touching your hair too much as it dries. 
Touching your hair as it's trying to dry can disrupt the cast. I have seen many cases where someone was trying to scrunch or microplop their hair a ton as it was drying. That's likely to keep your hair from forming a cast. I
3. You aren't distributing the gel well throughout all your hair.
If some parts of your hair are getting crunchy, but not all over, that means you aren't getting gel to the places that aren't casting. When I was new, I frequently got a cast in the front and on the sides, but the back of my head wouldn't cast. I had to learn how to get enough product into the back of my head while styling before I started to get a cast in the back.
This can just be an application process, as far as literally not getting gel onto that section of hair. That's usually the case just forgetting to get product into all areas well. However, it may also be that you aren't using quite enough product for it to be able to coat all of your strands.
If you get a cast on the ends of your hair but not the strands, this is probably from scrunching your gel in. Scrunching tends to get a lot of product at the ends of the hair, and not enough higher up. I recommend glazing or using prayer hands, and then scrunching to get better overall application.
4. You're using too much leave-in conditioner.
Leave-in conditioners and creams can soften a gel or a mousse and disrupt it from casting. Sometimes using a leave-in cnditioner or cream means you'll have to use more gel to get a cast. In other cases, it may make a cast impossible.
5. You're going to bed with wet hair.
If you go to bed before your hair is dry, this can cause your cast to be disrupted before it has a chance to dry. It's sort of like touching your hair too much as it dries. Make sure your hair is dry before bed.
6. Your product just has too soft of a hold
Some soft hold gels and other styling products may just be too soft to create a cast. If you're unsure, google the name of your product + "Cast" to see if others report getting a cast from the product or not. I often recommend that newbies start with LA Looks gel because it's a hard-hold gel that should easily produce a cast.
If you think you need a harder hold gel, I'd recommend checking out my 15 hair gels compared on my wavy hair blog post. It shows me using 15 different gels and showing how each one held up over 3 days. I also made note of how hard of a cast each provided.
7. Your hair needs protein
I put this last because it is the least likely scenario for newbies. If you've never got a cast before, all of the above are WAY more likely to be the reason why your hair didn't get a cast.
However, if your hair used to get a cast, and has stopped getting a cast, especially if you're using the same gel or mousse that used to give you a cast? This can be a sign that your hair is lacking protein.
How much gel should I use to get a cast?
How much gel your hair needs to form a cast will depend on how dense and how long your hair is. If your hair is short and low density, a quarter-sized amount of gel may be enough. If your hair is really long and dense, you may need 5 handfuls or more! 
My hair is dense, and between shoulder and collar bone length. I have to use about 2.5 palmfuls of gel, or 3 handfuls of mousse to get a cast – usually. Though it can vary by product, too. The photos below show what I mean by a palmful of gel, and a handful of mousse.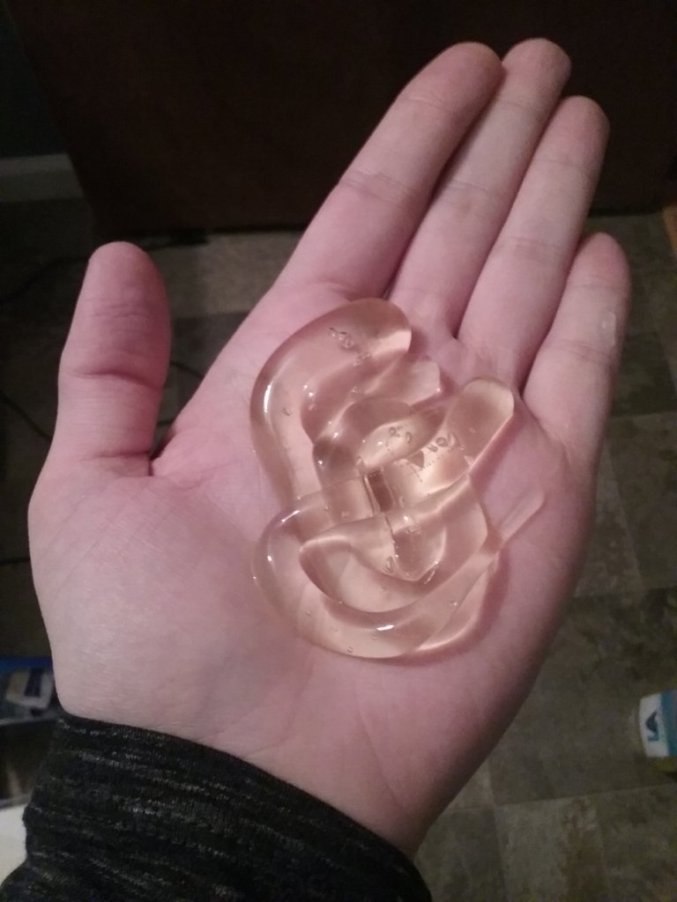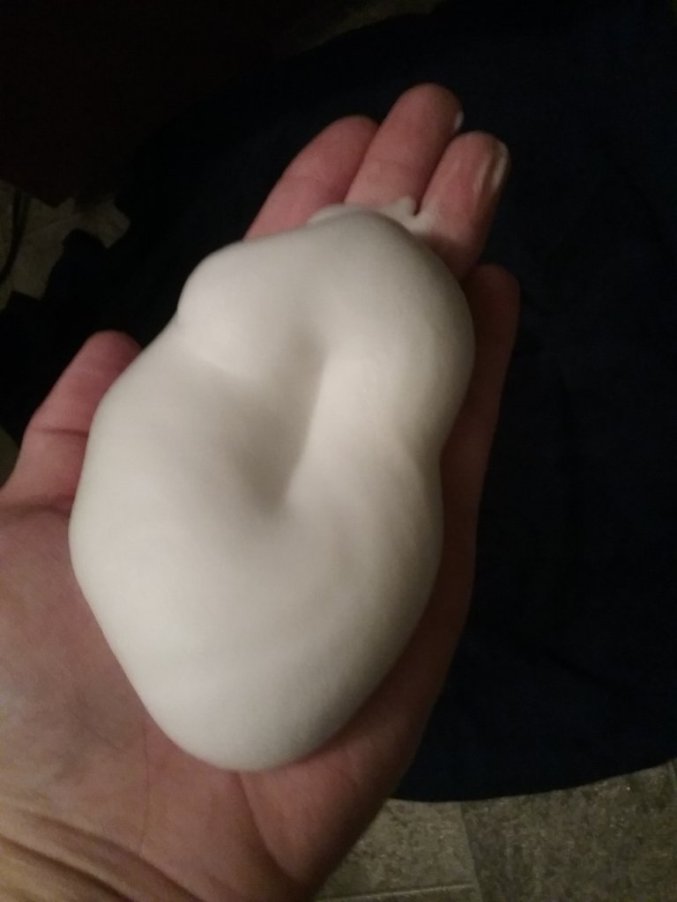 If you're new to trying to get a cast, I'd start on the low side and go from there. If your hair is low density, maybe start with a quarter amount. If your hair is dense, maybe start with 1 palmful.
If your hair doesn't cast, your hair will probably be looser, less defined and frizzier than you'd prefer, at worst. Using too much gel can leave hair sticky. This is why I think it's best to err on the side of not using enough.
If you have used gel or mousse before and didn't get any stiffness or crunch at all, I would recommend doubling the amount as your next step. My reasoning being, if you used almost enough to get a cast, you would have felt some stiffness in some areas of your hair.
If your hair got a cast in a lot of places but not everywhere, I'd adjust based on how much of your hair was missed. For example, if your hair was 75% in a cast, I'd try to use about 25% more gel next time, and focus on getting gel to the part of your hair that remained soft last time.
Some more blog posts that may be of interest:
What is a gel cast and why you want to get one