Do you have straight hair that is wavy on the ends? Or maybe straight hair that is curly at the ends? It's common to wonder why just the ends of your hair are wavy! There are multiple possibilities!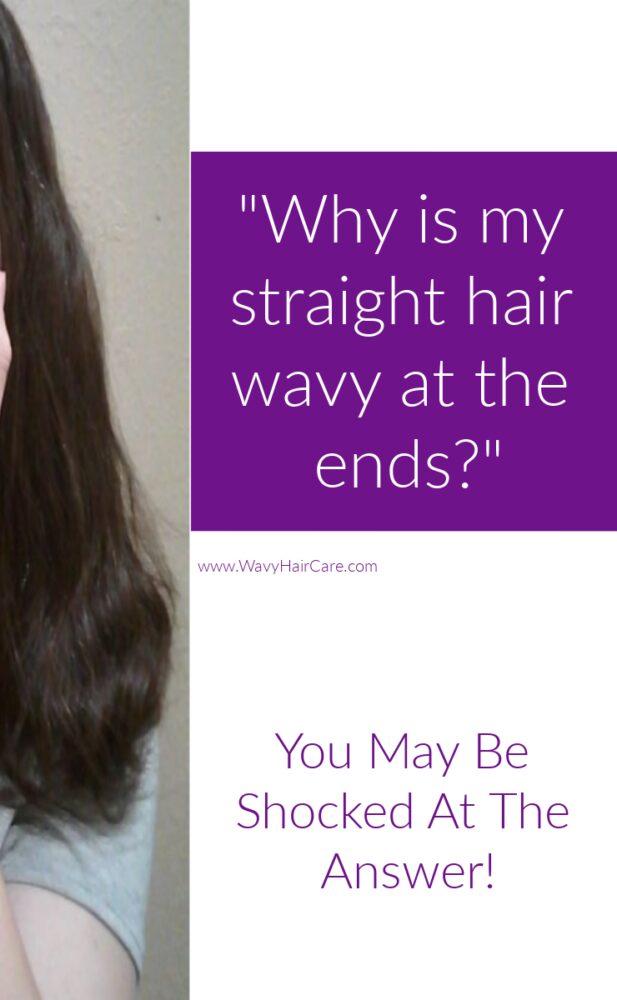 Reasons Why Your Hair Is Only Wavy At The Ends
You're brushing out your waves. 
Your waves are being stretched out by water when you air dry. 
Your waves are being flattened when you blow dry.
Your waves need support from products with hold. 
Your hair's moisture/protein balance is off.
You are using products that are too heavy and weigh your hair down.
You're scrunching your products in, getting more products on the ends than the strands. 
You're treating your wavy hair more like straight hair than curly hair. 
You're sleeping on your waves and flattening them. 
If your hair is only wavy at the ends is likely because you are treating it more like straight hair. Wavy hair is often delicate and requires special care to maintain its pattern. Brushing your hair, using heavy products, or not using the right products can all flatten the top section of wavy hair.
If you aren't doing anything "special" to take care of your hair, and it's wavy only at the ends, the reason is probably because you're caring for your hair as if it's straight, when it's naturally wavy. If you just wash and condition your hair, brush it and go – that's treating it like straight hair.
That type of treatment will often cause wavy hair to be fairly straight, but often with upturned ends. It's surprisingly common for people with naturally wavy hair to have no idea that it's wavy because if they treat it like it's straight, it often looks pretty straight.
If you're happy with your hair, that's perfectly fine. If you'd like to see if you have naturally wavy hair, you can try treating it more like curly hair and see what results you get. If your hair waves or curls at the ends when you've been caring for it like straight hair, I almost guarantee it will have more waves higher up your strands if you treat it more like curly hair.
To test if your hair is naturally wavy, check out my blog post how to find out if your hair is naturally wavy. It will give you a step by step instructions for how to find out if your hair is straight or wavy. It doesn't involve starting the full curly girl method or buying new products.
Not convinced your hair is actually wavy? Check out my post Wavy Hair Before And After The Curly Girl Method to see my hair transformation. It goes over several signs that straight hair may actually be wavy.
If you are already treating your hair as wavy, here are reasons why it might only be wavy at the ends. 
Your hair may only be wavy at the ends if it's weighed down.
Wavy hair is weighed down more easily than curly hair. If you use heavy products it can weigh your hair down. If your shampoo, conditioner, leave-in or any other products you're using list a lot of oils or butters, that means it's probably heavy and may not be ideal for wavy hair.
It's common for people to begin the curly girl method by purchasing from brands like Shea Moisture and Cantu. These brands' products are often too heavy for wavy hair. If you aren't sure, check out my post on how to tell if your hair is weighed down.
Product build-up is another reason why your hair may be straight except at the ends. Even if your haircare products aren't heavy, and even if you aren't using a ton of products, if you aren't clarifying your hair often enough, you can get build up on your scalp over time. When build-up happens, it begins at the roots and works it's way down.
If build-up is the cause, using a clarifying shampoo will remove the build-up and get you set back on the right path. Clarifying shampoos can be very stripping to the hair, so I'd recommend doing a deep conditioner immediately after. Read my post on clarifying wavy hair to learn more about clarifying.
If your ends dry quicker, they may be curlier.
One factor in how tight waves or curls are, is the position that they dry in. If your hair dries quickly, it's more likely to dry in a tighter curl pattern than if hair takes a long time to dry. The reason for this is that water weighs hair down.
So if water is in your hair for hours before it dries, that's a long time for the water to weigh your hair down and loosen your hair texture. You may see improvement from plopping [I have a tutorial on how to plop and another on how to microplop] and/or diffusing.
Where if your hair dries quickly, it has less time for the water to weigh it down. For many people, their ends are drier, higher porosity and/or more damaged, so they dry more quickly than newer, lower porosity hair. If your ends dry more quickly, this can cause them to be curlier than the roots.
Your hair may only curl at the bottom if you need layers.
It's amazing what layers can do to help shape wavy hair! It's common for people in the wavy or curly hair community to talk about "triangle hair" problems. This is when wavy or curly hair is almost all one length. This tends to cause the curls to gather all at the bottom, and the roots can be flat, creating a sort of triangular shape.
If hair is all one length, the curls just compete for space and crowd each other, bunched at the bottom. Layers can be extremely helpful for adding volume across sides of the head. It can add so much volume.
Even with layers, if your hair is long it may weigh down your waves. If having a consistent texture from roots to tips is important to you, you may have to go shorter to
Your ends may curl more if they are thinner or more damaged
If you have split ends or damaged ends, that portion of the hair strand can be thinner than the rest of your hair. Thinner strands can curl up more easily. It's common for the end of hair to be the most damaged because it's the oldest hair on your head. This can cause it to also be the thinnest hair on your head, and make it curl the tightest.
Product distribution can cause more curls at the bottom.
A common product application method in the curly community is called scrunching. It's basically applying hair products like gel to your palm, and then scooping a wave or curl into your palm from the bottom on up, and squeezing. Scruching can help encourage your natural curl pattern which is why this is done.
However, it sometimes causes a lot of product to be distributed to the bottom of a curl, and not enough along the mid strands or upper strands. If you use this product application method, or any other that results in more product being on your ends, this can cause them to curl up differently than the rest of your hair.
Many people with wavy hair need gel or mousse to define their waves and keep them from falling flat. If you're getting gel or mousse on your ends and not higher up your strands, this may be why the waves form at the bottom and not higher up.
If you've lost your waves except at the end, you may be lacking protein
If your hair used to get wave definition higher up on your head, but has started to fall flat, this can be a sign that your hair needs more protein. At one point, I hadn't changed my regular routine, but I suddenly had a hard time getting a cast on my hair. I also found that my hair would quickly fall flat instead of lasting several days.
When my hair would fall, I'd lose definition higher up on my head first, leaving waves just at the bottom of my hair. It turned out that I was moisturizing my hair too much, and not giving it enough protein. A protein treatment helped!
If you're looking to learn more about wavy hair, check out my blog post directory.