How To Get Day 2 Wavy Hair
To get good day 2 hair, starting with hair that was styled well on wash day and protected well while you slept is really beneficial. This will have you starting with better results. To refresh your hair, simply get your hair wet and allow it to dry, squeeze out any cast that forms, and you're done!
If you find that on day 2 you wake up with hair that is really in rough shape, whether it's fallen flat, lost all definition, or become really frizzy, I'd start by looking at your wash day and sleep routines. The easiest way to get good day 2 hair is to keep your waves in good shape after washing.
I have a whole blog post about how to make wavy hair last longer. It talks about the importance of getting good definition on wash day by using a hard hold product. Getting good hold on wash day allows your waves to hang around longer, which makes refreshing far more successful.
Refreshing wavy hair with water is great for reviving a bit of definition, re-activating hold in your styling products, and settling some frizz. If you've lost too much definition, or never had waves to begin with, refreshing isn't likely to give you the results you want. If your wash day goes poorly, the best solution is to re-wash.
If you have good hair on wash day, it's also really important to sleep in a way that protects your hair overnight. If you leave your hair down and sleep on a microfleece pillowcase, you're likely to wake up with your waves flattened and your hair frizzy.
You may have even broken some strands overnight. See my post How To Sleep On Wavy Hair for specific instructions for how to sleep on wavy hair including long wavy hair, short wavy hair and thick wavy hair. Ultimately, the goal of sleeping on wavy hair well is about reducing friction (as this reduces frizz) and protecting your waves from being flattened by the weight of your head.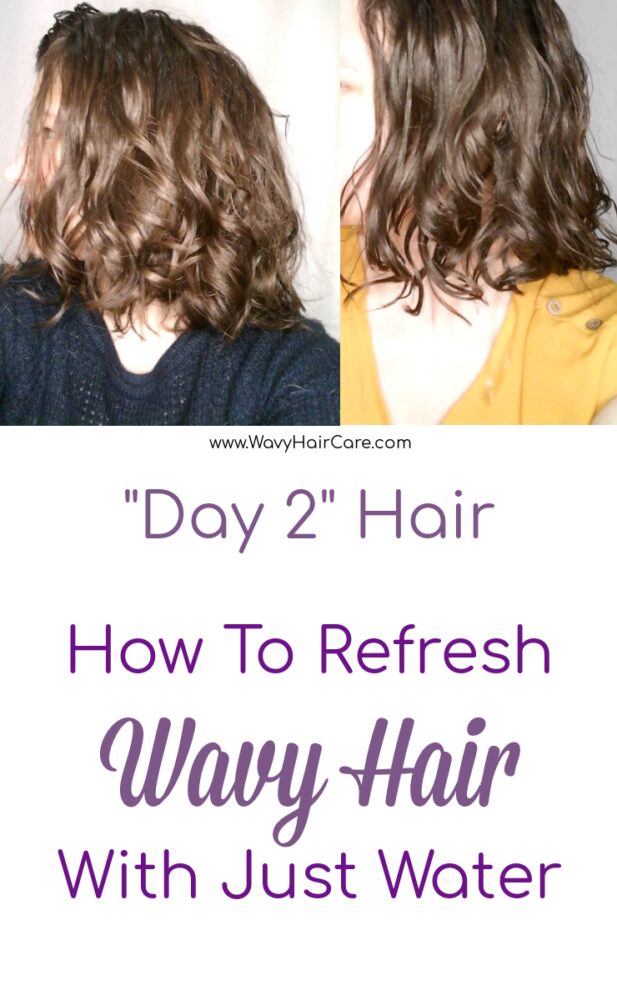 Why refresh hair with just water?
Refreshing wavy hair with just water re-activates the hold from products like gel, mousse or custards that you used on wash day and that are still in your hair. You can refresh this way daily if needed without the worry of building up a lot of excess products in our hair. 
If you find yourself needing to refresh daily, water is a great way to go because you won't stack up a lot of products in your hair over time. It's also free, and can be done from almost anywhere. I've heard of people refreshing their hair with water while at work, even!
How To Refresh Wavy Hair With Water
Fill a misting bottle or spray bottle with water. 
If your goal is to regain definition, wet hair until it is damp enough to create curl clumps in the size you prefer. 
Scrunch your hair to regain definition. 
Air dry or diffuse. 
If a cast forms, gently squeeze your hair to scrunch out the crunch. 
Air drying will produce less frizz, but diffusing may produce less volume. I have a post on air drying vs diffusing if you're interested in seeing the differences.
If your goal is to reduce frizz, dampening just the outside layer of your hair should be enough, Smooth the outside of your hair gently, without flattening your waves. If you accidentally flatten them, squish gently to revive them. Allow to air dry, as diffusing can introduce frizz again. Once your hair is 100% dry, squeeze your hair to break any cast that has formed.
Will my day 2 hair look like day 1 hair?
Your day 2 hair probably won't look as good as your day 1 hair did from doing a water-only refresh. Everyone's waves are a little different, of course. A lot of my hair care is about finding techniques to avoid weigh-down from water. So, refreshing with water gives water another chance to weigh my hair down!
After doing a water refresh on day 2, I expect to have less volume especially higher up on my head. However, I personally am okay with this. I think it's natural for natural waves to fall a bit over time. In fact, I usually don't refresh on day 2 or even day 3 if I get good hold on wash day. I usually only refresh if I have somewhere to be where I want to really look my best.
The collage below shows you day 1, 2 and 3 of doing my hair without refreshing at all. This particular collage below is from my favorite mousse, but I did a blog post Best Wavy Hair Mousse comparing 10 mousses over 3 days without refreshing. It's a great post to check out if you want to see how your choice of styler can impact how your hair holds up without refreshing.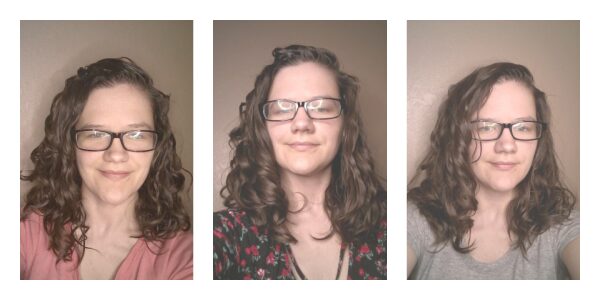 However, sometimes even when using good products, I mess up the application a little or something else, and end up wanting to refresh. When I do, water is one way that I do so. The collage below shows my "day 2" hair after I just woke up. My hair still had some definition, but my waves were bigger and looser than they had been the day before, and I had some frizz.
Then I refreshed by simply spraying my hair with water until it was wet enough to clump a bit, diffused for about 10 minutes, let it finish air drying, scrunched out the crunch and regained some definition. The top row is before refreshing, the bottom row pictures are after.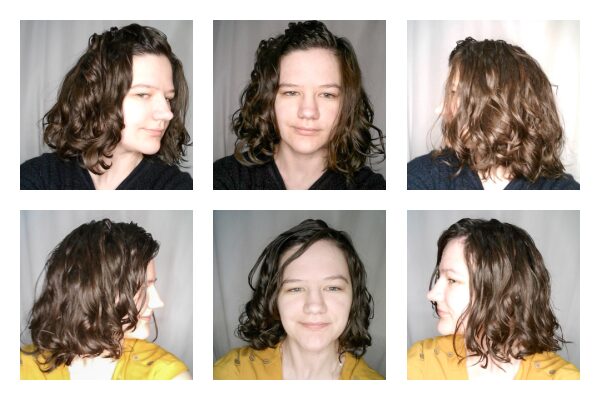 I seem to find that refreshing with water results in regaining definition, but losing some volume and root volume. Of course, whether or not this is preferred is really a stylistic choice. Honestly, it's not my preferred style choice. On this particular day, I wouldn't have refreshed my hair. I just did it for this blog post.
However, I have found that if my "day 2" hair has "fallen apart" more than I usually expect, then I will refresh it with water. I know that if my hair is losing definition really quickly, it'll fall flat before my next wash day, and I won't be able to refresh very well on day 3 if it's already gone flat.
So if I am really losing definition fast, I'll refresh with water on day 2 to help some waves hold out for 3 days. For me, refreshing is basically something I do if I am going to lose all shape. Otherwise, I usually just skip it. Those who prefer definition may water-refresh every day though. It's really just a personal preference.
There are other ways to refresh too, water refreshing is the most basic and simple, making it a good one to experiment with when you're new. Check out my post 8 ways to refresh wavy hair compared if you want to learn other refresh methods.
How Wet Should Hair Be For Refreshing Waves?
How wet you should get your hair for refreshing depends on why you are refreshing. To reduce frizz, just spritz the outside. To regain definition, get it damp enough to clump. Or to regain definition when your hair has been severely misshapen, completely soak your hair to get good clumps back.
If you're going for definition, you can start by getting your hair damp and try to scrunch it. If you get clumps back, it's wet enough. If your hair feel stringy or isn't clumping at all, add more water until it will clump. If you have to totally soak your head, you may find that you have to add more gel or mousse to regain hold.
How to Get Good Clumps on Refresh day
Getting good clumps if yours have already fallen apart from wash day, will require adding enough water. Depending on your hair type, you may be able to get your hair damp and scrunch, or you may have to soak your hair to get it to clump again. 
Looking to refresh with product, instead? I have a blog post on how to refresh wavy hair with mousse.