One of my sisters had expressed an interest in finding out if her hair was naturally wavy. In fact, that's part of what inspired my other blog post How To Test If Your Hair Is Wavy (before starting the curly girl method).
However, instead of just showing her how to test if her hair was wavy, I decided to have her try my exact routine. I realized that if I taught her my exact routine, that we could make a blog post showing others how the routine does not make the curls.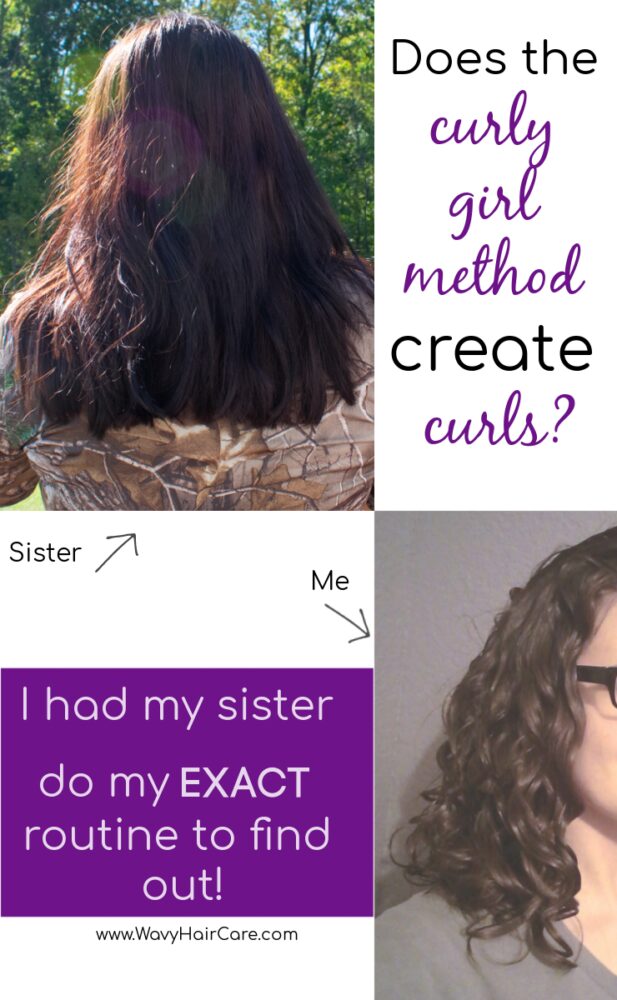 Does The Curly Girl Method Turn Straight Hair Curly?
The curly girl method does not turn straight hair curly. It only produces waves or curls on hair that is naturally textured. If someone has truly straight hair, the curly girl method will not make their hair wavy or curly. 
Let's jump in to some of the more specific misconceptions.
Do curly girl approved products make straight hair curly?
Curly girl approved products do not make straight hair curly. The products are designed for curly hair, but if used on straight hair, the hair would remain straight. 
This one, we don't need my experiment with my sister to determine. If I use curly girl approved shampoo and conditioner, but no gel or mousse and I brush my hair? It's pretty straight! The picture below shows my hair with curly girl approved products and brushing.
Nope. The products definitely don't create curls!
Does scrunching create curls in straight hair?
Scrunching straight hair doesn't create waves. Scrunching helps curls to clump and spring up, only. If scrunching created waves or curls then anyone who scrunched their hair would get the same results. Scrunching results vary greatly based on each person's natural hair pattern.
This is perhaps the most common misconception I hear. I've heard it a lot in response to the TikTok trend. People say "Of course if you scrunch your hair it's and then let it dry it's going to be curly. It's not natural though!" I understand why these seem logical.
If you were to get your hair wet, then lay down on the floor, have someone make a zig-zag with one clump of hair and you didn't move until it dried – then yes, you would have created a zig-zag hair pattern artificially. Many people assume that scrunching is doing that same thing.
The reason why scrunching is different is because it's not creating each bend in the hair, the way that forcing a zig-zag pattern would be. It's just squeezing hair, and letting it wave up or curl up in the size and tightness it naturally is prone to doing. Some will scrunch and get very loose waves.
Others will scrunch and get tight curls. When I scrunch, I get fairly thick swoopy waves. If someone with pin-straight hair scrunched their hair, it would still dry straight because it wouldn't curl up when scrunched. Similarly, when people with different types of textured hair scrunch their hair, it gives them a different result.
Here is what my sisters hair looks like after scrunching exactly the way I showed her that I scrunch my hair.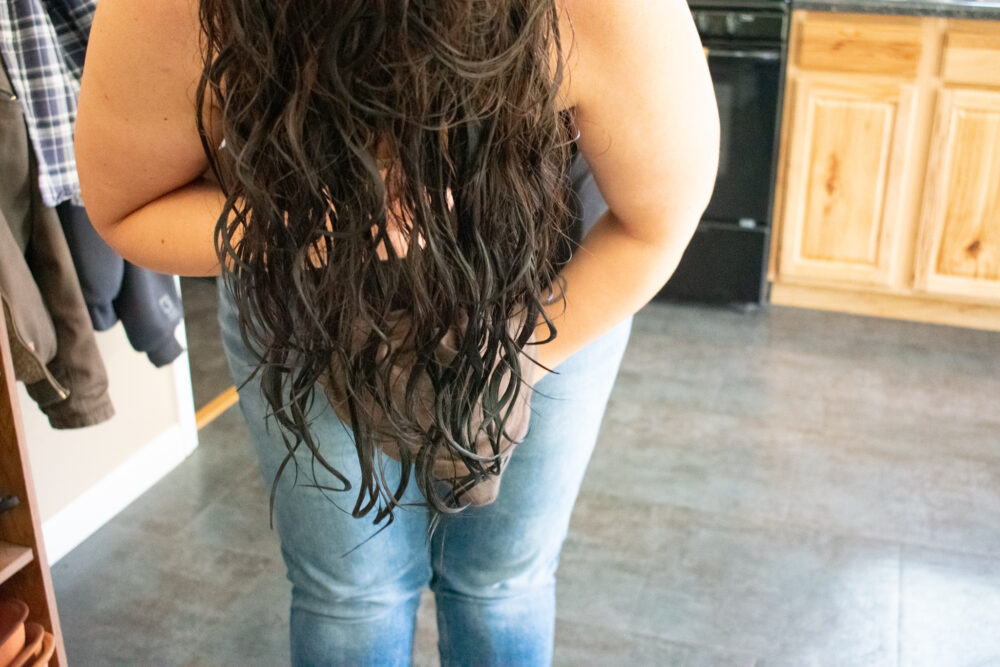 If I were to make up a description for her pattern, I'd call it wiggly waves. Her hair wiggles back and forth in a wavy pattern.
Here is what my clumps look like after scrunching: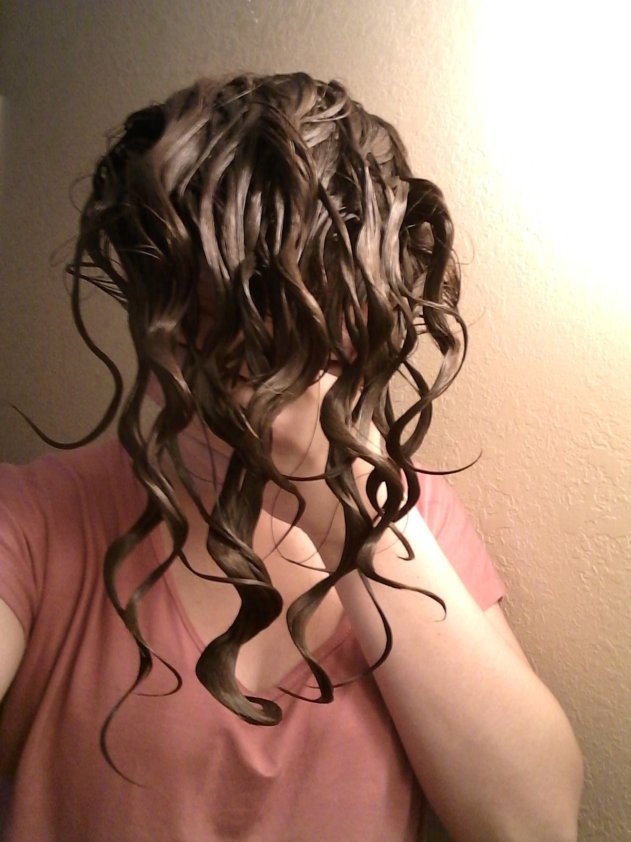 While my hair is wavy as well, my clumps don't look much like her "wiggly waves" do they? If I were to make up a term for mine I'd call them swoopy waves. They're thicker pieces, and they circle around more than my sisters do. The difference in our results with scrunching shows the difference in our curl pattern.
Her wet waves are primarily 2A more subtle waves, while mine are a tighter pattern with deeper "swoops" almost making full loops in some cases, a mix of 2B and 2C.
Yet, we did the same thing – we scrunched our hair in the same way, at the same part of our routine. The reason hers turned out differently than mine is because scruching isn't what creates our waves. If scrunching did create the patterns, we'd get the same pattern from scrunching.
Another reason how you can tell that scrunching doesn't create waves, is how your hair pattern can't be "fixed" with scrunching. I can see in the shower (or after the shower) that some of my curl clumps aren't as tight as others. In fact, I have some smaller pieces that are straight or very nearly straight.
If scrunching created waves, I could just scrunch those clumps, right? Yet, if I take just that curl clump and squish it as tight as I can? It still won't make it curl up much at all, and certainly not as tight as some of my other clumps. That section of my hair simply is not as tightly textured as the rest of my hair.
That's the same reason why the parts that do make full twists, do so by just scrunching them. They are just naturally tighter textured than the rest of my waves.
Does the curly girl method routine create curls in straight hair?
The curly girl method doesn't create curls in straight hair. The curly girl method can help define and "bring out" natural waves or curls. It doesn't create waves or curls in truly straight hair. 
This is also evidenced through the difference in my results and my sisters results. Her results were wavy, because her hair is naturally wavy. However, it doesn't look very similar at all to my wave pattern, even though she used all the same products that I have used, and all the same methods. The pictures below are her and I after using the following routine:
Shampoo just the scalp with Not Your Mother's "pink" shampoo. Rinse out shampoo completely.
Condition hair with Not Your Mother's Curl Tak Conditioner, just the strands.
Scrunch hair with conditioner in it, and clip on head for about 3 minutes to let it penetrate.
Use wide tooth comb to align hair.
Rinse out the conditioner completely.
Squish hair.
Plop for 10 minutes.
Apply Aussie instant freeze mousse
Diffuse upside down for 5 minutes, then diffuse right side up the rest of the way.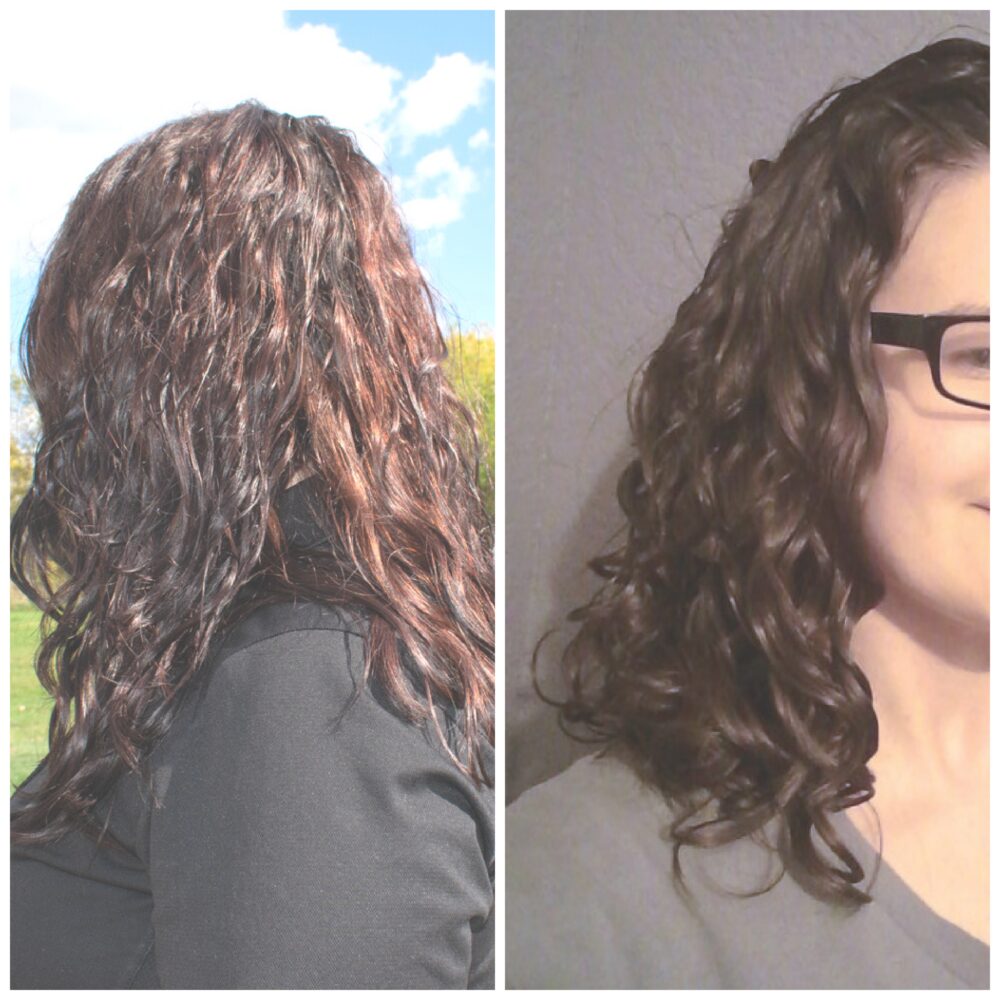 If the curly girl method doesn't make your hair curly, why does it change how hair looks?
This is a really logical question. When looking at people's before and after curly girl method results, there can be really dramatic differences in the before and the after. So if the curly girl method isn't making straight hair wavy or curly, then what IS causing the difference, right?
Well, the method IS making a difference in how the hair looks. For me, using gel or mousse makes my waves more defined. Diffusing instead of air drying helps my hair to dry tighter (more wavy) because the water doesn't have as much of a chance to weigh down my pattern. I think using curly girl approved products has helped make my hair shinier and healthier over time, too.
Those changes ARE caused by the things I do as part of the modified curly girl method. It's just that the method isn't creating waves that weren't naturally in there. If someone else did everything else I've done, but had truly straight hair, they wouldn't get the results that I've gotten, or that my sister has gotten. Our results are only possible because of how natural hair properties.
Is the curly girl method manipulating your hair pattern?
Asking what is manipulating your pattern vs what is embracing your natural pattern is really what this conversation boils down to in some cases. It's not always a black and white issue, either. Some would argue that the curly girl method is manipulating your natural pattern because it would look different if it were straight, or didn't have gel, or wasn't diffused.
However, I personally feel that society as a tendency to see straight hair as the norm or the default, and therefore feels that naturally wavy or curly hair care methods are 'manipulation' while we don't see natural straight hair care as manipulation.
For example, I think brushing your hair can be seen as manipulation because it takes my waves and forces them straight. Yet, nobody really sees brushing or combing hair as manipulation – and I think that is because we see straight hair care methods (like regular brushing) as the norm.
I have noticed that people who have hair that naturally dries quickly tend to have a tighter wave pattern when they air dry, vs people who have hair that takes forever to air dry. Therefore, I think you could argue that having your hair stay wet for a long time "manipulates" your hair into a straighter pattern, and that diffusing your hair to remove the water more quickly, helps preserve your natural pattern.
Yet others see diffusing as manipulating, and air drying as not-manipulating. Personally, I think it really can get into semantics that really just shouldn't matter that much. My opinion is that chemical treatments (perms, chemical straightening) or changing your texture with heat tools (flat iron, hot curlers, curling irons, crimpers, etc) are clearly manipulating your hair pattern.
Those would change the hair pattern of anyone who uses them. I don't see non-chemical treatments (shampoo, conditioner, creams,  leave-ins, gel, mousse) or routines (scrunching, squish to condish, even finger-coiling) as manipulation because they wouldn't dramatically change the results of everyone who uses them.
If you're new to learning about wavy hair, check out my blog post directory. It lists all of my posts by title so you can find more content to help answer your questions.