There are affiliate links in this post. 
I've put off this blog post for too long, I've gotten multiple emails asking me this one!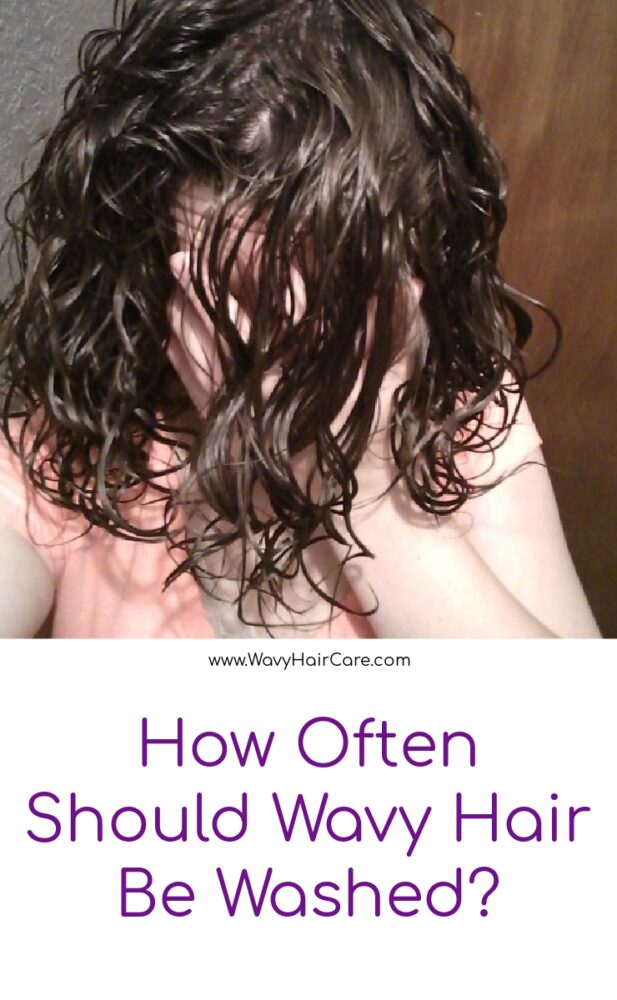 How often should I wash my wavy hair?
Most people with wavy hair like washing their hair every 3-4 days, or about twice a week. Washing too much can be drying or stripping, but not washing often enough can make hair feel dirty. Washing about twice a week tends to be a good balance for most with wavy hair. 
Once they have adjusted, that is. If you have always washed your hair daily, then jumping to every 3-4 days may feel like too much too fast. I'm not sure where the idea comes from, but many say that you can only wash your hair once a week when following the curly girl method.
I've read the official curly girl handbook, and it doesn't say you can only wash once a week. In fact, the wavy section says 3-4 days. Every 3 to 4 days also seems to be the most common answer I see in wavy hair forums and groups.
On non-wash days, some people do nothing while others choose to refresh their waves. I have a blog post where I tested 8 different methods for refreshing wavy hair to see which ones work best.
Curious about other differences between what is mentioned online about the curly girl method vs what the book really says? I have a whole blog post about the "online" curly girl method vs what the book really says.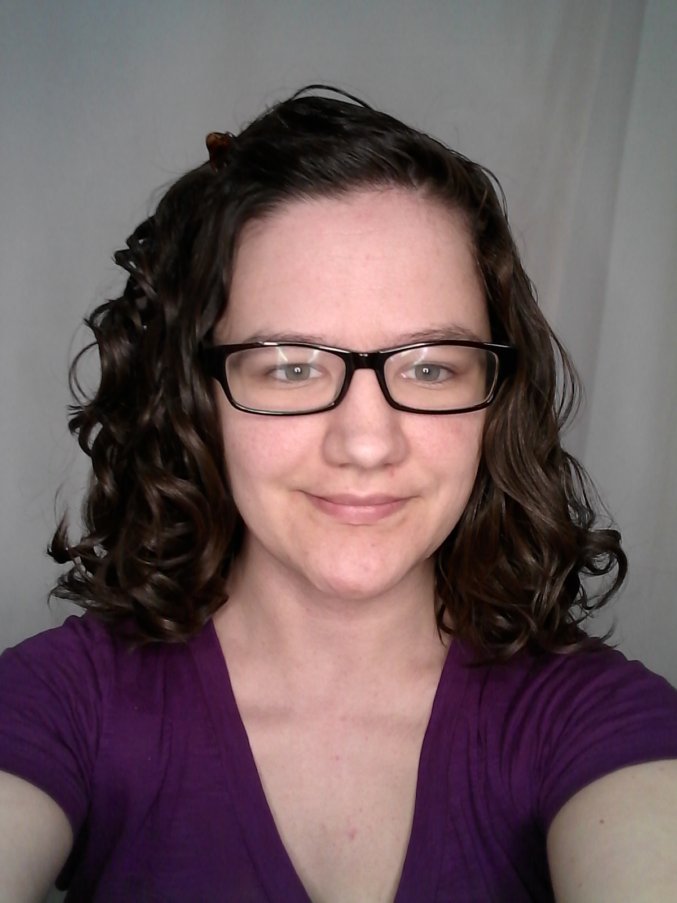 Can you wash your hair daily on the curly girl method?
You can wash your hair daily while following the curly girl method if you want to. The curly girl method believes that shampoo can be drying or stripping, so it recommends washing less. There is no official rule for how often you can wash though. 
I haven't gone to cosmetology school or anything, but it is commonly said that washing hair daily is too frequent and will dry out your scalp. Many people who start the curly girl method or otherwise try to embrace their natural waves, try to get their hair well moisturized, as well.
Many feel that letting your hair moisturize itself is really effective.This is sort of the whole theory behind why it is seen as beneficial to try to wash less frequently. If it just doesn't work for you, there are no wavy hair police who are going to come arrest you! I'm always a fan of doing what works for your hair and your life.
Also, some people may have scalp conditions that require more frequent washing.
Does the curly girl method make your hair greasy?
Online it seems like many believe having greasy hair is an unavoidable part of starting the curly girl method. People say the only way to "teach" your hair to produce less oil is to stop washing your hair and just wait on your hair to adjust.
Many start the curly girl method thinking they can't wash more often than once a week, so they just jump in with only washing once a week, and walk around with really oily hair until their hair adjusts after a few weeks.
I never went through that phase, and I don't think you have to, either, if you don't want to. See the section below on how to adjust to washing less frequently, if you want to learn what I did.
What if my scalp gets itchy before wash day?
If my scalp gets itchy or just feels dirty before wash day, I wash it. Most of the time I wash every third day, but occasionally I use too much product, or get really hot and sweaty, or literally get dirty. If that happens, I don't make a big deal out of it, I just wash my hair. I don't want to force myself through my hair feeling bad when I could just wash it.
If your scalp is getting itchy really quickly, it may be irritated by ingredients in your products, a skin condition or something else. If in doubt at all, see a dermatologist.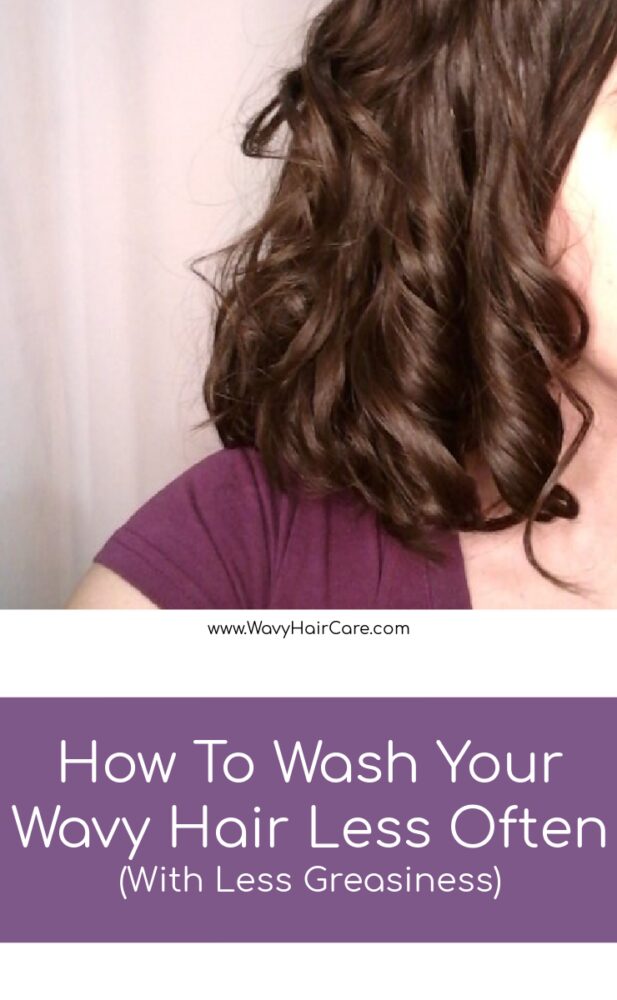 How can I get my hair to adjust to washing less frequently?
If you want to wash your hair less frequently, but don't want to have greasy hair all the time, my advice is to transition slowly.
1. Start by extending it just a day more than you are used to. 
Before starting the curly girl method, I washed my hair every single day. I wanted to get my hair to adjust to washing less often. I knew my longterm goal was to get to 3 to 4 days, but I knew that would be really uncomfortable for me. I knew my hair would look greasy for 3 days if I tried to go 4 days between washes.
So, I washed every other day at first. This made my hair a little bit oily, but it didn't look really bad, it wasn't itchy. It was very manageable.
There was also a nice bonus to washing every other day. This gave me more chances to practice my styling techniques and to try out new products. I wanted to do lots of experimenting early on, as I had so much to learn and so much that I wanted to try. Washing every other day gave me lots of opportunities to try things out.
After a while, I realized that my hair was completely adjusted to washing every other day. It was no longer getting oily. That's when I moved to washing every 3rd day. I've been pretty happy with washing every 3 days, but if I wanted to extend it farther, I could have. I would have just waited until my hair was adjusted to washing every third day, and then adjusted to every 4 days.
2. Don't condition the top of your strands.
If your roots get greasy, it's important not to add oil or conditioning ingredients to the roots, as they'll get oily even faster. I condition from about my ears on down.
3. Use shampoo instead of cowashing.
Cowashes are more moisturizing than shampoo is, and cowashing is typically less cleansing, as well. If your hair gets greasy quicker than you want it to, you don't want to use a moisturizing cowash on your scalp as that will make your roots oily even faster. If your scalp feels dirty quickly, you want to use a cleaning shampoo to make sure it gets nice and clean when you do wash.
4. Clarify Routinely.
Most people following the curly girl method will clarify at least once a month. Some wavies clarify as often as once a week, though. Clarifying shampoos are more cleansing than sulfate-free shampoos.
While your sulfate-free shampoo (aka low poo) should be doing a good job of cleansing your scalp, it won't remove everything. Clarifying shampoos can help bust through build-up. Doing that at least once a month will help you avoid build-up, which will keep your hair feeling cleaner overall, allowing you to wash less often. I have a blog post all about clarifying wavy hair.
5. Use less product.
If you feel like you can, use fewer products. It's easy to come across YouTube tutorials from curly girls who use a leave-in, a curl enhancer, a cream, gel, mousse and a finishing oil and to think you should do the same. For some, it works. For many with wavy hair though, more products just weighs our hair down. Most days, I just use mousse.
In particular, using fewer products high up on yur strands will help keep your scalp from feeling like it needs washed sooner. Meaning, if your strands do need extra moisture at the ends, try applying it to just the ends of your hair instead of the whole length of your strands.
Wavy Hair Shampoo
These recommendations are all products I have personally used and been happy with.
Not Your Mother's Curl Talk Shampoo. This isn't super light, but is light enough for my hair type. It has some protein in it, making it a good choice for those with heat or chemical damage. Or, hair that just loves protein for whatever reason.
Not Your Mother's Tahitian Gardenia Shampoo. This shampoo is a little on the heavy side, but super moisturizing.
Johnsons kids curl-defining shampoo. Very light, great for hair that is easily weighed down.
Suave Daily Clarifying shampoo. Despite the name, this is not for daily use. This is to use 1-2 times a month when clarifying.