There are affiliate links in this post.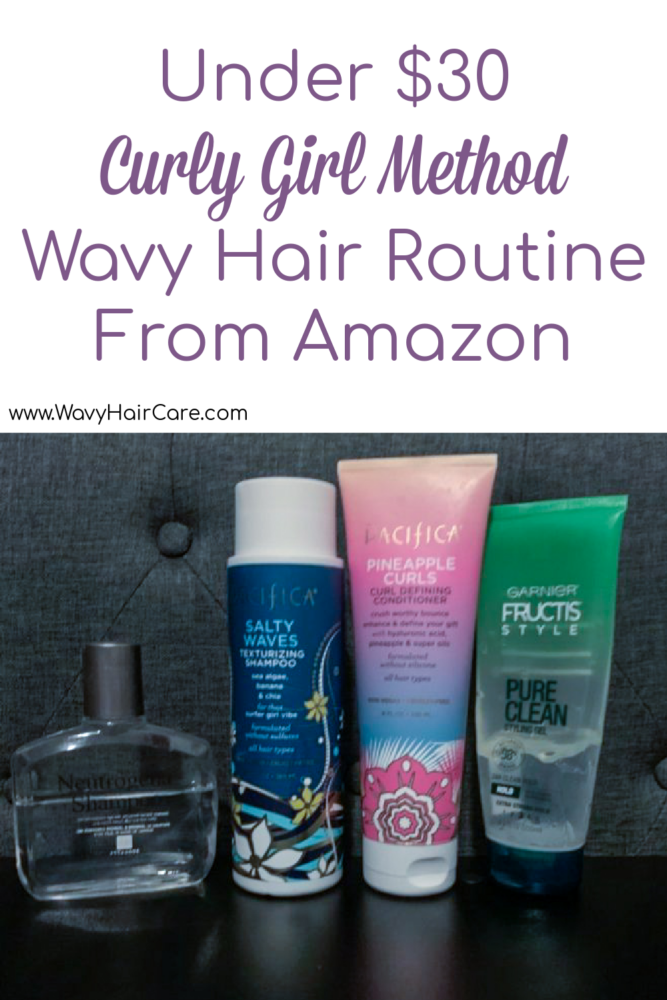 When I started the curly girl method four years ago, I was really excited to get started. I initially thought I would order products on Amazon instead of waiting to go to the store. That is, until I looked up the products I wanted to buy on Amazon and realized they were more than twice the price that they would cost in store!
It's common for hair care products to be overpriced online because they're expensive to ship, due to being heavy for their size. For example, a $5 bottle for shampoo might cost $5 to ship.
Anyway. I've since learned that you can get good deals when shopping for wavy or curly hair products on Amazon, but you have to be selective about what you order.
For example, I often recommend LA looks gel to newbies. The reason why I recommend it is because it's a good gel at a great price, just $2 at any of the local stores in my area.
On Amazon it's $9. Similarly, I often recommend Suave daily clarifying shampoo because it's a good clarifying shampoo and it's just $1 for a regular bottle or $2 for a huge bottle locally. On Amazon the regular bottle is $9.45!
Anyway, I thought I'd pull together a starter wavy hair routine for those interested in starting the curly girl method and wanting to order from Amazon. I've specifically looked up products that are to overpriced on Amazon vs in store. These are all products that I've personally used and have been happy with.
Starting The Curly Girl Method With Products From Amazon
My recommendations:
Neutrogena anti-residue shampoo (for removing build-up 1-2 times per month) ($5.29 on Amazon)
Pacifica Beauty Salty Waves Texturizing shampoo (for regular wash day use) ($9.99 on Amazon). This shampoo is on the stronger side while still being curly girl approved.
Pacifica pineapple curls conditioner is $8.09 on Amazon. The conditioner has nice slip, and isn't too heavy.
Garnier Pure Clean Gel ($3.42 on Amazon)
If you are just looking for the basics to get started, those four products are all you absolutely need.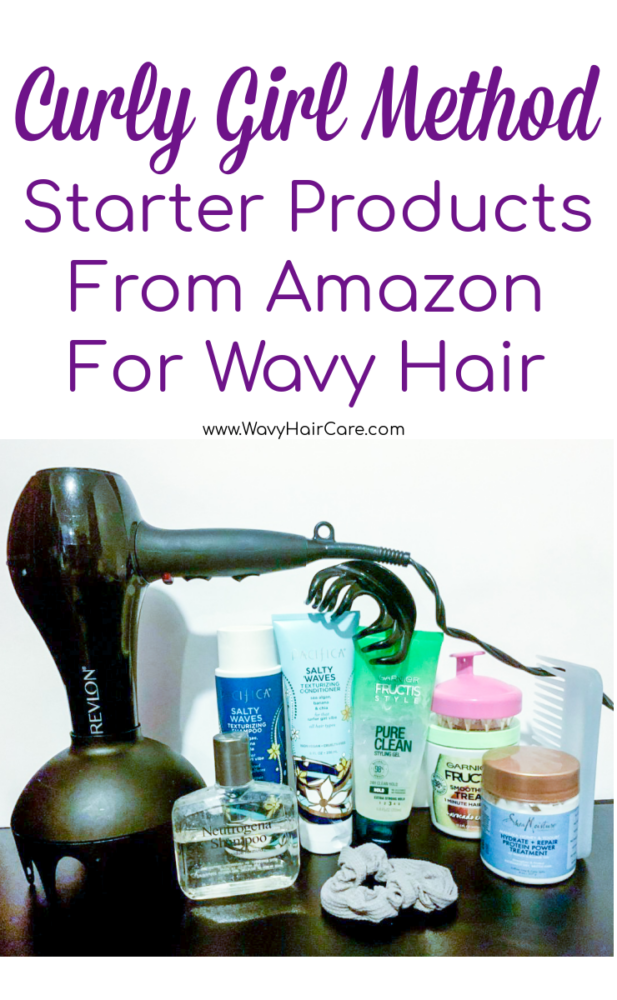 If you aren't on too much of a budget, I'd also recommend buying a deep conditioner and/or protein treatment.
Deep conditioners are helpful for people who have tangle-prone hair or really 'dry' hair.  The Curls Poppin' Pineapple curl mask makes my hair feel really nice. It isn't as cheap as many other products I use, but it is about the same price on Amazon as it is elsewhere $10 for 8oz).
If you're looking for a more frugal option in terms of cost per oz, I also like the Garnier Fructis treats. They do have a listing for two 13.5oz jars for $12 total, and they're about $6 each at my local store. It's a bit of a bummer that you have to buy two to get the deal, but when you do buy the set of two the price is about the same as in-store.
Protein treatments are helpful for people who have fine hair, and/or hair that has been bleached, dyed or heat-damaged. For protein treatments on Amazon, I'd recommend the Shea Moisture Manuka Honey & Yogurt Protein Treatment. This is about $12 on Amazon. It's about $10 at Walmart, and $14 at Sally's so the Amazon price is pretty average.
Hair accessories you may want to purchase if you don't already have them…
A wide-tooth comb for detangling in the shower.
A scalp brush to assist with removing buildup and getting your scalp extra clean while using gentler shampoos.
A reusable shower cap (to keep your hair dry when showering on non-wash days)
Scrunchies or XL scrunchie (to pineapple your hair as a way of protecting your curls overnight, or for pulling your hair back without leaving dents/bends. XL size may be needed if your hair is very dense and/or very long)
A satin pillowcase (to keep your pillowcase from causing frizz or breakage)
A blow dryer and diffuser. I have the Revlon Professionals turbo ionic blow dryer (not currently on Amazon so here is a Walmart link) and the xtava black orchid diffuser and have been happy with them both. If your hair takes a long time to dry, this may be essential, as using gel or mousse typically makes hair take even longer to dry.
Extra-large hair clip (nice for clipping hair up while in the shower while using a hair mask)
Misting spray bottle. Can be used to refresh your hair after wash day, or to keep hair really wet while you're styling it.
Prenatal vitamins. My dermatologist told me that prenatal vitamins are even better for hair than taking biotin or vitamins labeled as being for 'hair and nails'.
Curly Girl Approved Products on Amazon
These are just in case you want to try a different shampoo, conditioner or styling products than what I recommended above. All of these are products I've used and liked so these are personal recommendations.
Shampoo alternatives:
Curls poppin pineapple curl wash. This is a non-sudsing, really gentle shampoo that isn't too heavy for my fine, wavy hair.
Johnson's baby curl defining shampoo. Super light as it's made for baby-fine hair.
Conditioner alternatives:
Johnsons strengthening conditioner. Made for kids hair so it's super light. Has a little protein so it's good for fine hair or dyed/damaged hair.
Giovanni Smooth As Silk conditioner. 24oz (Very big bottle!). This conditioner has really great slip so it'd be good for people with tangle-prone hair. It has some protein, so it's good for hair that is fine, bleached or heat damaged.
Styling alternatives:
Cake mousse. This is one of my all-time favorites. Great results, leaves hair feeling almost product-free. Doesn't last as long so I have to refresh daily.
Amazon curly girl method routine
Of course, you can use these products to do a routine however you'd like. I thought I'd share an example routine for those who would like a routine to try out to start with! The photo shown below is my hair after doing this routine. This is slightly different from my regular routine, I did this one for the sake of doing this curly hair tiktok!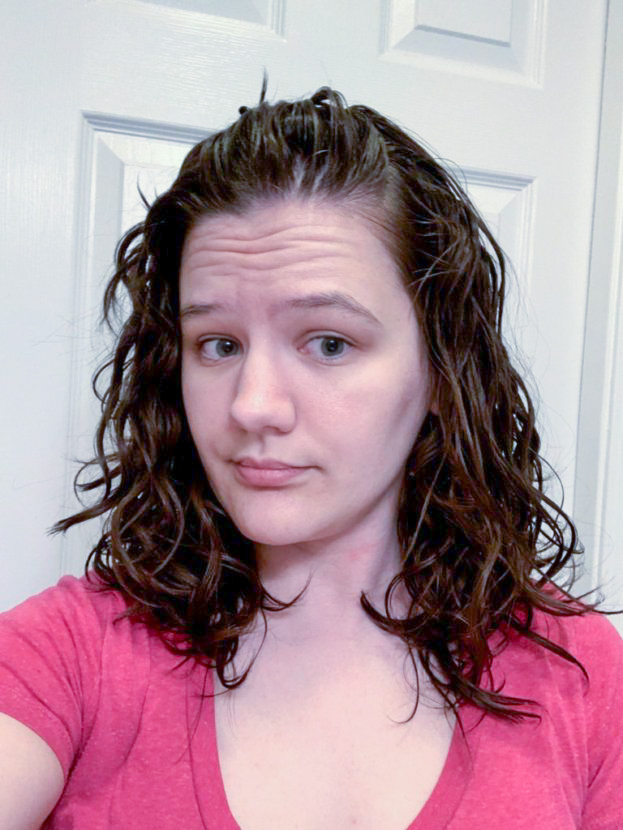 Use the Pacifica Salty Waves shampoo on your scalp. Rinse.
Use the pacifica pineapple curls conditioner on the lengths of your hair (skipping your scalp). Let sit in your hair for a couple of minutes so it penetrates well.
Use wide tooth comb to detangle hair while conditioner is still in it. Once detangled, rinse conditioner from your hair.
Right after the shower, apply Garnier Fructis Pure Clean gel to your hair. I use about 3 palmfuls for my hair, if your hair is low density you may need to use much less. It'll take trial and error to learn how uch you need. I apply it by "glazing" it (lightly coating the outside and underside of my hair) and then scrunching.
Once all the gel is in, scrunch your hair gently for about 1 minute. The more you scrunch, the skinnier your curl clumps may get, but this helps with curl tightness and definition.
Microplop hair to get some excess water out. (here is a microplop tutorial if you're new to the concept).
Plop your hair for about 10 minutes. (Here is a hair plopping tutorial if you're new to this).
After the 10 minutes is up, remove your plopping t-shirt and let your hair air dry or diffuse (tutorial for how to diffuse hair here). Try not to touch your hair as it dries, as that can introduce frizz.
Once your hair is 100% dry (not before!) squeeze/scrunch your hair to break up any stiff parts. This is called 'breaking the gel cast'. If your hair feels stiff after squeezing, squeeze a little more or try to add a tiny bit of oil or leave-in conditioner to your hands when scrunching as those can help soften the cast.
Enjoy your wavy curly hair style!
Other posts of mine that you may find helpful: