There are affiliate links in this post. All opinions are my own.
Something I really appreciate about Gen Z is how many of them are more conscious consumers than those of us who are older. I personally am not great about choosing vegan or cruelty-free products on a regular basis. I have so much respect for people who do make it a priority, though!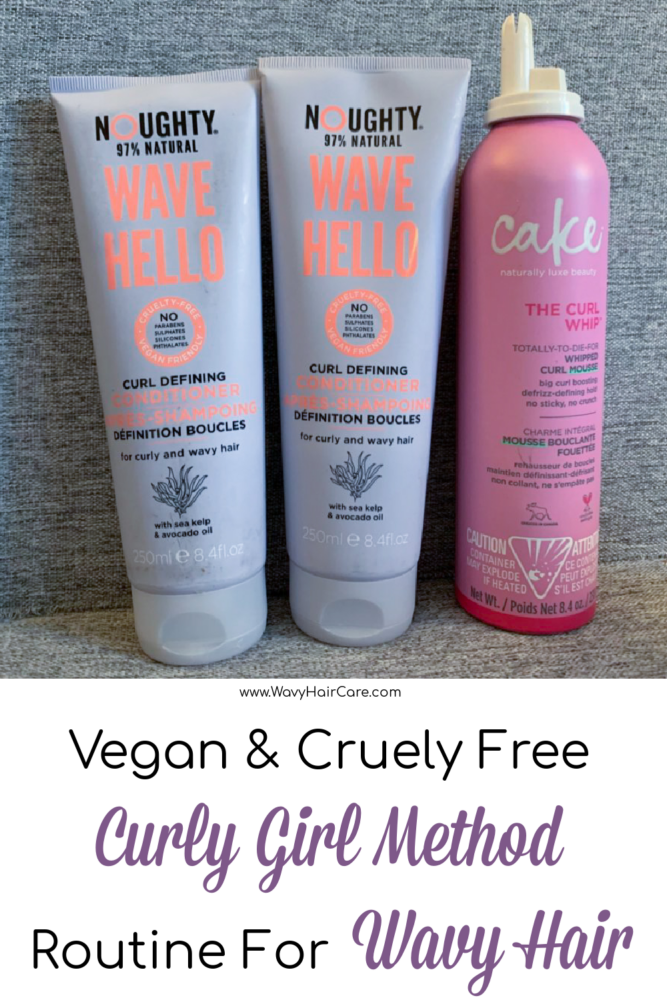 I had someone email me asking about a vegan and cruelty-free routine for wavy hair so I thought, sure! I went through the products I had to come up with products I enjoy that could be used together in a routine. This is a simple one, just three products!
Noughty Wave Hello Shampoo
Noughty Wave Hello Conditioner 
Cake The Curl Whip Mousse. 
Why these products? Well, because they are vegan and cruelty-free, and they work well for me! The shampoo feels cleaning yet slightly moisturizing, and the conditioner is moisturizing without being too heavy for my fine but dense wavy hair. The conditioner also has good slip so I can detangle my hair without too much trouble.
The curl whip mousse is one of my all-time favorite stylers. It is really lightweight and offers great volume and good hold. IT doesn't offer long-lasting hold so my hair will fall flatter than usual by day 2, but it's super lightweight in my hair. It almost leaves my hair feeling product-free! So, I'm able to add more of this mousse to my hair on day 2 to regain some curl and definition.
What else will you need? In your monthly routine, you'll likely need a clarifying shampoo to use about once a month, and a deep conditioner and/or protein treatment to use once a month to once a week (depending on your hairs needs). If you're unsure of your hair type, my how to determine your wavy hair type can help you get an idea of your hair type and my post on wavy hair & protein may help you estimate how much protein you'll need to use.
There is no protein in these three products so even if your hair only needs a tiny bit of protein, you'll likely need to do a protein treatment periodically if you do this routine longterm. However, this routine is great for your regular wash days! Scroll down to see other products that you can try for your clarifying and mask needs on 'special' wash days.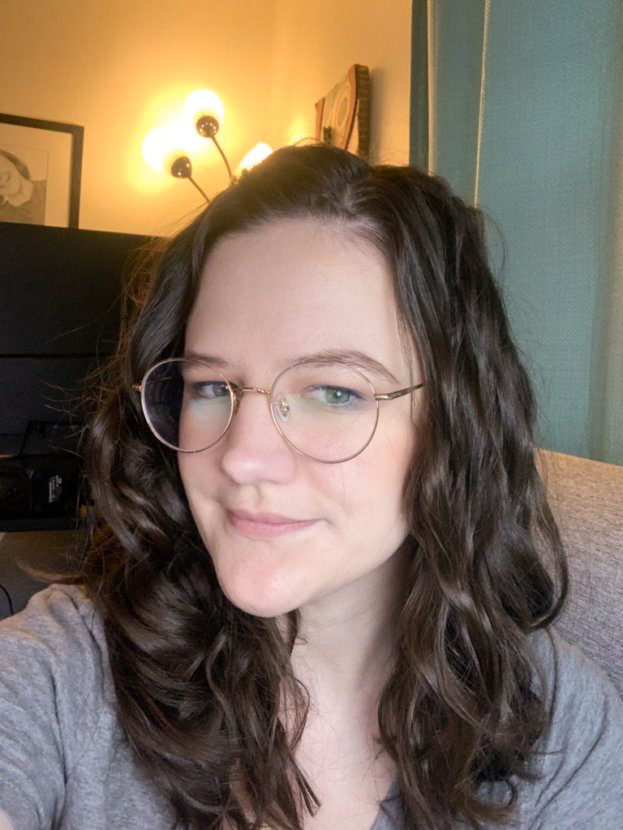 My results from using this routine.
Vegan & Cruelty Free Wavy Hair Routine
Shampoo. Use Noughty Wave Hello shampoo on your scalp. I find that this shampoo doesn't spread very far, so I use a bit more of it than I do with some other shampoos. After ensuring that you have gently scrubbed your whole scalp with the shampoo, rinse the shampoo out.
Condition. Condition your entire hair strands with Noughty Wave Hello conditioner. Lately my hair has been needing moisture so I used quite a bit, about a lemon-sized amount to make sure my hair got really well conditioned. I add conditioner until it feels like "seaweed". If your hair isn't dry (or if you struggle with oiliness) you can use less, perhaps a quarter sized to a half dollar sized amount. Try to distribute the conditioner evenly across your whole hair strads from root to ends without getting your scalp.
Rinse upside down. Flip your head and rise the coditioner out of your hair while your head is upside down under the waterhead. This will assist with root volume and with getting good results from 'plopping' in the next step. However, if your hair is really prone to tangling, or you are unable to lean over in the shower, you can rinse your hair upright instead.
Plop your hair. This is basically lowering your hair gently into a t-shirt and then wrapping the shirt around your head. You can see my post how to plop wavy hair to see a full tutorial explaining this better. Time this for 10 minutes, then gently remove the plop and let your hair down.
Apply mousse. Apply your Cake The Curl Whip mousse. If you've used mousse before, use as much as you'd use with any other brand or type of mousse. If you're new to using mousse, you'll have to guestimate a little bit. My hair is dense and the longest layers are a few inches past my shoulders. I use about 3 handfuls of mousse. If you have low-density hair you may need ot use a lot less. If you have dense hair that is a lot longer than mine, you may need to use more. Learnig how much mousse to use is something you just have to experiment with when you are new.
Air dry or diffuse. I personally recommend diffusing if you have a diffuser. Most people with wavy hair feel they get better results by diffusing. If you have a diffuser but aren't familiar with how to use it, check out my post How To Diffuse Wavy Hair. Whether air drying or diffusing, it's very important that you make sure your hair has totally dried before you go to bed. If you go to bed with damp hair you are almost certain to get poor results.
Scrunch out the crunch. After your hair is 100% dry squeeze your hair to get rid of any stiff or crunchy feeling that the mousse has created. You can check if your hair is fully dry by feeling the temperature of yur hair. If any parts of your hair feel colder than others, those colder areas are still damp.
Once you've scruched out the crunch, that's it! You may want to try 'pineappling' your hair or wearing a bonnet to preserve your curls overnight. See my post How To Sleep on wavy hair for information about keeping your curls from getting too smushed or flattened while you sleep.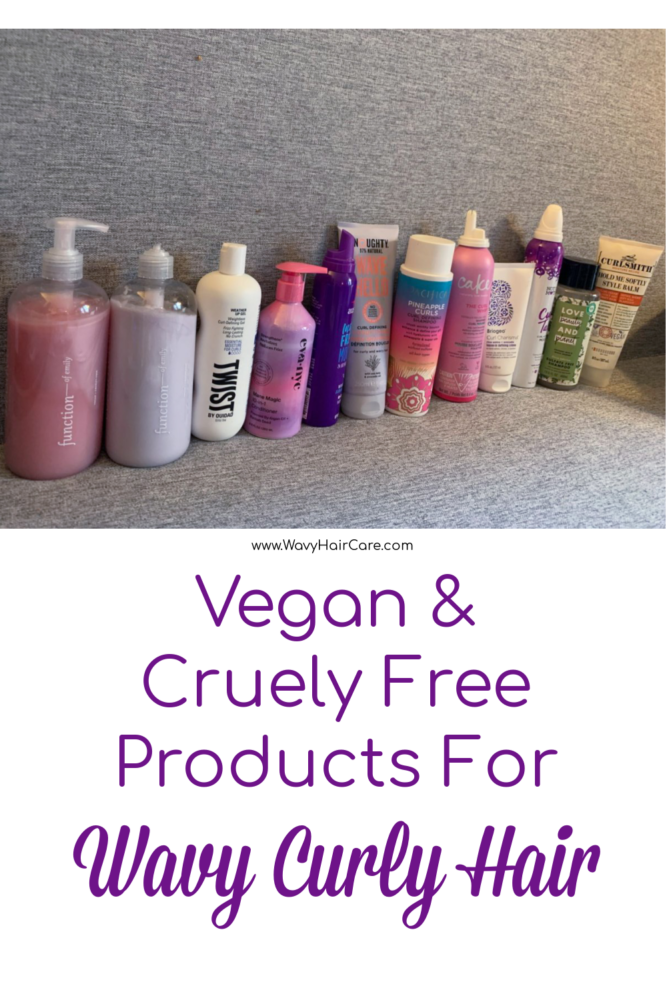 Other Wavy Hair Products I Recommend that are Vegan & Cruelty Free:
These are products I personally have tried and liked. 
Bedsure satin pillowcase.
Giovanni weightless leave in.
Aussie as a brand is cruelty free, but I'm not sure which of the products are (or aren't) vegan. So it might be just cruelty-free, but I love the Aussie Instant Freeze mousse! Many wavies love the aussie instant freeze gel, too, though it's not a favorite of mine personally.
Pacifica Salty Waves shampoo and conditioner. The conditioner is not curly girl method approved but I am not strictly CGM and I like both of these. The shampoo is curly girl approved. I love the smell of these, too! They smell like bananas.
Pacifica Pineapple Curls Shampoo & Conditioner. These also work well for me and both are curly girl approved.
Twist by ouidad weather up gel.
Function Of Beauty customized hair products. I'm referring to the ones available on the function of beauty website, not the line available at Target. These are more expensive than most of what I recommend, but I tried them recently and got good results. Their formulas are always cruelty free and vegan, and you can customize them so they are curly girl method approved if you'd like.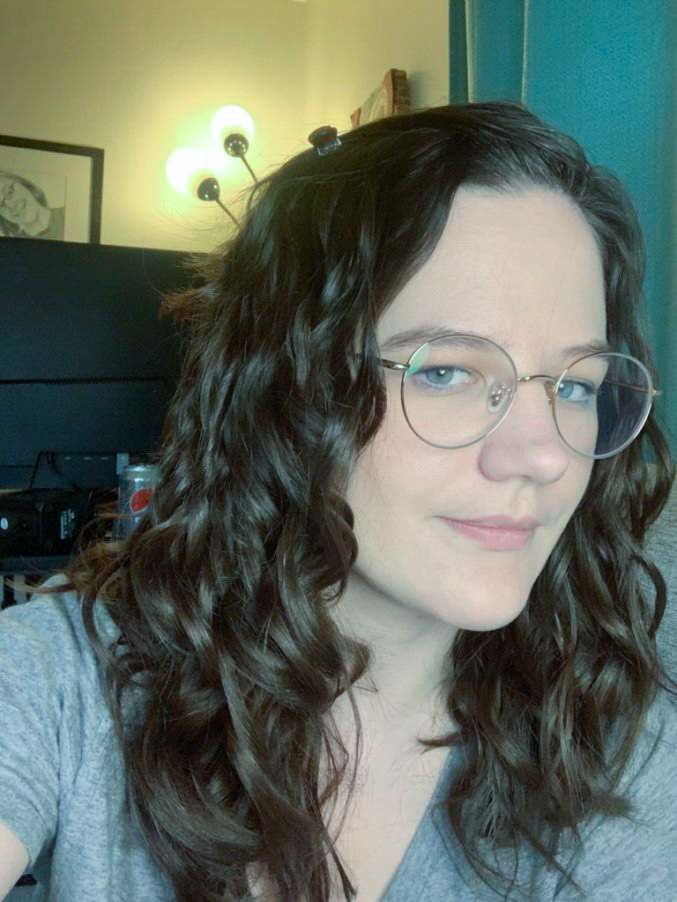 Other Specific Wavy/Curly Products That Are Cruelty-Free. 
Most of these are products that I haven't tried. A few are products that I have tried but just didn't love personally.
Clarifying shampoos: Noughty Dynamic Detox shampoo,  Trader Joe's tea tree tingle, Giovanni 50/50 shampoo.
Styling products: Giovani mousse air-turbo charged styling foam, kinky curly curling custard, eco style gels, Briogeo curl charisma defining cream.
Masks: AG nourish mask (has protein), Jessicurl deep coditioner (protein free), ecoslay matchaboost (protein treatment).
Wavy Curly Hair Brands That Are Vegan & Cruelty Free:
Important note – if you're trying to follow the curly girl method, NOT all of the products from all of these brands are curly girl approved. This list is strictly about vegan and cruelty free, not the curly girl method.
Jessicurl.
Love, Beauty And Planet.
Pacifica
Noughty
Cake brand.
Olaplex.
Kinky curly.
Ecoslay. Everything but their peppermint schnapps is vegan. The peppermint schnapps contains honey.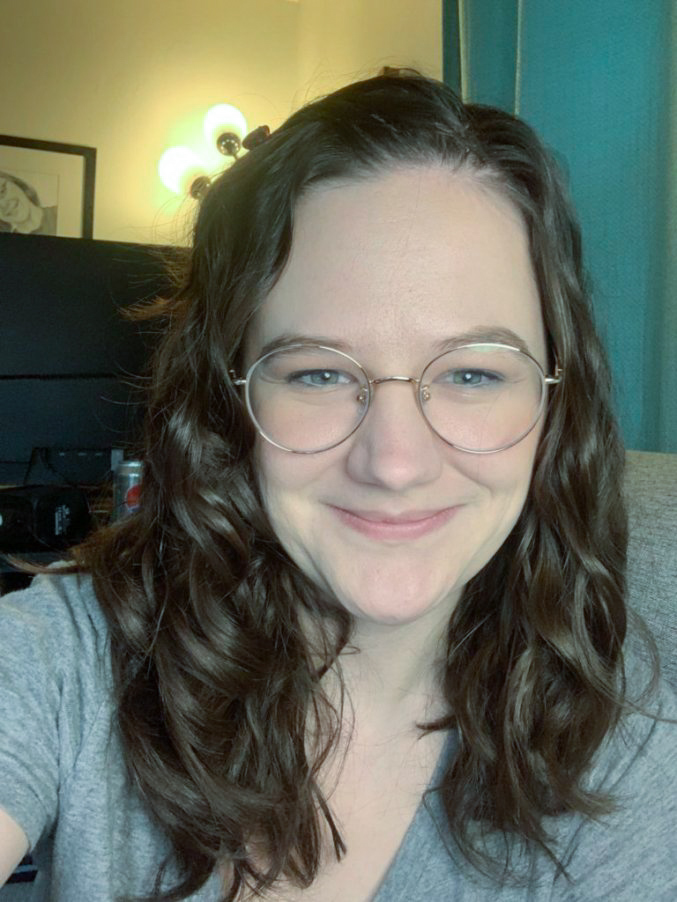 Wavy/Curly hair brands that are Cruelty Free. 
These brands are listed here because not all of their products are vegan (though they all have some products that are vegan, too!). They are all cruelty-free brands though. Keep in mind their products may or may not be curly girl method approved.
Not Your Mother's.
Giovanni.
Curlsmith.
Devacurl. They had a class-action lawsuit in the past so many are hesitant of this brand.
Eva NYC.
HASK.
Innersense.
Ouidad.
Yes To.
Native.
Evolvh.
SheaMoisure.
Save money on hair products online.
If you're shopping online, you can get cash back by using the Rakuten app or browser extension. If you're new, sign up through my link and as long as you place a $30 order in your first 90 days, you'll get a $25 cash back bonus! That's at a minimum, too. They always offer at least $25, but sometimes they raise it. At the moment I'm writing it, they're offering $30. I'll earn a bonus for referring you, just so you know. I recommend Rakuten because I've used it for years to earn cash back on my online purchases and know it's legit.  To make sure your purchase is recognized by Rakuten, on desktop, you just activate the browser extension before shopping through the retailer of your choice. On mobile, you open the Rakuten app and navigate to the retailer website from there.