Something I come across in wavy/curly groups fairly often is a comment similar to this one.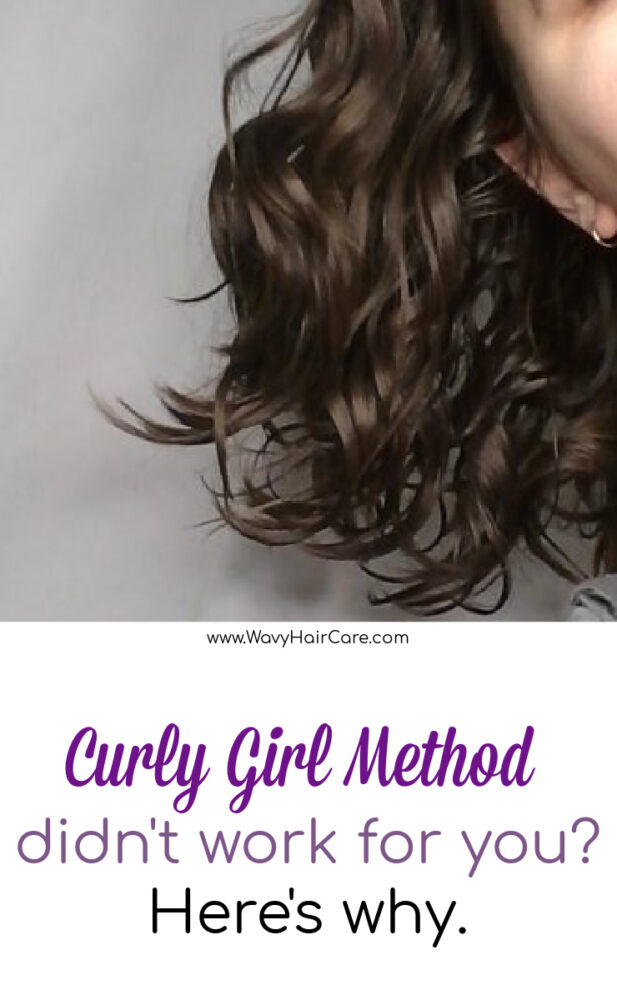 "I tried the curly girl method in the past and it just does not work for my hair. What does that mean? Does my hair need silicones?"
Some people conclude that their hair does need silicones. I am not someone who believes that silicones are the devil, personally. At the same time, it doesn't make sense to me that anyone's hair could need silicones.
Silicones are emollients, and emollients are ingredients in products that help create a protective barrier or film on the hair. This helps seal your hair. On their own, emollients are not moisturizing. However, if you use moisturizing products and then also use an emollient, the emollient helps your hair stay moisturized by sealing the moisturizing ingredients into your hair.
Silicones are "manmade" emollients, but there are many other types, too. For example, fatty alcohols are emollients, as are some oils and butters, proteins and hydrolyzed proteins and more.
Dimethicone is often listed as the "worst" silicone, and it is an emollient, but shea butter and argan oil are two examples of emollients that are not seen as "bad" by those who follow the curly girl method, basically just because they're more natural. The function is the same, though. That's not to say that all emollients work exactly the same, as they do vary some.  So…
Is it possible that my hair needs silicones?
It's not likely that your hair literally has to have silicone to look, feel or 'behave' the way it does with silicones. There are likely natural emollients that could perform similarly to silicones for you. 
It's more likely that you had found silicone-containing products that worked well for you, and the silicone-free products that you tried just weren't a great match for your hair type. It probably isn't just the silicone that made the difference.
There are probably silicone-free hair products that would give you similar results. However, if you know products that work for you, my advice is to just use them and to not worry about silicones or not. Keep in mind, I'm not really a true believer in the curly girl method.
If you are a strong believer that silicones are harmful then of course, you may want to experiment with more products and pay close attention to the ingredients so that you can find silicone-free products that perform similarly on your hair to your old silicone-containing favorites.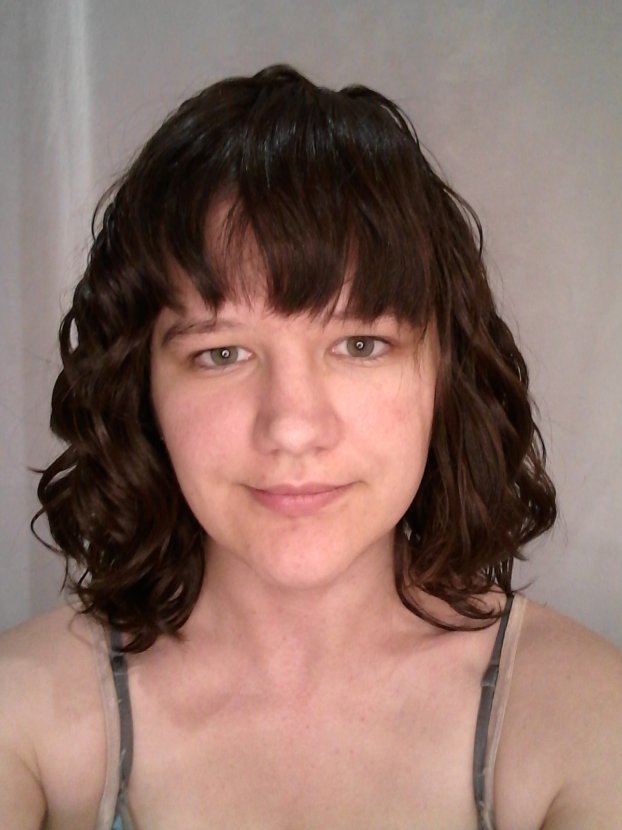 Is it possible that your hair needs strong cleansers?
Many believe that cowashing or using very gentle shampoos will cause buildup over time. The way to remove buildup is by using a stronger cleanser such as a clarifying shampoo. 
According to the creator of the curly girl method, Lorraine Massey, sulfate cleansers are harsh and drying. She recommends using conditioner to cleanse your hair and scalp, instead. Conditioner-washing often gets shortened to "cowash".
Online, many people consider shampoos to be curly girl method approved if they are sulfate-free (often called "low-poo"). This is one of the main ways that what the internet calls the curly girl method, and the literal curly girl method have gotten quite confused.
Lorraine Massey is anti-suds, and most low-poo's suds. (Ps – if you're curious about the differences between the real curly girl method and what you've seen online, I have a blog post about the real curly girl method).
I personally have found that even when I do use sulfate-free shampoos that suds, I still need to use a strong cleanser at least once a month to remove build-up.
This is referred to as doing a clarifying wash, and most people who otherwise follow the curly girl method, still will use a clarifying shampoo periodically. I have an article on clarifying wavy hair. I'm a strong believer in it, personally.
I'm not a scientist or hair specialist. However, I've seen plenty of videos from people who are hair care specialists and trichologists saying that using conditioner to wash your scalp is not going to get it clean enough, and will eventually cause build-up if you don't clarify.
Anyway, in my opinion it is definitely possible that your hair needs a stronger cleanser, at least occasionally.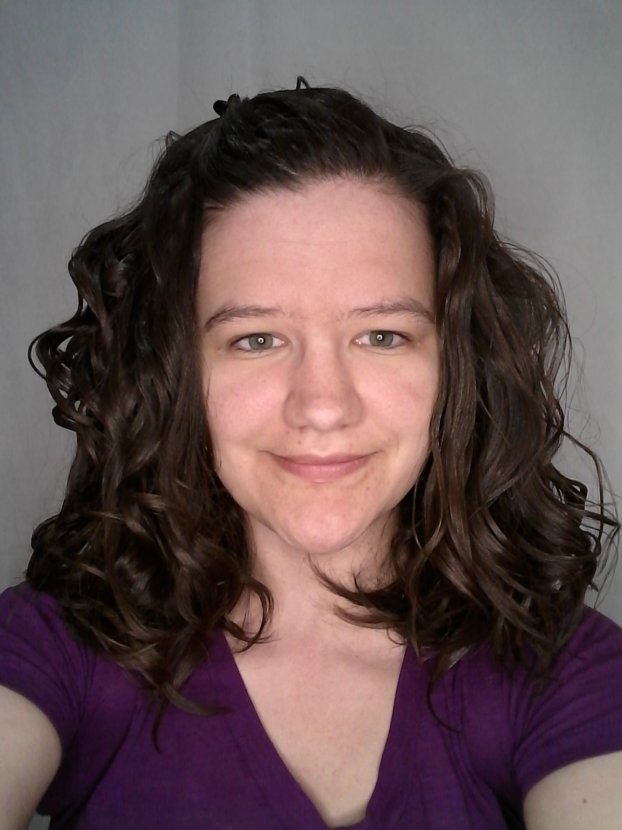 Why The Curly Girl Method Didn't Work For You
Now that we've got those two big questions out of the way, I want to get into possible reasons why the curly girl method didn't work for you.
You used products that were too heavy. Especially if you have wavy hair, low-density hair or fine hair, it's easy to start the curly girl method with products that are way too heavy.
If you aren't sure of your hair type, it's hard to know what products to use. Check out my post how to test your wavy hair type, to figure out your hair porosity, thickness and density!
I've seen so many posts over the years from people who ran out and bought heavy products from brands like Shea Moisture and Cantu on their fine wavy hair. This will often result in weighed-down hair that looks dirty or greasy and stringy. I have a blog post where I share my advice for modifying the curly girl method for wavy hair.
You weighed your hair down with too many products. If you have wavy, fine and/or low density hair and try to copy a hair routine from someone with another hair type, it may be too heavy for you.
Sometimes people with wavy hair try to follow a curly routine that includes a cowash, a heavy conditioner, a leave in conditioner, a cream, a curl enhancer, gel, mousse, custard and gel – or something like that. In many cases, if you have wavy hair and use a lot of different products, it will weigh your hair down, even if the individual products aren't heavy.
You skipped over gel, or didn't use enough. People who have previously treated their hair like straight are often put off by the idea of using gel. Many will try to use an oil, leave in conditioner or cream instead of a gel or other product with hold. Or when they do use gel, they try to use a teeny tiny amount because they're afraid of it, sort of.
I have a blog post Do I Really Need Gel? where I explain why it's important. I also have a blog post discussing the different types of hair products & their purposes. From it you can learn which blog posts are acceptable replacements for gel, and which aren't.
If you didn't see your curls defined or enhanced by your attempt at the curly girl method, it's probably from skipping gel or not using enough.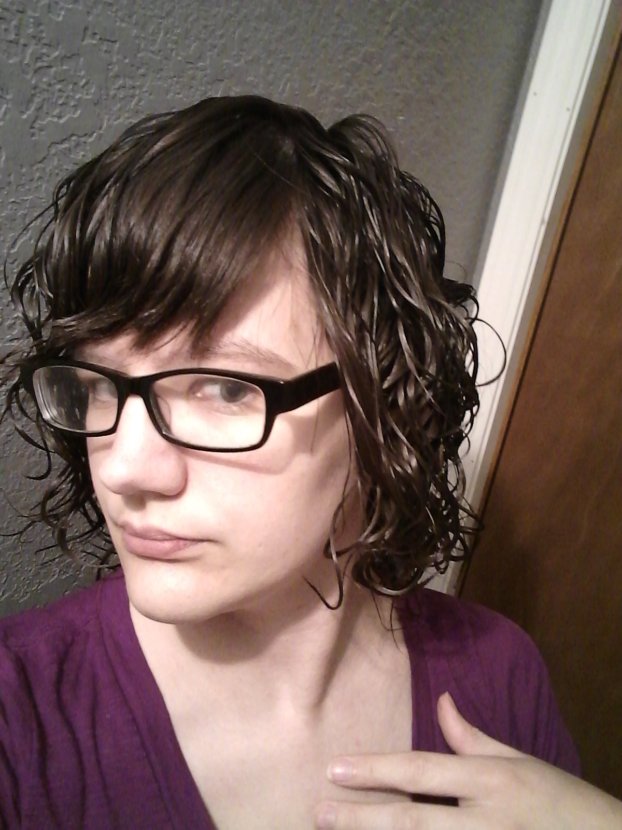 This is (most) of my hair in a gel cast. Doesn't look pretty but once I scrunch out the crunch it gives good results! I don't apply gel to my bangs which is why they look so different than the rest of my hair. Related blog post of mine: What is a gel cast and how to create one.
You didn't wash often enough. I'm not sure where it comes from, it's not in the Curly Girl Handbook, but for some reason many people believe you can only wash your hair once a week on the curly girl method.
If you tried this and then decided that the method wasn't working because your hair was really oily/greasy, or you had an itchy scalp or scalp pain, etc, this could have just been from not washing often enough. You can wash more often! Related posts of mine: How often should you wash wavy hair? & Causes & Fixes of itchy scalp.
You didn't give it enough time for your damage to grow out. If you have chemically damaged or heat-damaged hair, you may need to commit to the curly girl method for several months or more before you see full results.
If your hair is really damaged, you may basically have to wait on that damaged portion to fully grow out. Hair grows approximately half an inch per month, so if your hair is currently 6 inches long and it's all damaged, it will take a full year to grow that hair out and replace it with new growth that isn't damaged.
You didn't experiment on your own hair. Sometimes people try a curly girl method for just one or two washes and don't see immediate, perfect results and then conclude that the curly girl method didn't work for them. It's not very realistic to expect an overnight fix like that.
Hair varies really wildly, so finding the right routine for yourself will require some trial and error. If you don't wish to invest time in that trial and error, that's fine. Natural hair care isn't for everyone, there's nothing wrong with that. It doesn't necessarily mean that the curly girl method couldn't work for you, though some people try to conclude that.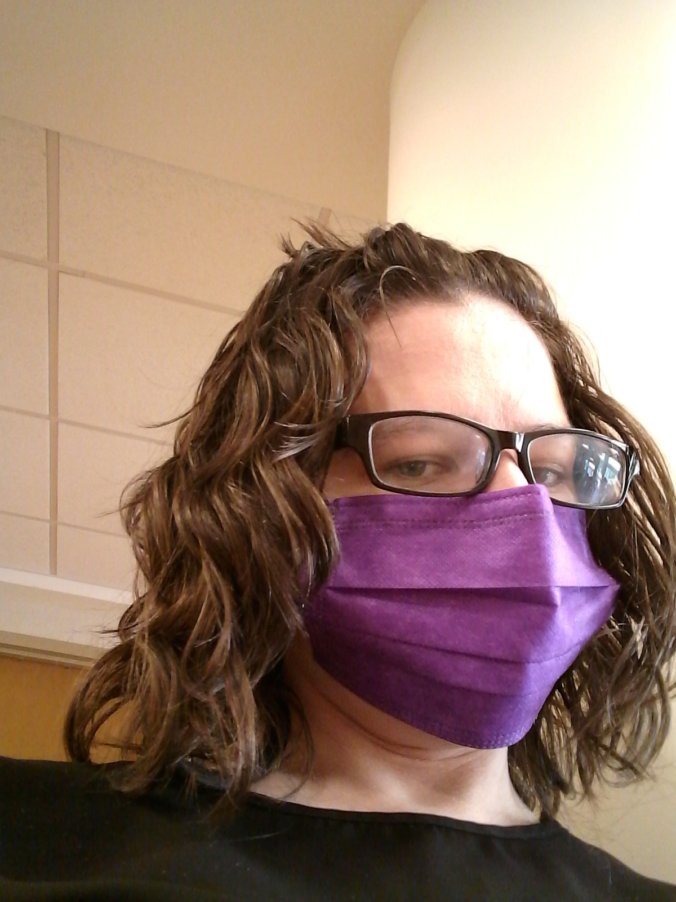 You got bad buildup. The true curly girl method recommends only washing and never clarifying. Most people who try to do that will eventually get build-up.
Build-up can cause their hair to feel producty or waxy even immediately after washing it. It can also create intense frizz, make curls limp or stringy, and make it not curl up the way it used to. If this was the case for you, I'd recommend doing occasional clarifying washes.
Your moisture/protein balance was out of whack. This is another one that would show up after a period of the curly girl method working well. If it worked fine for a while and then your hair stopped curling and getting a gel cast, you probably got over-moisturized and need to do a protein treatment.
On the opposite end of the spectrum, if the curly girl method worked for you for a while and then suddenly got really tangly and your hair felt straw-like and unmanageable, that is probably protein overload and you need to clarify and then use a protein-free deep conditioner. Related post of mine: My wavy hair stopped curling.
Lifestyle reasons. Maybe you didn't want to diffuse, but your hair takes so long to dry with gel in it that you'd have to diffuse. Or maybe you just want to wash and go, but you can't wash and go and get wavy results because of your hair type.
Maybe you love bleaching your hair and using heat on it and just don't want to give them up. These are all valid 'lifestyle' or personal preference reasons for why the curly girl method may not work for you. Related post of mine: Naturally wavy hair care may not be right for you if…