"I think my hair is wavy…but only sometimes? Why is that?"
This is a common question I've seen on wavy and curly hair groups. I thought it was worthy of its own blog post!
It's natural for hair curl pattern to change based on the environment and how it's treated day to day. This is true for all different types of hair. People who have hair that have looser hair patterns find that their hair looks and acts straight sometimes, and wavy other times. This can be really confusing, and makes people question what their 'true' hair type is.
I have a blog post that shares how to test if your hair is wavy, which you may find helpful if your goal is to help your hair look wavy all the time. I also have a blog post sharing a wavy hair curl pattern chart, which is often of interest to newbies, too. Anyway, this post is about discussing why your hair is straight sometimes and wavy other times.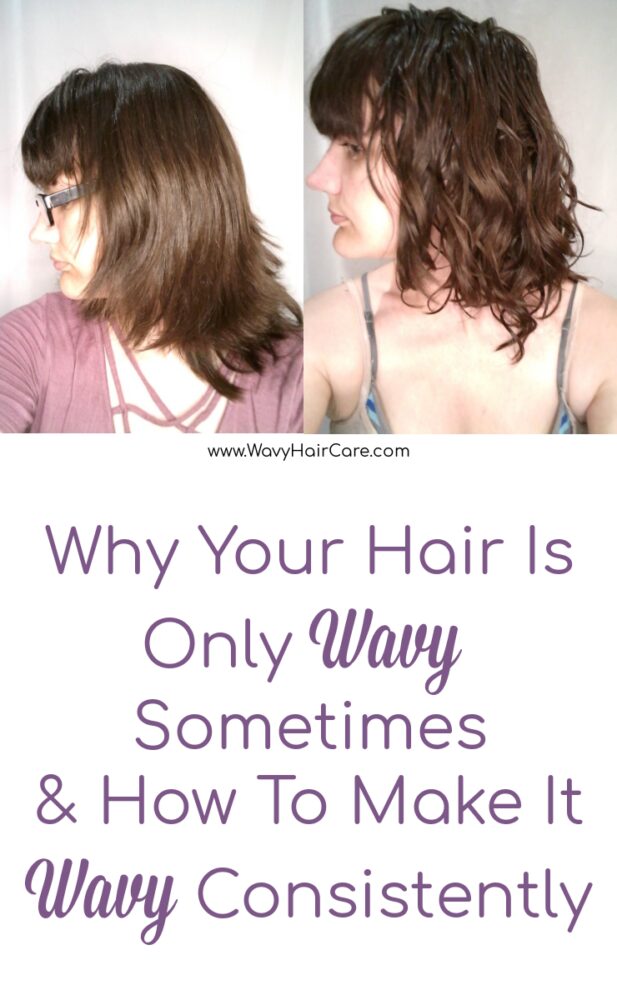 Why Your Hair Is Only Wavy Sometimes
Humidity! It's common for hair to curl up tighter when it is more humid. If your hair is on the borderline between straight and wavy, humidity can make it wavy, while on days where the air is more dry, it will act straighter. The curly girl handbook references how "Swavy" (straight-wavy) hair may be straight in the winter but wavy in the summer.
Of course, weather conditions fluctuate all the time so you can also see changes day to day in response to humidity levels changing. Or, you may have noticed that your hair gets curlier or straighter when you travel. If you go to Florida and your hair gets curlier there, that's likely in response to the humidity.
Moisture. It's common for people to find that their hair gets curlier after they get caught in the rain, or after they work out or get sweaty. For many people, their hair curls up better when it's well-moisturized. Sweat or rain help moisturize hair, so this can make it curl up after your hair gets wet.
It's especially common for people to notice that their hair curls up around their temples or around their neckline after they get sweaty.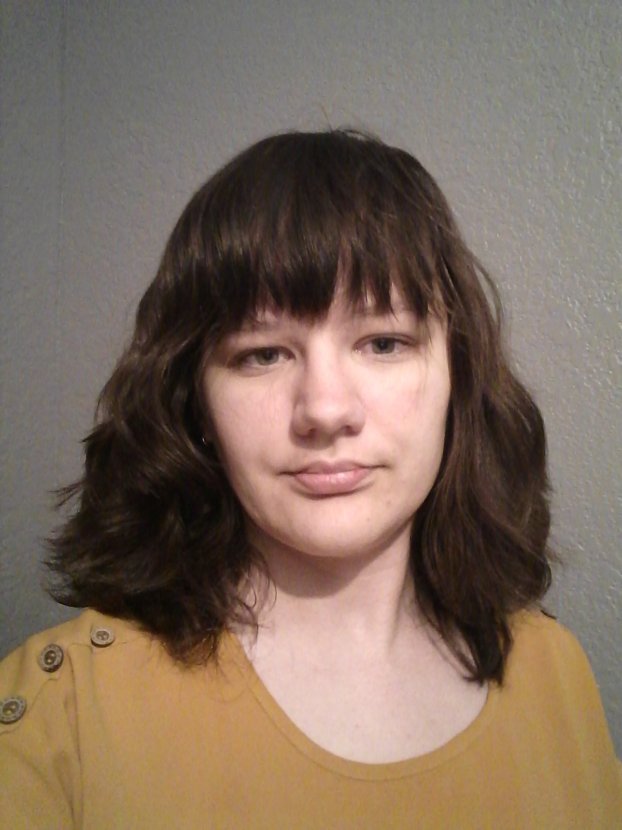 My hair when it's brushed.
Brushing or not. Those of us with naturally wavy hair who are trying to embrace our waves, typically don't brush our hair except in the shower. We generally don't brush our hair after washing it or after it has dried, because that pulls our waves straighter, and can also break up our curl clumps (though some people do brush a tiny bit if they are trying to achieve beachy waves).
If you sometimes brush your hair after the shower, and sometimes skip brushing it, this has the potential to make your hair wavy sometimes (when you don't brush) and straighter sometimes (when you do brush it). Related article of mine: Why you shouldn't brush wavy hair.
How long your hair stays wet. This is a bit of an odd one. Some people find that if they sleep on wet hair, when they wake up their hair is wavy, while if they let their hair dry before bed, it'll be straight.
My sister has told me that this is how her hair works. The longer her hair stays wet, the more it will curl up. This is similar to the moisture point mentioned above. For some, their hair staying moisturized longer makes it curlier. On the flip side, my hair works almost the opposite!
My hair is fine textured (though I have a lot of it making my hair look thick). I believe largely because it is fine, my hair is easily weighed down by water.
If I leave my hair wet for a longer time, the weight of the water in my hair will pull my hair straighter than if I help it dry faster. So, your hair may be curlier if you diffuse it, or it may be curlier if you leave it wet longer! Related post of mine: Comparing Comparing air drying and diffusing wavy hair.
Your haircut. How your hair is cut can impact how much your waves/curls can clump together, which can make a difference in how wavy or curly it looks. I like to explain it this way. When someone has naturally straight hair and uses a curling iron to make a curl, they don't curl each individual hair, right?
Instead, they grab a small section of hair, that they wrap around the curling iron together to make one curl that is made up of dozens of hairs. Natural waves or curls work similarly, so dozens or more hairs will "group together" to make a single curl. We call these 'curl clumps'.
This is part of why brushing hair straightens/loosens wavy hair, is it breaks up those curl clumps. Part of what helps hair naturally clump together is the way our hair is cut. Hair that is of the same length will clump together best.
While having a few layers is fine, having a TON of layers like hair thinning sheers or razor cutting hair does, can prevent hair from clumping and make it straighter or poofier. On the other hand, having hair cut in layers can help hair to clump well and curl better.
Your hair length. Sometimes people find that if their hair gets really long it gets too heavy to be wavy. At the same time, it's common for wavy hair to require a few inches of length before it starts to twist, so hair that is really short may become straighter too.
In other words, you may find that your hair is only wavy sometimes and that is when it's the 'right' length to be able to be wavy.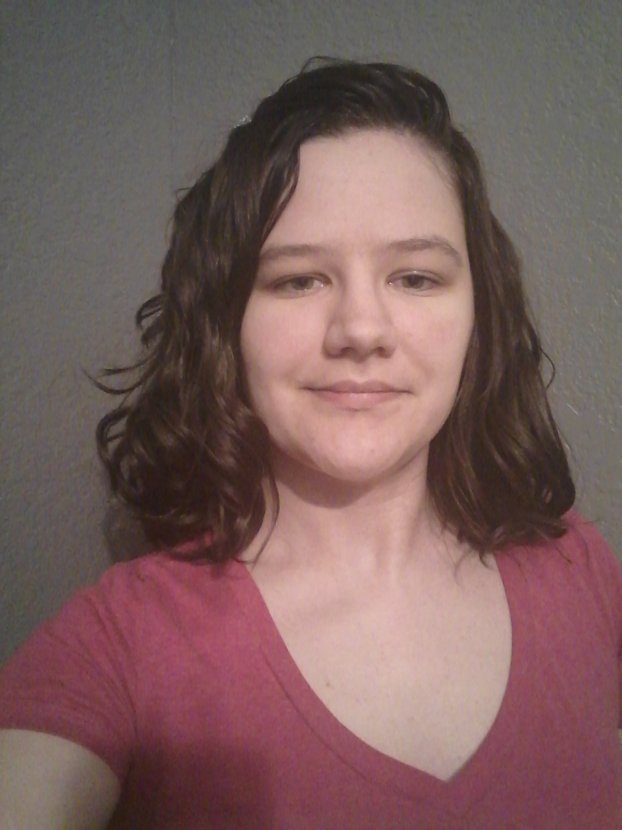 Protein. Moisture-protein balance is the aspect of natural wavy haircare that I personally find the most confusing, and I think a lot of other people probably agree! I am far from a protein/moisture balance expert, but one thing I have noticed is that my hair will get straighter if it really needs a protein treatment.
This is most noticeable on the left front section of my head, where I have a straighter patch of hair. I have a naturally uneven curl pattern (as many people, if not most people, do!) so that section is always looser than the rest of my head, just naturally.
However, if my hair needs a protein treatment, that section will be especially straight (like in the photo above). So if you aren't really paying attention to whether your hair products are heavy in protein, heavy in moisture or both, you may find that your hair is only wavy sometimes, and that's probably after you use more protein-containing products.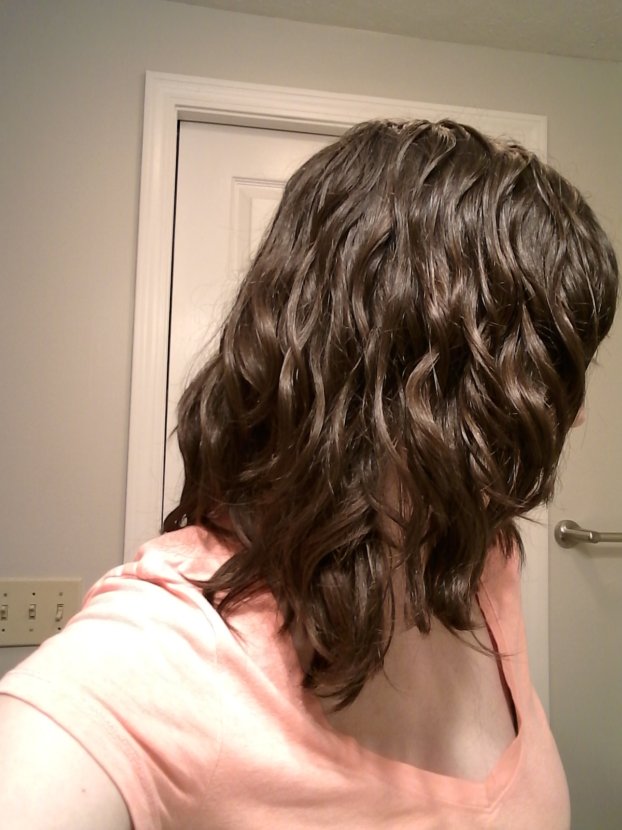 Other hair care techniques. If you've been trying to embrace your waves already and sometimes it works, and sometimes your hair turns out straighter, this is likely due to small changes in your techniques.
It can also be responses to the weather or your moisture or protein levels. If you're relatively new though and feel like your results are really inconsistent, I'd recommend being a lot more intentional with even the small details of your haircare routine.
Make just one small change at a time so you can learn the impact of each technique on your results. If you've been making a lot of changes to your routine or aren't cautious to keep the same routine, those small changes are likely causing big differences in your results. Technique matters a lot more than products, so you want to be really intentional with your techniques.
For example, whether or not you plop or microplop, how long you scrunch for, whether or not you diffuse, how much gel you use (which may impact whether or not you get a gel cast, whether you wet style or damp syle), and other factors can all make a difference.
Related blog post of mine: Having An Uneven Curl Pattern & How I Tighten My Straighter Section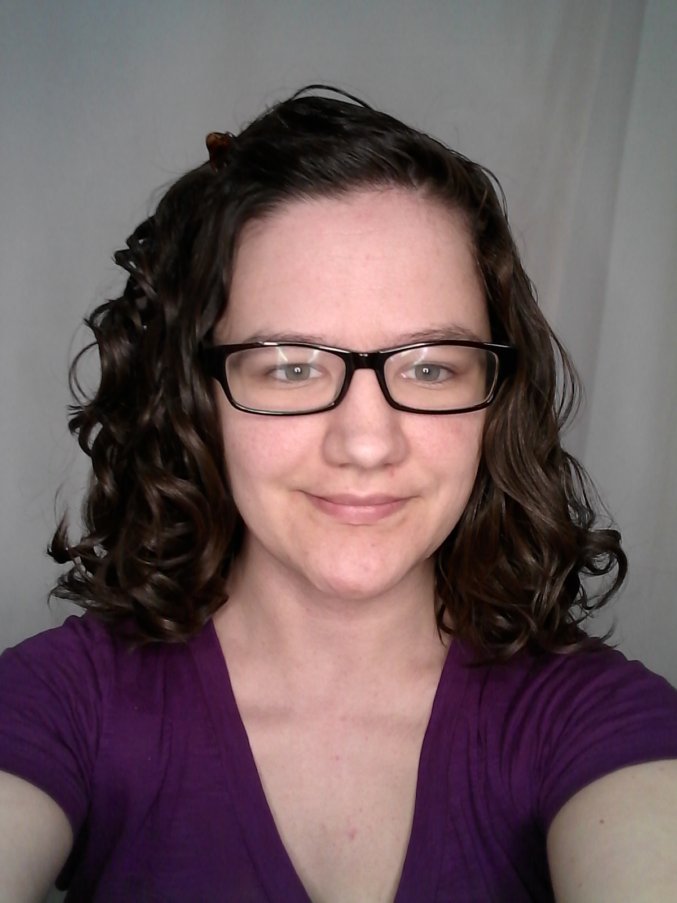 How Can You Make Your Hair Wavy Consistently?
If your hair is wavy sometimes and you want to make it wavy more often, changes are, with the right routine and hair products, you can! This is especially true if you are not currently using any leave-in hair products.
If you want your hair to turn out wavy, I'd recommend starting to use gel or mousse. For many people, that will make the biggest difference. I have a blog post sharing the easiest curly girl method starter routine for newbies. It's designed to be minimal so as not to overwhelm people who are new or just looking for a basic wavy hair routine.
If you're turned off by the idea of using gel, I'd recommend my post "Do I really have to use gel?" as it helps explain why gel is important for embracing naturally wavy hair, and also explains why it's not as yucky to use as it often sounds to people who are new. In a nutshell, using gel doesn't mean you have to live with sticky, crunchy, or dirty feeling hair.